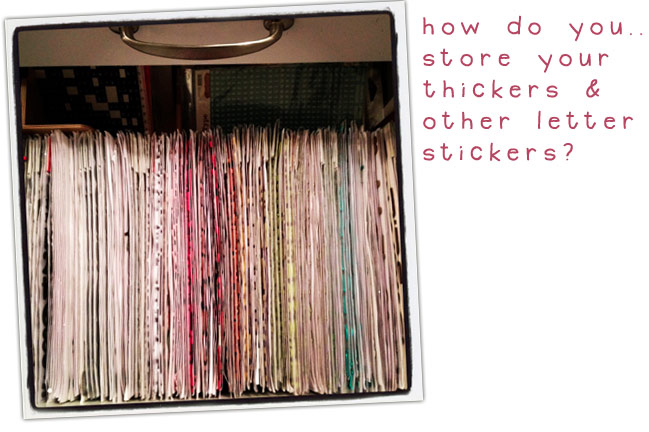 In between our crafting challenges, I have a few questions for you. These are the sort of questions that come up in the comments here and elsewhere, and sometimes I'm quite hesitant to answer not because I don't want to help – but because I really believe there is no single right way to do these things. What works for me may not work for you and vice versa… and in fact, I have tried my share of things along the way that work for others but have failed miserably in my world.
So I want to answer… but I hope you'll chip in with your answers too.
First up: how do you store your Thickers and other letter stickers?
My answer: First I divide them into a few categories. Thickers, other letter stickers that come on 6×12 sheets, letter stickers that come on 12×12 sheets and mini alphabets that come on sheets smaller than 6×12.
Thickers are what I use most, and they live in the second drawer of my desk (top drawer has pens and adhesive), and they are arranged in colour order. Some stay in packages and some don't. Mostly depending on how well they stick to the sheet, as I would happily get rid of the plastic straight away but some of them would fall to bits in my desk drawer if I did that!
At the back of that drawer you may be able to see other sheets – that is where all the small letter sheets live. That includes the small Sassafras letters and mini alphabets from both Cosmo Cricket and My Little Shoebox.
6×12 sticker sheets live in a cardboard magazine file on my shelf, with 12×12 next to them – just in an upright stack, not in a box.
And that's that!
So… how do you store your Thickers or letter stickers? Share with us in the comments!

Read more about: online-scrapbooking-weekend
13 April 2012

Next post: Scrapbooking Challenge :: Mix Three or more paper collections
Previous post: Welcome to the online scrapbooking weekend!