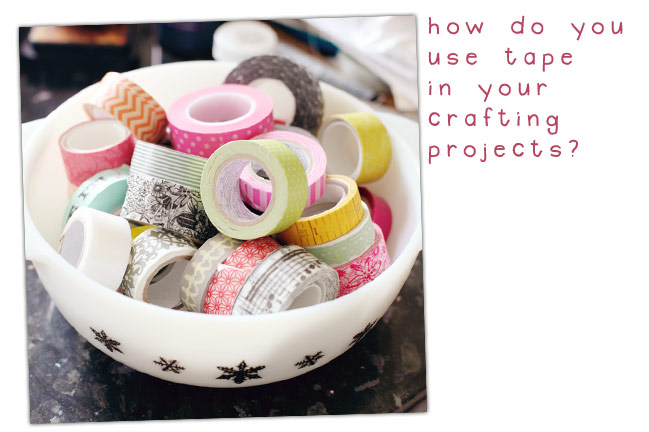 The next question of the weekend comes from a recent discussion on the Two Peas message board: what's the use of washi tape?. Or indeed, any tape for that matter. Is it something you use in your papercrafting?
I definitely love it and I replied in the original question with these suggestions:
…a photo frame – both over and under the photo look cute! You can square it off to be neat and tidy or leave each piece a bit long and tear it for something more freestyle.
…add a strip along one edge of the page (or both the top and bottom or right and left edges)
…crinkle or ruffle it up and top with a brad or other embellishment.
…take your tapes and alternate strips down the middle of the page, then add photos and everything else on top
…tear a strip and add it to the top of the photo, like you've stuck it to the page with the tape.
…add a fold-out piece to your page (either on the layout or on the page protector) using washi tape as the hinge.
…hide your writing in an envelope and use washi to close it (you'll be able to open and close it over and over again since it doesn't stick in the same way as normal tape).
…make a noughts and crosses (tic-tac-toe) style grid from washi tape. In each gap, add a photo or embellishment.
…make me a card and seal the envelope then add a strip of washi and send it to me in the post. Okay. I'm kidding on that one but seriously, it does look cute stuck on pretty much anything.
Plus there are some great examples that have been posted on that thread too if you would like some visual suggestions!
Every time I talk about washi tape, I have the same general thought: it's like a border sticker that never runs out! Admittedly, a roll of washi tape can be more expensive than a single sheet of border stickers, but it's rarely more expensive than two sheets, and you get yards and yards of the stuff. Because there's so much on one roll, I tend to choose designs I know I will use over and over again, even as the paper collections change. Before there was so much washi tape specifically, there were some decorative tapes more like a regular household tape but printed (washi is more like a patterned masking tape rather than clear), and my best choices from way back when are still going strong, like polka dots and grids. So I've tried to learn from that in choosing washi tapes I'll be happy to use for plenty of pages to come!
Of course, there's also another answer to a product that comes with so much packed into that little package: although it doesn't really work with clear tapes, washi tapes are easy to share with friends, so you can each buy different tapes then get together for a tape swap (or trade by post). Just take a blank tag or another piece of cardstock and wrap the tape around, and it will stick and unstick just like it does on the roll. I've also used this technique to take a few tapes when cropping away from home without needing to take the entire bowl of tape! Perfect for travelling light… well, as light as one can travel for a crafting adventure!
So… how do you use tape? What do you choose in terms of designs? If it's not something you've tried yet, what roll of prettiness might make you change your mind?
And… a little shopping fun if you're tempted. A) You can find lots of washi tape options here. B)I have a very special coupon code to share with you tomorrow morning, so if you've been thinking about a little shopping trip, that might be useful for you!
Right: let's hear your thoughts on tape!

Read more about: online-scrapbooking-weekend
13 April 2012

Next post: Scrapbooking Colour Challenge :: Yellow, Grey & one other colour
Previous post: Scrapbooking Challenge :: Mixing Styles