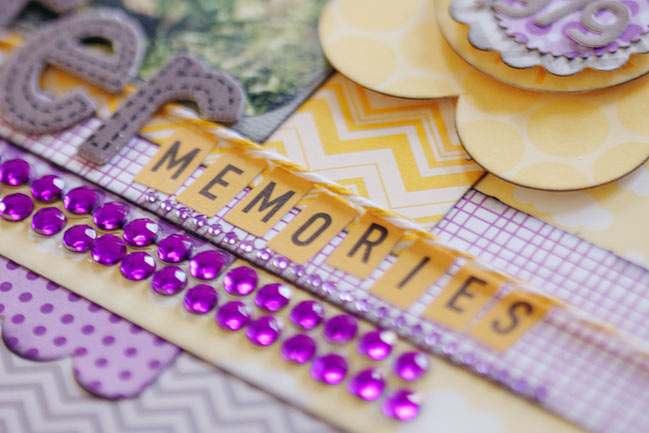 How about a colourful challenge this morning? But instead of giving you a set combination to follow, it's a bit like a choose-your-own-colour-adventure. So don't be scared from this little preview: I promise you don't have to work with purple unless you choose to do so!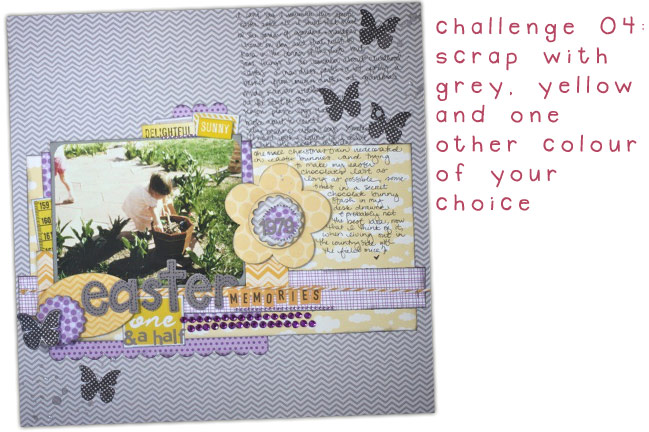 Instead, your challenge is to scrapbook with yellow, grey and one other colour of your choice. Yellow and grey has been a fashionable combination for a couple years, and this year I'm loving how designers have started to inject other colours with this combination to keep it fresh and new. Yellow and grey look great with turquoise, pink, red, navy… so many different looks. For this older Easter photo, I went with purple (you can see the supplies here, at the bottom of the page). As I obviously don't have a clear memory of the moment captured in the picture – and I also don't have lots of photos from Easters growing up – I used this page to record a variety of jumbled Easter memories from childhood, even if they didn't come from this particular year.
For this challenge, you have two chances to win from just one layout! Two Peas are also making this their challenge of the week, so if you upload your page to the gallery there and tick the box for that challenge, you can also be entered to win a gift certificate there.
Speaking of which, how about a special discount for shopping at Two Peas? Throughout the crop, you can fill up your bucket, then when you check out, enter code SHMRCKS to receive a special bonus: you'll get free domestic shipping off an order of $50, but even more exciting, you'll get an extra discount for your next offer – $5 of a $50 order or $10 off an order of $100. Perfect to order something now then look forward to more new things later, knowing you can take that discount off the top! (Thank you so much for shopping at Two Peas through my links: it is what makes it possible to hold events like this. I earn a small percentage of the orders placed through my links, and that's what pays for the hosting costs of the website and for all the prizes and special guests that come as part of the weekend! I love that I can share it back out with all of you who come to read my little corner of the web.)
To enter for a chance to win here, create a new project in yellow, grey and one other colour of your choice, then upload it to a page gallery or your blog and leave a link below. Entries close at the end of next weekend.

Read more about: online-scrapbooking-weekend two-peas-in-a-bucket
14 April 2012

Next post: Scrapbooking Challenge :: Wilna's Inspiration Points
Previous post: How do you use washi tape in scrapbooking?