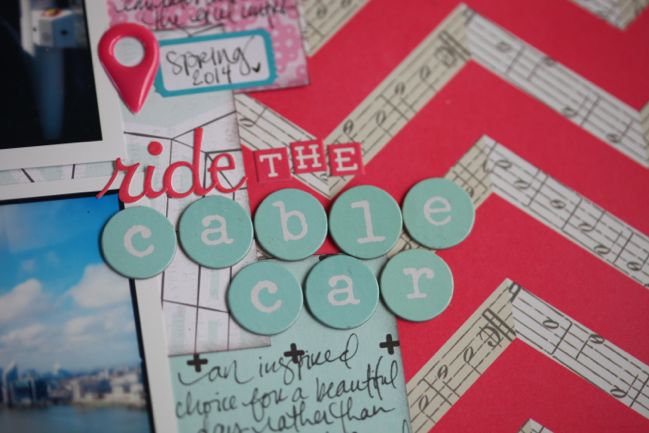 I found this page a few weeks ago, in pieces, sitting in a tray I had moved from my desk to a shelf to a drawer to a cupboard, pushing it further and further from my sight in hopes it would also be out of mind, I suppose. This is the layout I was working on when I received the email that Two Peas was closing. That was a year ago today.
Don't worry, the date isn't marked in my mind that dramatically. Timehop reminded me, of course.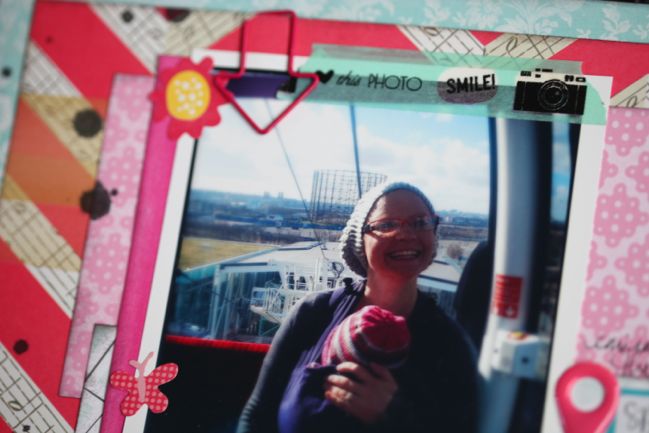 That day wasn't particularly nice and the days that followed had a fair amount of confusion. What is it that the kids say today? 'All the feels?' Yes. That's what I had. It was a store and a job and yet I went through that whole disbelief, denial, bargaining, guilt, anger, depression stages of grief process, which from a distance is a little ridiculous. But I wasn't from a distance. I was up close. Like finishing a Glitter Girl video close.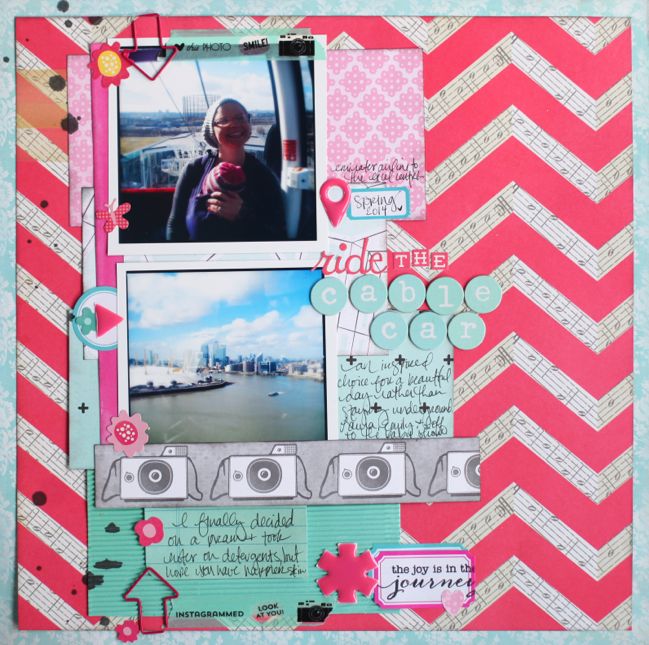 This time, when I came upon that nearly-finished layout on that tray, I didn't push it further away and decided to complete it and get it into the album, so I guess that means I have reached the acceptance stage now. I still miss it. I miss the energy of the community and how I could pretty much always find something that appealed to the problem-solving side of my mind on the forums (hence the original format of the Glitter Girl episodes!) and I miss the inspiration of working with the team. Talented women in so many ways, from their beautiful pages to their unique perspectives on life and a great mix of humour and knowledge and just… that good stuff is what I choose to remember.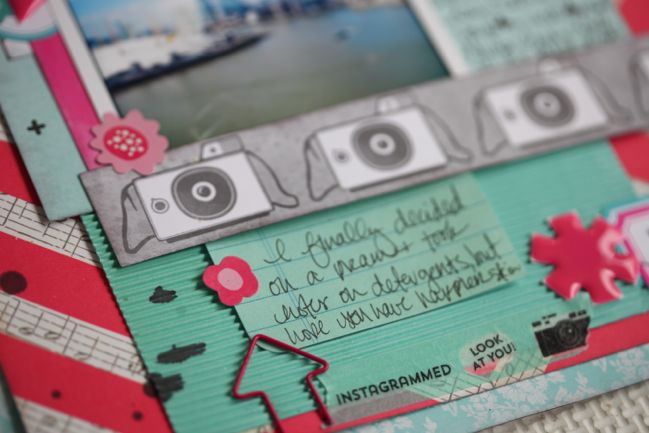 Outside of the Two Peas experience, this page made me laugh because the journaling was already in place. We took the cable car to attend the London Baby Show, my friend Laura with her baby and me with a giant bump, and I had done a lot of research about detergents that day. Random, I know, but I have heaps of trouble with reacting to detergents and it took me years to find a good system and I wanted to be as prepared as possible in case his skin was as sensitive as mine, but I kept hoping, quite vocally, that he would not inherit this trait and would laugh at my cupboard of carefully chosen soaps and shampoos.
Of course he inherited that. Of course he did. His skin is so sensitive, I have thermometers in every room because his skin gets upset if the temperature changes. I'm pretty sure he could break out over the wrong nursery rhyme. But hey, I can give you a mean monologue on surfactants should you ever need to know, and one day I'll have to explain to him that he really isn't the only child in the world who was allergic to bubble baths. I should probably get scripting that particular speech soon really. Maybe one day he'll go through his own stages of grief at inheriting the worst of my genes, and I'll cross my fingers that it ends in acceptance some time.
And yes, those are the two random thoughts in my mind that collided with this page that took me a year to finish, but hurrah: it is in my album now. Finally. Onward and upward we go.

Comment [20]