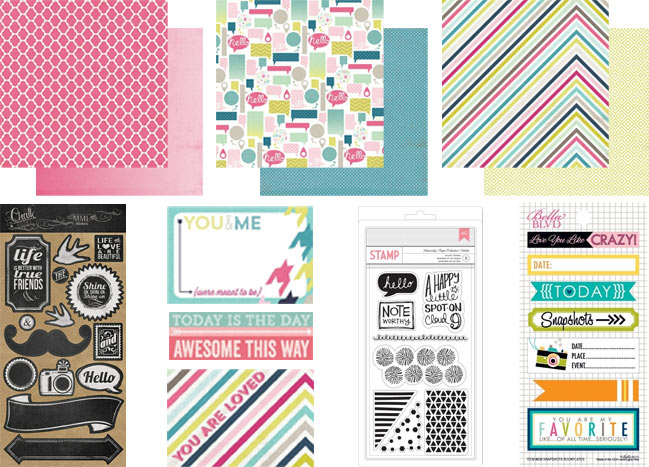 Morning! I have a video coming up later today to explain all this with the supplies and so forth, but in an effort to not keep you waiting if you just want to get shopping… a little update on Best of Both Worlds!
As you may have figured out from the launch of the new workshop, Glitter Girl has totally stolen all my scrapbooking time for the last couple months and it's put me dreadfully behind in using my last two Best of Both Worlds kits. I want to catch up on that, and I know many of you would prefer not to buy a new kit until all those projects and videos are shown here. But there are also some of you who scrap more on your own (also awesome) and are ready for a new kit! I've tried a little compromise!
Most of the September kit is available and can be purchased here.
For October, I've selected things from the autumn sale at Two Peas, and that can be found here.
The shipping discount code for October is 5ZZKRD. Right now, that code gets you a discount for spending just $35 in physical, non-close out goods, rather than the normal $50, but I'm not sure what the end date is on that offer. I've tested it today and it's working on my cart. Keep in mind the October kit goods are all on close out, so they wouldn't count toward your $35 total, but you could add items from the September kit or your favourites from brand new collections like Amy Tangerine Cut & Paste, Dear Lizzy Polka Dot Party, or all the new Echo Park to take you up to the $35 needed.
I'll be back with more later today… once Glitter Girl is done with my time again. Sheesh she's demanding!

Read more about: best-of-both-worlds-kit two-peas-in-a-bucket
02 October 2013

Next post: Glitter Girl's Scrapbooking Survival Guide :: A New Online Scrapbooking Workshop
Previous post: Memory Keeping By Numbers:: A Scrapbook Tutorial by Julie Kirk