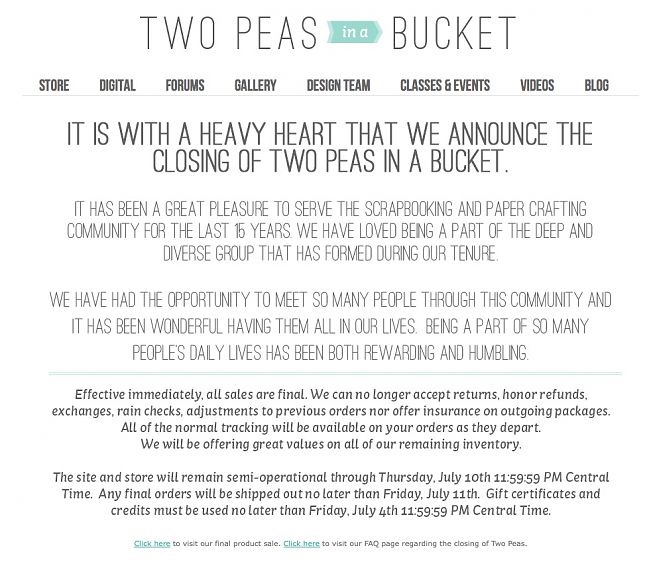 Yesterday scrapbooking lost something very special: Two Peas in a Bucket announced they are closing their doors. It saddens me as their shop and community have been part of my life for fifteen years. First as a customer, shopping for the latest supplies and waiting for the clock to tick over to the first of the month when their design team projects were posted, and then eventually I joined that very team. For nearly six years, I've worked on something for Two Peas every week of the year, eventually letting my sparkly friend take up her weekly video series and retiring from the individual layout assignments. For me, Two Peas has been a great place to work. I've worked with people who made me better. I am very sad to lose this avenue of working with the team and the community from Two Peas.
Since the announcement, I've had many questions about my paid workshops and the Glitter Girl video series. At this point, I don't have answers you will love. All the work I've done for Two Peas belongs to them – I don't currently have the rights to those workshops or videos. The FAQ on their site says workshops will not be accessible once they close the store in mid-July. So that is the short answer. I would love to find a better answer and I will keep you informed of any changes. I really can't say more than that right now because I just don't know what is possible. But I am aware of your concerns and am doing whatever I can.
The other question I've been asked is will I go somewhere else to teach and make videos. If you're reading this, you're at that somewhere. Shimelle.com existed before I became a Garden Girl, before I permanently lodged a tripod and camera over my workspace. I blogged here and taught workshops here and I will continue to do so. You can subscribe to the blog via a reader like Bloglovin if you like or scroll down the page here to request posts go direct to your inbox. If you love video, consider subscribing to my YouTube channel. If you want to take a workshop, find your options here. If you want to encourage a crafty friend to watch or read, please share a link now and then. I thank you for your continued support in any way.
I thank the Garden Girls I've worked with over the years, and the fearless leaders who have managed the team. They have inspired me at so many levels and I'm honoured to have worked with these women. If you would like to bookmark the current team, you can find them on the following blogs:
Céline Navarro
Jen Gallacher
Jen Kinkade
Jill Sprott
Laura Craigie
Lisa Dickinson
Marcy Penner
Mel Blackburn
Nancy Damiano
Paige Evans
Stephanie Bryan
Wilna Furstenberg
Many have YouTube channels you can find through their blogs.
And I thank Kristina and Jeffrey for building something full of inspiration and community as well as the best pick of craft products fifteen years ago. It was such an innovation to our industry and so much good came of it. I am so very sorry to see it go.
Details of the closing can be found here. Thank you for keeping things positive as I work to find any solutions for those invested in my workshops. It will take time, I'm sure, but I'm hoping for the best.

Read more about: adventures-of-glitter-girl two-peas-in-a-bucket
26 June 2014

Next post: Last day to submit your scrapbook pages
Previous post: Sketch to Scrapbook Page :: Puzzle Pieces