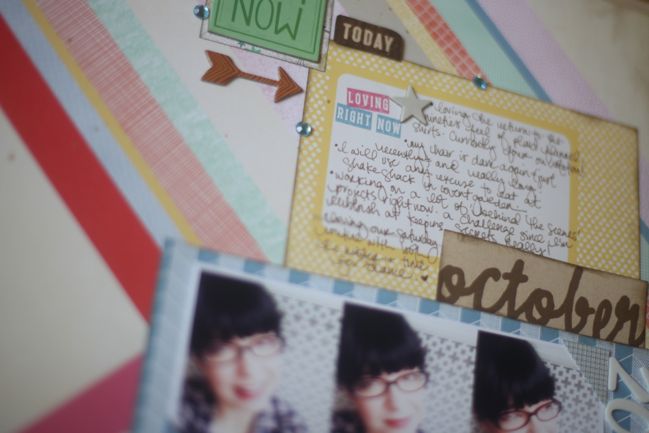 On the twenty-second of every month, the Garden Girls from Two Peas in a Bucket check in with a blog hop showcasing our projects, what's inspiring us, and our favourite products of the month. Welcome to the October edition of Gardeners' Digest!

Since we last caught up, Glitter Girl has been on four new adventures, covering 'Right Now' pages for scrapping yourself, childhood pages for photos that don't necessarily have direct memories that come to mind, a return to creating clustered embellishments, and some ideas for black and white photos. You can watch those four adventures (and more) through the playlist above, and find all her adventures here at Two Peas in a Bucket.

This project from Corrie Jones is one of my favourites in recent weeks. So pretty – and I've definitely inspired to try more with frames, especially with lighter colours, and maybe with a black and white photo too. Corrie's work is always such a beautiful mix of creative freedom and great design.

In terms of products, I'd be silly to not say my own is one of my picks this month, right? If you haven't signed up already, Glitter Girl's Scrapbooking Survival Guide is ready for you to join in any time you want. It's a new self-paced workshop with ten videos and five PDF chapters. There's also a slightly different product in the shop from Glitter Girl: her guide to Stretching your Stash. This was offered as a bonus for earlybirds who signed up for the Survival Guide by the 2nd of October (if that's you, you can access it under the workshops tab any time!) but it's also available as a separate purchase any time for $10. Glitter Girl's Guide to Stretching your Stash is all video – it's over ninety minutes of video, in fact!
And for paper products, my desk has been covered in the latest Amy Tangerine collection for at least the last ten days. It's lovely – I always love Amy's autumn colour schemes the best, and I love it on its own or mixed with the older collections. You can find that here.
So… it would be lovely to hear from YOU! Who or what in this wide world is inspiring your creativity right now? Share with us in the comments, then your next stop on the hop is Michelle DeLeon, with beautiful paper goodness to share with you! Have a lovely day, wherever you may be.


Gardeners' Digest is a monthly update from the Garden Girls, the design team at Two Peas in a Bucket. To keep up with the Garden Girls throughout the month, check out the garden gallery any time!

Read more about: adventures-of-glitter-girl two-peas-in-a-bucket
22 October 2013

Next post: Five Ways to Scrapbook What they Say by Sian Fair
Previous post: How to Hide a Story in Plain Sight:: A Scrapbook Tutorial by Kirsty Smith