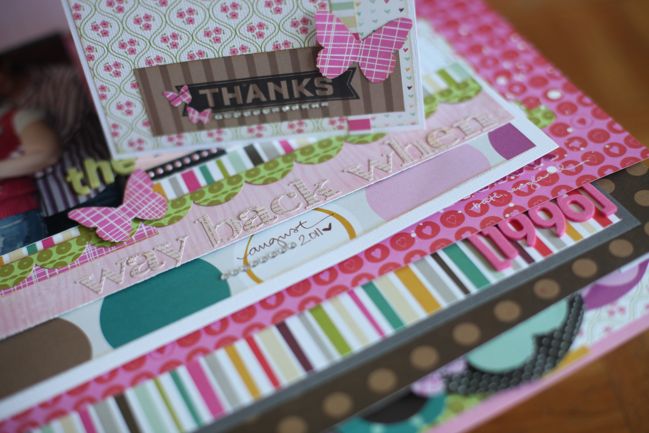 Throughout this weekend I've loved seeing the comments come up in contrast to what I was reading here just a year or two ago. It wasn't that long ago that I would suggest mixing manufacturers on a layout and there would be sheer panic in the comment section! But now it's very much routine and oh-so-easy, it would seem. That has made me smile a great deal.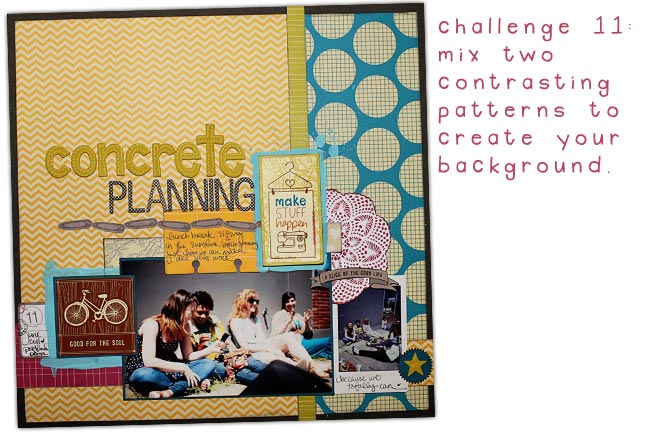 This challenge may be easy, but you need to follow it carefully. Choose two patterned papers with contrasting designs – things that are obviously very different. Chevron and doodles, hearts and stripes, sunshines and polka dots… just make sure they are very different types of patterns. Then use them to create the background of your page: two-thirds one pattern, one-third the other pattern.

Whether those thirds end up horizontal or vertical is up to you – as is the rest of the design! Keep it simple or layer it up – totally up to you!
If you're looking for more inspiration to get the most from your patterned paper collection, you might want to check out Pretty Paper Party, which is available in a self-paced format at any time.
To enter this challenge, create a new page with two contrasting paper designs in a two-thirds/one-third design. Upload your project to your blog or a page gallery and share a link here! Entries close at the end of next weekend.

Read more about: online-scrapbooking-weekend
15 April 2012

Next post: How do you sort your scrapbooking papers?
Previous post: How do you create a scrapbook page from start to finish?