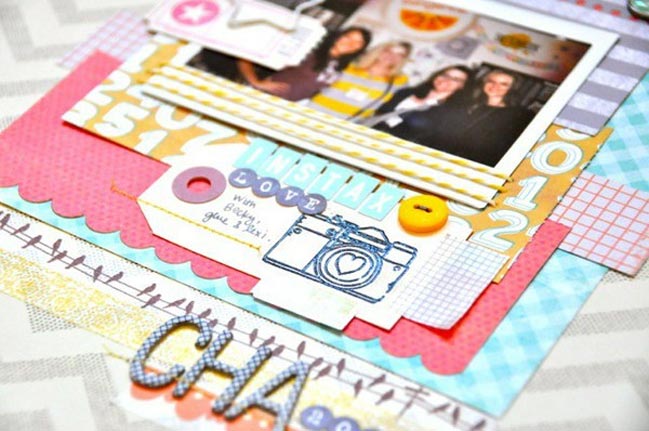 Don't miss this post with a special offer on the new class!
And one final challenge to close… long-time readers may have seen this one coming! I always believe it is more fun to keep making things than to clean up, so I always like to finish on this note.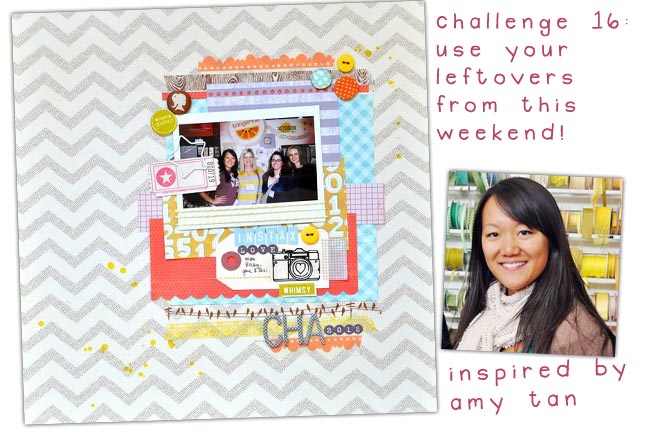 layout ©twopeasinabucket.com
For your final challenge, try to make something else out of just the leftovers and paper scraps from the other things you have created. I suppose that might be easier if you did maybe three or four challenges and harder if you only did one or you've already finished fifteen. And of course you're allowed a full sheet for the background or whatever else you just must have, but the idea is to create in the spirit of using whatever you had left from the things you made!
Amy Tan scrapbooks with all sorts of tiny little pieces of paper and tape, so a page like this one might be just the inspiration you need to make something from just those pieces at the side of your trimmer. See more of Amy's work on her blog or in her page gallery, or take her workshop Collect & Create.
Don't forget: if you're shopping at Two Peas, using code SHMRCKS can get you free US shipping (or $5 off international shipping) and up to $10 off your next order.
To enter this challenge, create a page with your leftover paper scraps and upload it to your blog or page gallery. Leave a link here. Entries close at the end of next weekend!
PS: I'll post a round-up in the morning with all the links and the prize info of what's on offer for each challenge! But for now, I'm going to get some sleep. Happy scrapping, and thank you so much for joining me this weekend!

Read more about: online-scrapbooking-weekend two-peas-in-a-bucket
15 April 2012

Next post: Cover to Cover :: A New Online Scrapbooking Class
Previous post: Scrapbooking challenge :: Scrap some rubbish photos