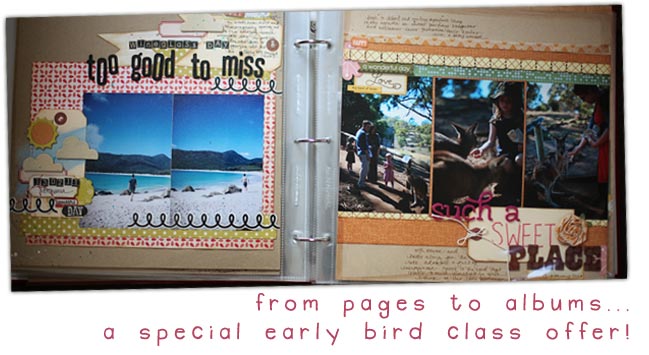 Thanks so much for joining me this weekend for all the challenges and discussion! Not to worry – there are still a couple challenges left and they all remain open right through the end of next weekend, so there's no rush to do all of that tonight. But there is a rush with just this one thing: the early bird offer for my new class.
Here's what I can tell you so far:
…class starts on Monday the 7th of May and will run for four weeks, finishing on the 3rd of June.
…this class is not about just pages.
…this class is not about minibooks.
This class is a result of what happened when I found an album system that worked for me and made me fall in love with scrapbooking all over again.
It's not about a single album system with steps to follow. It is definitely about options. You won't need to buy specific supplies (though eventually you will need albums of your choice) and you won't need to feel like you have to scrapbook certain topics.
Along the way, we'll look at real ways to break down a story and make albums that have value to anyone, not just scrapbookers.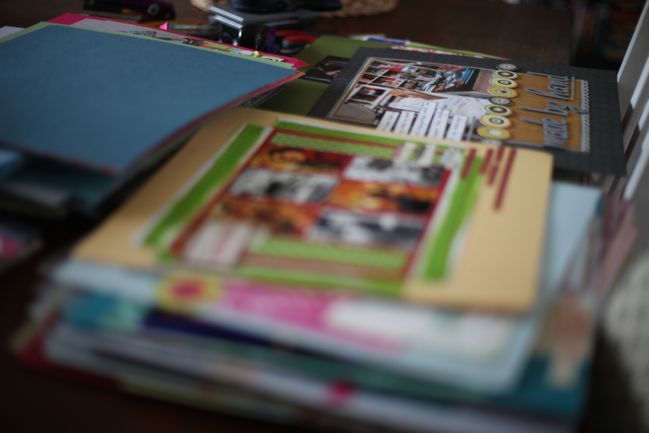 The class will include PDFs, videos, private message board and online chat. There is permanent access to everything so you will not have to follow along in those four weeks if they don't suit your schedule or if you want to take more time.
In twenty-four hours I will announce the full details, including the name and how many of everything to expect and a specific run-down of what we'll be doing throughout those four weeks. But that will be at the full price of £18 or $30. If you want to sign up within those twenty-four hours, before the full reveal, then you can take advantage of a bit of a bargain: £12 or $20. But just for this one full day: as soon as the announcement goes live tomorrow it's full price across the board.
So if you're ready to take a journey through from the single 12×12 to the stack of pages to a book you love, I'd love for you to go ahead and sign up!
Sorry, this special offer has ended. Please find class registration here.
You do not need a Paypal account to sign up – you have the choice when you click of secure card payment or from your Paypal account if you prefer. Please make sure you pay from a valid email address, as it is the only way I can reach you with your class supplies. You will receive a receipt for your payment via Paypal when you sign up, then tomorrow night you'll also receive an email from me when the full class details are posted and registration opens fully. If you don't receive that tomorrow night, please check your spam folder and if it's not there, email me (shimelle at gmail dot com) so we can make sure your messages will reach your inbox.
ETA: Thank you for your amazing response. I need a little more time to get through the full list! All remaining early bird registrations will be processed on Tuesday! Thanks so much.
Tomorrow I will be happy to answer questions, but not until then! If you have been waiting for a new class here, then please take advantage of the discount with a little bit of mystery. If you would rather wait to know all the details, then just check back tomorrow night!
Thanks so much!

Read more about: online-scrapbooking-weekend
15 April 2012

Next post: Scrapbooking challenge :: Four Separate Sections
Previous post: Scrapbooking challenge :: Free Printable