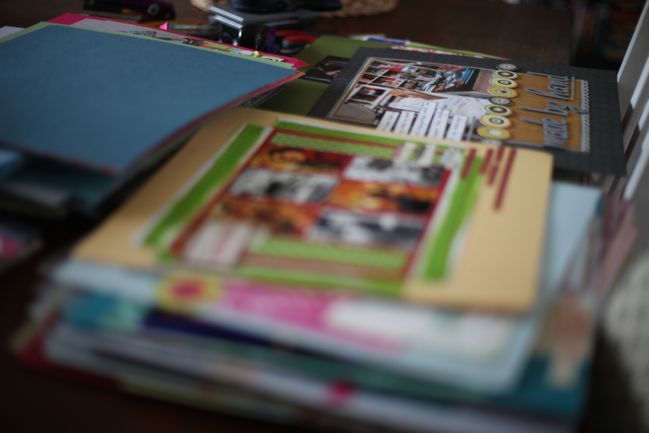 For more than ten years, scrapbooking to me was all about the individual page. Take some event in life and memorialise it on a pretty page. Photos and writing and crafty embellishment was all part of that. But then what? The pages were stacked on a shelf or filed randomly in an album and that was that. On to the next page, ever moving forward with completely unrelated pages, growing stacks of layouts and albums that could only be understood by other scrapbookers, because they were never self-explanatory to someone who didn't live and breathe patterned paper and pop dots.
One day I changed my mind and decided there had to be more to it. It took me a while to find my focus amongst stacks of hundreds of pages, but eventually I found a simplicity that made everything make sense and I fell in love with scrapbooking all over again, more than I ever had before. I went from stacks and random and incomprehensible to books that make sense to anyone, even if they weren't finished. I found myself going back to the layouts I had created and appreciating them and using them as one of the most important tools in my creative process.
Essentially, I realised I could put the book back in scrapbooking. Scrapbooking is no longer just about the 12×12 page for me, but about this larger volume that those pages create. And what I especially love is that means I have just as much love (if not more) for the individual pages than I did before – but then I also have this new level of creating that has opened up all sorts of new doors. It has been a total win all round, with no complications or drawbacks or banging my head against a desk.
I'm so very excited to share this with you in my new online scrapbooking class: Cover to Cover.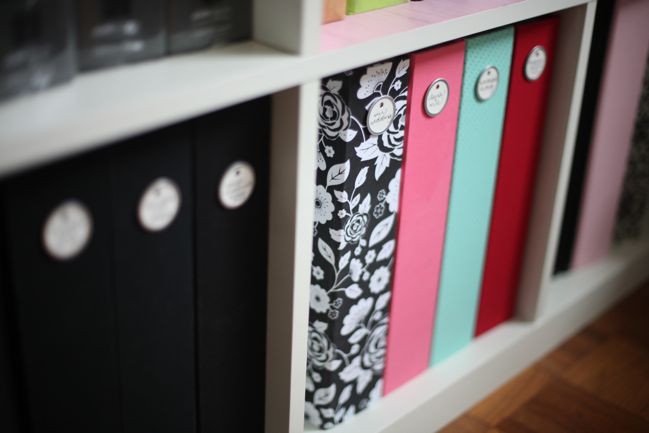 Cover to Cover starts on the seventh of May and runs for four weeks, finishing on the third of June.
It includes 25 full-colour PDF prompts sent to participants by email, so you can read straight from your inbox.
It includes an entire series of videos made just for this class so you can see all the concepts in action, including plenty of example albums but also the process of going from a stack of layouts (or um… many stacks!) to a collection of books that showcase your work in the best way for you.
There is a private message board to ask questions and share with other participants, we'll gather for a live chat session and I'll be available for questions and answers throughout in case you want a second opinion on what will work best for the way you scrapbook.
You don't need any specific supplies, though albums are an important part of putting the book back into scrapbooking. You can choose any albums you want, and if you have so many pages needing books that a giant stack of albums is a bit of a concern, don't worry: you can start with one. You do not need to completely overhaul everything at once, and you can certainly wait for a sale or your birthday or anything else that would help make the album investment worthwhile. (And we'll discuss some things to consider when you choose your albums too.)
Specifically, we'll cover five types of scrapbooks I have come to love. All five types might appeal to you or you might pick and choose what suits you best. In each case, we'll look at the how and why of creating that sort of book, specific page types, planning (or sometimes a plan to not plan), supplies and everything else you'll need to put that sort of album plan into action. These are not specific themes, but broader concepts of how to make something more than just pages when you assemble an album. If you followed along this past weekend, you might have put together that I'm working on quite a few pages with childhood dance photos at the moment. That doesn't mean to follow that example you will need a bunch of pictures of your five year old self in a tutu. (Although one thing we are going to talk about is ways to get photos you don't currently have.) Instead, that album is one of the five concepts, and that particular example is what I call a passion book. If there is something or someone you could call a passion at some point in your life, then that concept might be your answer.
We'll also cover ideas with chronology and timelines from both sides of the argument, what to do when you just have so many photos of one thing, how to get others to understand why your scrapbooks (and your scrapbooking!) are important and ideas for both current and older photographs. If you're already looking at your photos from 2012 and wondering how on earth you will get them all scrapbooked, then rest assured you will have complete control of that situation even in the very first week.
Digital scrapbookers, please know the examples in this class are paper, but the principles could still be useful for you. Keeping pages as image files on a hard drive is your equivalent of stacking up lots of paper pages, right? If you've been meaning to do something else and need a kick, then you may find it with us. Digi scrappers are always welcome in my classes! But I want you to know up front that the sample albums are all paper, and somethings (like moving pages around, for example) are less flexible in a photobook. But that doesn't mean it can't apply – it just means your process will be a little different. And that's totally okay!
There are also some bonuses along with all the new content made just for this class. They include access to some related videos from past projects, discounts from some of my favourite retailers and interviews with a variety of scrapbookers about what works best for them in terms of photos, pages and books.
I would love for you to join me.
| | |
| --- | --- |
| £18 – GB Pounds | $30 – US Dollars |
You do not need a Paypal account to sign up – you have the choice when you click of secure card payment or from your Paypal account if you prefer. Please make sure you pay from a valid email address, as it is the only way I can reach you with your class supplies. You will receive a receipt for your payment via Paypal when your payment goes through, then a second email from me welcoming you to class once your registration has been processed, which can be up to twenty-four hours later. If you do not hear from me in that time, you can always send me an email (shimelle at gmail dot com) to check on your registration. It may have gone to your spam folder, so do have a look, but sometimes it's been blocked even before it gets there and I need to send it again. No problem at all – just let me know.
Speaking of which: early bird registrants thank you so very much for your tremendous response. I need a few more hours to get all of your registrations processed, I'm afraid! But I promise you're not missing anything yet and your welcome email will be with you tomorrow (Tuesday).
Now… if there are any questions I can answer, please just ask away! I'm happy to chat about this project and help in any way I can! I'm so excited about this class that I actually woke up this morning and added an entire new section to the class materials inspired by the comments and projects you were posting here over the weekend. Thank you for sharing your work here and joining in the conversation! I look forward to helping you breathe new life into this fabulous craft as we explore the power of books!
xlovesx

Read more about:
16 April 2012

Next post: Glitter Girl tackles bold patterned papers (scrapbooking video)
Previous post: Scrapbooking challenge :: Use your leftovers