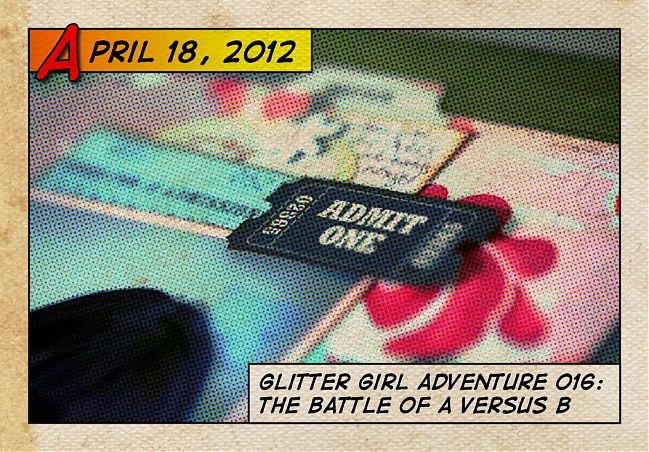 class content ©twopeasinabucket.com.
Just a note – the special discount code for free shipping and up to $10 off your order at Two Peas expires shortly! It's code SHMRCKS and there are further details near the end of this post. Right. On we go.
This week Glitter Girl takes on the challenge of bold patterned papers, something currently being discussed here on the General Scrapbooking message board. This week her adventure takes her through a range of page examples then the create of one page from start to finish.
There's a little something different for you this week – a PDF printable of scrapbooking sketches designed with bold patterned papers in mind. The collection of sketches includes both single and double page ideas. To download the sketches, go to this week's Glitter Girl page and look below the picture but above the description. There's a tab there that says 'files'. Click on that and you'll see the download link! Presto.
Anyway, shall we get on with the video?
For my bold patterned paper, I chose a floral from the Paper Heart collection by Crate. The woodgrain paper is from the same collection and most of the embellishment is from the Note to Self collection from Echo Park. The papers I used this week come in both 12×12 and 6×6 formats if you like the idea of the pattern but would prefer it on a smaller scale. (You can see all the supplies at the bottom of the page here.)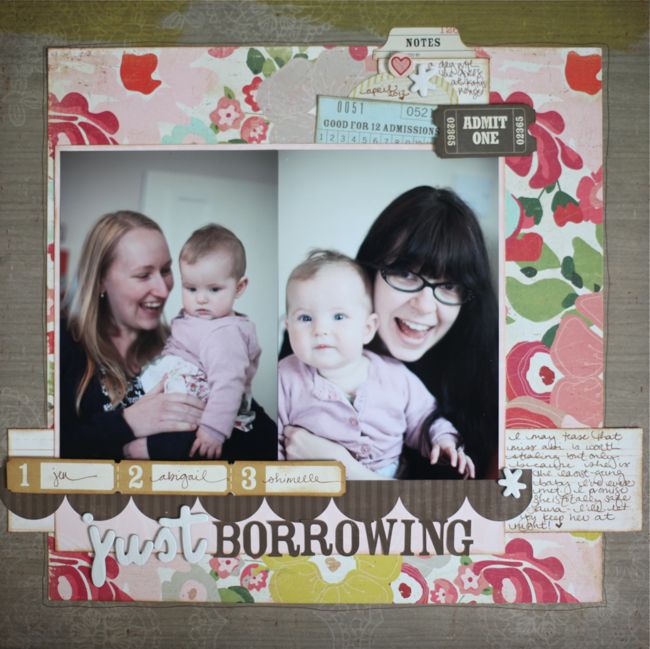 Now it's your turn! What bold patterned papers have proven themselves challenging for you? This week Glitter Girl encourages you to create a page with a bold pattern – particularly if you'd like to try one of the sketches! Take a photo of your project and upload it to Two Peas and check the box for the Glitter Girl challenge in step four of the upload process to share it with us all – and you're also welcome to share a link in the comments here if you fancy!
About the Two Peas discount code: The SHMRCKS discount code ends this Friday. Using that code will get you two things: free domestic shipping (or $5 off international shipping) on a $50 order (physical goods that are eligible for free shipping) AND a discount on your next order – $5 off a $50 order or $10 off a $100 order. You don't have to place the second order right away, of course! So this is perfect if you would like to do some shopping now and some shopping later… and when it comes to scrapbooking supplies, who doesn't want to do that, really? I appreciate if you use my link to Two Peas when you shop, as this helps support prizes, events and special guests here at shimelle.com. Thanks so much!
Onward, covered in glitter, my dear scrapbookers!

The Adventures of Glitter Girl is a weekly series on Two Peas in a Bucket, and goes live every Wednesday. I'll share each adventure here shortly after that. I hope you enjoy her quests for crafting happiness, and if you ever have a scrapbooking dilemma yourself, you can always call her to action on the message board.

Read more about: adventures-of-glitter-girl two-peas-in-a-bucket
19 April 2012

Next post: Scrapbooking Giveaway Day
Previous post: Cover to Cover :: A New Online Scrapbooking Class