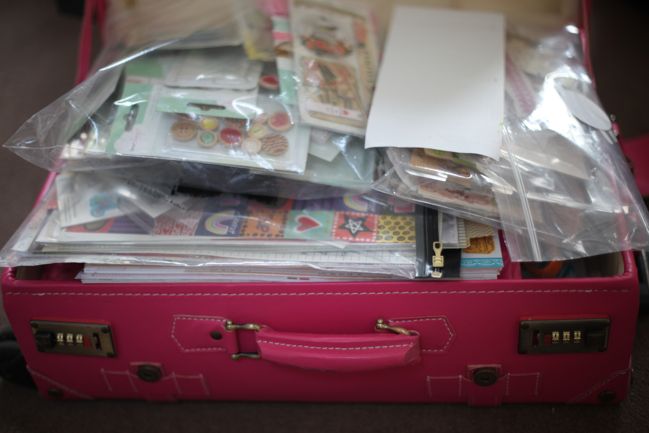 The last of the question and answer posts for this weekend (though there are still four challenges and the class announcement left to go live before the clock ticks over to tomorrow in my time zone) brings me to this…
Where do you scrapbook?
At home? At a friend's house? At a craft store?
At the dining table? Your desk? On the sofa, the bed or the floor?
When I first start scrapbooking, I sat cross-legged on my studenty futon and all of my supplies fit in a file box I had emptied when I finally finished accounting class. (It was required. The teacher was awful. The textbook came in three weeks before the end of term and was the most expensive book I ever had to buy and then the bookstore wouldn't buy it back. Accounting class had the most loose paper of any class I ever took, which is saying a lot to someone who wrote a dissertation on literature.)
I now scrapbook at my standing worktable in the middle of our living room.
Between the two I've scrapped at dining tables and on hotel nightstands and once on a train with a friend.
By and large if I go elsewhere to scrapbook, it's either at a friend's house or at a weekend we've arranged at some place where we can all stay and not have to worry about kicking anyone's family or partner out of the house! That picture of the pink suitcase is me ready to go to such a day – packed with an album of page kits, my tool bag and then a few extra bags of paper and embellishments thrown on top just in case. And the last minute realisation that I hadn't packed any pop dots, so there's a sheet of those thrown on top. That's everything I take and I still only end up using about two percent of it. So then once I come home I'll continue to scrap from what I packed until I've gone through all those page kits, for the most part!
So… where do you scrapbook?

Read more about: online-scrapbooking-weekend
15 April 2012

Next post: Scrapbooking challenge :: Free Printable
Previous post: Scrapbooking challenge :: One Photo Twice