Sometimes we end up with a photo that we feel deserves special treatment on a scrapbook page. It might be a beautiful, well-staged portrait or it might be a simple snapshot that just makes us smile. We can fancy it up by printing it larger or scrapping it on its own or dressing it up with plenty of embellishments. But for this challenge, we have another idea for you.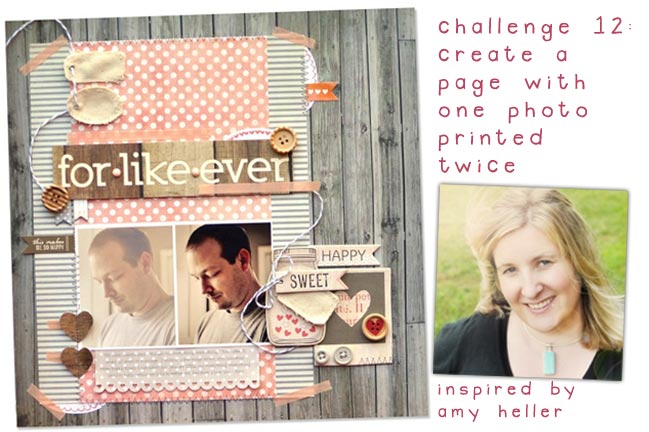 Layout ©twopeasinabucket.com.
Taking inspiration from Amy Heller's scrapbook page, For Like Ever, take one photo you love and print it twice for the same page. You can try her treatment of one full colour and one faded image, or you can try something else that comes to your mind. Try colour and black and white or plain and covered with vellum or one big and one small… whatever you fancy as long as one photo is printed twice for the page!
See more of Amy's work on her blog or in her page gallery.
To enter this challenge, create a new page with one photograph included twice, then upload your results to your blog or page gallery. Leave a link here, and entries close at the end of next weekend.




Read more about: online-scrapbooking-weekend two-peas-in-a-bucket
15 April 2012

Next post: Where do you scrapbook?
Previous post: How do you sort your scrapbooking papers?