This weekend, one commenter will win a seriously cute felted bear from gabrielefelt.
I am pre-warning you, this bear is GORGEOUS…. ready?…..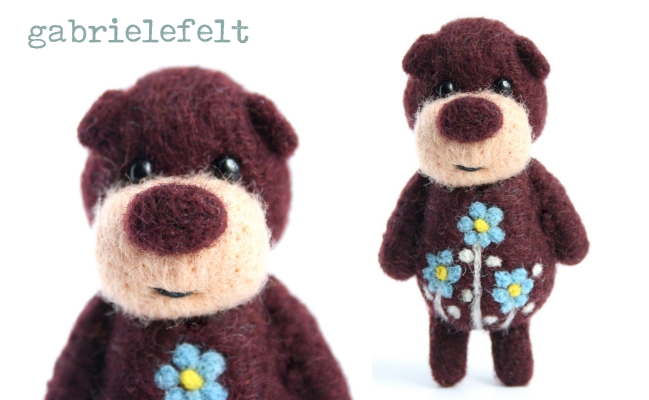 When it comes to her business, Gabriele is beautifully modest " I still wouldn't call it a business, it's just a place where the bears pop in and out, play, jump around, make funny noises and meet new people. They are something to accompany you everywhere, to spread the joy while wearing a cute bear- brooch or giving one as a present to the one you love. I put my dreams into the little bears and hope that the inspiration will reach the homes they travel to."
To enter, just leave a comment on this post letting us know what you would call this little bear should you be lucky enough to win him/her.
Entries close at midnight Thursday UK time and the winner will be posted Friday evening, so be sure to check back to see if it's your lucky day!
Good luck!
---


This week, we have two winners, first up is:



Congratulations to Jessica, who wins a place on Step Up Your Scrapbooking Workshop with Lynn Ghahary

---
Our second winner is:

Congratulations to Nadine, who wins $20 to spend at
Two Peas in a Bucket
Congratulations ladies, please email me (shimelle at gmail dot com) with your details.
There's a new giveaway every Friday night, so check back next week for another chance to win just by leaving a comment.

Comment [88]