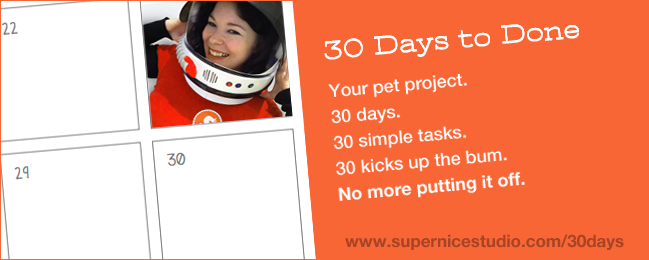 Oh, the first of September: it's like my own personal version of New Year's Day! I love the back to school season. And today I have a special FLASH giveaway to celebrate that. There are two online classes starting today – one I'm teaching and one I'm taking as a student. And I have a class pass for each!
First up is 30 Days to Done, taught by the lovely Relly Annett-Baker. (Relly has co-taught with me before, as the special guest on True Stories.) Outside of her crafty scrapbooking endeavours, her full-time job is all about the stuff that makes websites useful: content! I'm taking her class as a student this September, because I have about a zillion things I've been meaning to make happen on this little blog, but I need a bit of a kick to make sure I get them all done. Relly is awesome at giving that kick. AND she's extra awesome because she said I could give one of you a chance for such a thing too. For free. It's perfect for taking your scrapbooking or personal blog and making it just that bit better you wished it could be!
Web content strategist, Relly Annett-Baker is running the online class 30 Days to Done to help you get your blogging on.
30 days.
30 simple tasks.
30 kicks up the bum.
No more putting it off.
It starts on September 1st and it's £25.
This class asks you to make the simple time commitment of 15 minutes a day for 30 days. In this time you will plan, research, execute and refine your pet site – whether new or existing.
You'll get a daily prompt for action and some advice via email each day and there will be a forum to chat with your fellow classmates. If you can manage more than fifteen minutes, say thirty or even – gasp!– forty-five, there will be bonus content to explore, so it pays to be teacher's pet.
You might be a completely new blogger, an old hand who wants a kick into redesigning a site, or someone with an idea for a site you've never quite got around to.
There is no time like the present! So you can sign up here, and if you win the giveaway, Relly will happily refund your purchase price (or you can gift it to a friend if you want a buddy for your thirty-day journey).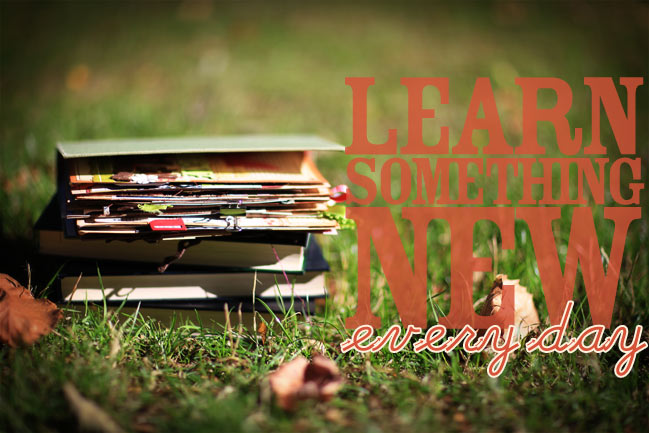 And of course I'm teaching a class that starts today too – Learn Something New Every Day. You can sign up any time, but I'll give away one class pass today. (And like 30 Days to Done – if you sign up and win, I'll refund your purchase price. Please note I can only refund that if you've signed up in 2012! You can always gift it to a friend if you prefer.)
Learn Something New is a month-long project all about simplicity and learning from our world, while getting a bit crafty too. But you knew that already. (Members, the first discussion topic is up in the forum!)
TO ENTER just leave a comment on this post. But BE QUICK! This giveaway ends today at 7pm UK time, so the winners can get started with the classes as soon as possible. Two winners will be randomly selected – one for each class.


Congratulations to Carolyn, who wins the hand painted sign from Just Beautiful Things.
Carolyn, please email me (shimelle at gmail dot com) with your address.
There's a new giveaway every weekend, so check back next week for another chance to win just by leaving a comment.


Do you have an online store full of creative and beautiful things? Are you passionate about spreading the love for handmade? Would you like a post like this to share your work with a new audience? We have some availability for weekend giveaway spots and would love to hear from you, drop us an email and tell us a little about your handmade adventure.

Read more about: giveaways
01 September 2012

Next post: A farewell blog hop for the American Crafts 2011-2012 scrapbooking team
Previous post: Online Scrapbooking Class Learn Something New starts tomorrow!