This weekend, one commenter will win a pair of kitchen prints from Peanutoak.
You may have noticed that July has been a month of beautiful artwork giveaways, and this week is no different – if you have fallen in love with our previous sponsors work then you are bound to adore the quirky and fun style of Peanutoak.
Patricia from Peanutoak creates beautiful bold images which feature an eclectic mix of subjects and some kooky phrases sure to have you smiling. I love finding out what inspires artists to create their work, and Patricia's daily routine sounds beautifully inspiring:
_My name is Patricia and I'm a graphic designer. I usually work at home, dividing my day time between graphic design, arts and crafts and taking a few walks with my eighteen year old dog 'Queenie', who keeps me company during the day while I work. I live in Lisbon and it's in this beautiful city that I also work. It's a lovely, sunny and bright place to live and it's easy to be inspired by it.
My brand is my signature as a person and it mirrors the story of my life, representing who I am as an artist. It often translates my tastes in several areas, such as movies, music, life and even nature and this is something of which I am very proud._
You can read more about Peanutoak prints via their Twitter or join the Facebook fan page.
To enter, just leave a comment on this post telling us if you are a kitchen goddess or kitchen catastrophe!
Entries close at midnight Thursday UK time and the winner will be posted Friday evening, so be sure to check back to see if it's your lucky day!
Good luck!
---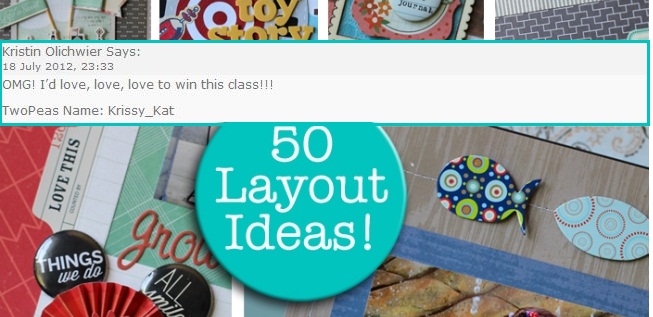 Congratulations to Kristen, who wins a place on the Scrapbooking Family Vacations Workshop with Nancy Damiano.
Kristen, We will be in contact with your prize details soon!
There's a new giveaway every Friday night, so check back next week for another chance to win just by leaving a comment.

Read more about: giveaways
20 July 2012

Next post: Gardeners' Digest scrapbooking blog hop (July 2012)
Previous post: Reserve your Christmas Scrapbooking Kit