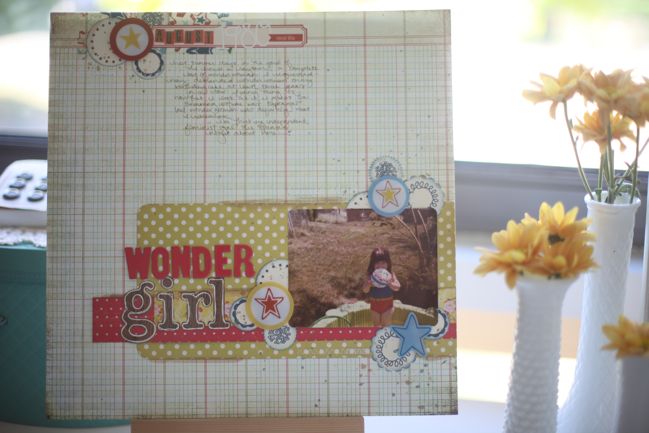 The twenty-four hours (and a bit!) is now up and this offer has closed. Thank you all for your tremendous support! If you missed this chance but would still like to support The Girls' Fund, you can donate directly through Plan here. And any time of year, one pound from each class registration goes to the fund as well.
A little over a year ago, I wrote a little something about scrapbooking with girl power – how a combination of teaching and travel and a few other things from my own meandering experience in life led me to support something called The Girls' Fund from the international charity Plan. It was an amazing day of dialogue with scrapbookers – both new friends and old – about what we all had in common and things we take for granted and the celebration of just how much life has changed for women in this world. And much has changed since that day in May last year.
✂ Rona Ambrose, the Canadian minister for the Status of Women, sponsored a resolution to back Plan International making education and rights for girls a global priority. (Rona, if you are ever in London, you have an open invitation to a lifetime of cupcakes from me. True story.)
✂ The UN formally declared today (the 11th of October 2012) as International Day of the Girl.
✂ This petition continues to gain voices to show world leaders they must make the rights and education of girls a priority. (Click that link to sign it – it will take you seconds.)
✂ Every person who has taken a class at shimelle.com since then has helped raise funds to go directly to this cause. Together we have supported hundreds of girls who could not attend school without help for supplies, tuition or transportation.
Today, I want to do more.
I could talk all day about why I believe in this cause. I am grateful to have lived in an age when girls and women can and do accomplish so much. As a girl who was in full-time education continuously from childhood to grad school, I know I would not be the same person given another set of circumstances. As a woman who runs her own business and has been able to see that through from a tiny idea to a part-time thing to a real job that encourages my crazy ideas while letting me pay my rent in my favourite city in the world, I thank my lucky stars. And I want more than anything for more and more girls in this world to have those choices to make on their own. I'm pretty sure as scrapbookers who read this blog, you're pretty lucky girls too. (And I'll wave to the approximately four male readers I have in the entire world. You're cool, don't worry.) I would love for you to support this cause today with any of three easy steps.

Just to clarify: all these options are still available! I will update this post when the offer ends, so as long as you're still seeing all this, your purchase will go forward as outlined here. Thanks!
ETA: This offer has now closed and the response has been AMAZING. Thank you so much – I'm tallying up the total and will post that as soon as I'm sure my sums are correct! It's a very exciting total!
Number one
I have a few things to share throughout the day, but here is your first chance to help: sign up for a class. Take your pick of Pretty Paper Party, The Perfect Collection (when purchased from shimelle.com only), Cover to Cover, True Stories, Explore, Learn Something New, Love your Pictures, Love your Pages, Blogging for Scrapbookers, Beyond Blogging for Scrapbookers, Something from Almost Nothing, You Think You Know Me, No Place Like Home, When I Grow Up, Worth a Thousand Words or My Freedom. (Wow. I'm not quite sure I ever realised just how many classes there were until I typed that list!) For the next twenty-four hours, I will donate 100% of the registrations for all those classes to Plan's Girls' Fund, to support girls who don't have access to so very much that many of us take for granted. You get the full class and permanent access – but the entire class fee will go to an amazing cause. So if you've been sitting on the fence, today is the day!
You can also gift any class to a friend. Just leave her email address in the 'notes to seller' box or send me an email if you miss it. If you want to set up a birthday or Christmas gift of any of those classes, let me know the date you want it delivered and I can do that too!

Number two
Tell a friend. If there is one post from this blog that you share all year, let it be this one please. We are stronger when we work together; these girls will be stronger for that too. If you know someone crafty, fabulous. If you know someone who you keep meaning to talk to about scrapbooking, this is your way in! If you know someone who wouldn't be the slightest bit interested in scrapbooking but could get behind Day of the Girl, at the very least point her in the direction of Plan and the petition for girls' education. Tweet your thoughts with the #dayofthegirl hashtag today. Show your support on Facebook. If you have a girl power-themed scrapbook page, blog it with your own thoughts about Day of the Girl. Whatever works best for you, please tell a friend.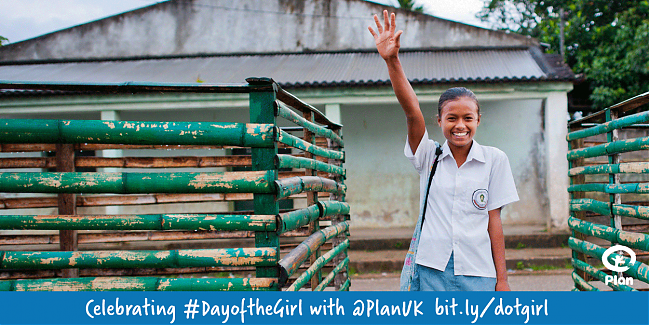 Number three
I have a little mystery project for you too. It's something only available to purchase here for the next 24 hours. I will not be including it in any other class materials and there will be no other day to purchase it. It's over an hour of scrapbooking process including multiple scrapbook pages and plenty of discussion as we go. It's for sale just for the next 24 hours and will be delivered to you via an email link on Tuesday, and from then on you will have permanent access to the video to watch it whenever you like. And… you pay what you want. 100% of the payments for this video will go to The Girls' Fund. You decide how much you want to give, knowing that in addition to feeling awesome about helping those girls, you also get over an hour of scrapbooking video goodness that you can't get anywhere else. That might be worth £2 or £20 to you – you decide.
This offer is now closed. Thank you SO much for your support!
Last year we raised £1200 in a single day, and every class purchase since then has raised a £1 for Plan. Today I would love to top our previous efforts! I'll keep you updated… and thank you so much for supporting a cause so very dear to my heart.
You are awesome.

Read more about:
11 October 2012

Next post: Jenni Bowlin Studio Halloween Treats Blog Hop
Previous post: 10 things to do with pumpkin