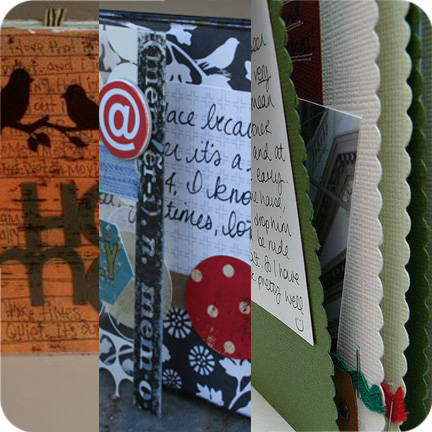 Sometimes projects are just a long time coming. This is one of those. But oh, goodness, am I excited about it now. I keep trying to come up with the ultimate story to lead you into this one but I'm too giddy so I'm just going to cut to the chase with this class.
There's No Place Like Home is an online class that starts on Monday, the 24th of March. Starting that day, participants will receive 25 prompts by email—a prompt every day Monday to Friday, with weekends free by popular request.
This project is all about our many definitions of home, from our hometowns to our current neighbourhoods to the very buildings in which we live. Four fabulous guest artists have joined me for this project, so you'll get to see projects from Allison Kimball, Barb Novak, Kate Bucci and Beshka Kueser. And projects from me too.
Each week's prompts will feature two major renovations and three smaller quick fixes. The major renovations include no fewer than six full albums (with worksheets and resources for each one) and other large scale projects for home display. These projects take a few hours to a few days to complete, depending on your style and speed. Quick fixes include single and double page layouts, journaling prompts and little exercises that tie in with the bigger projects. Some of these will take just a few minutes, while the longest quick fix takes a little over an hour.
The balance of the major renovation projects and the quick fix projects means you can decide how much you want to make during this course. You can go all out and complete all of the five tasks each week—perfect if you want to create a little something every day plus have a bigger project for the weekend. You can just complete the major renovations and you'll have plenty to show for it from two or three scrapping sessions each week. Or even without much spare time you can complete the three quick fixes each week, then choose one or more of the major renovations to complete in your own time. Lots of flexibility and no pressure to complete anything by a deadline, but at the same time there's plenty to be doing if you want to create every day.
You'll receive the daily prompts by email, and they are also archived in a private web forum. (For those who participated in the Christmas Journal forum, we have upgraded to allow us to archive everything in full PDF format, not just plain text. Hurrah!) The private forum hosts discussions about the class projects and you can participate as much or as little as you like. You can also share your work with the other participants on that forum, so you'll end up seeing even more than the projects presented in the prompts as everyone brings their own ideas and photos to the mix. (Another upgrade for alumni—you can now upload your photo straight into the post, so no more confusing linking from elsewhere.) You're also invited to participate in an online chat party midway through the course.
None of the projects require special shopping—you can customise each project with your own supplies. We'll talk about that idea specifically with a few projects.
There's No Place Like Home, in summary:
...class starts Monday 24th March
...there are 25 prompts delivered Monday to Friday for five weeks
...each week has a theme with two bigger projects and three smaller projects.
...all prompts are permanently archived online
...participants are invited to a private discussion forum and online chat party
...in total, you'll receive detailed instructions for ten large projects and fifteen smaller creations.
...all twenty-five projects focus on the many definitions of home in your life.
Between now and the 24th, I'll share a few more sneak peeks of the class projects. Maybe the next one will let you in on a little more than those three snippets above!
How to sign up:
Even if you've taken one of my classes before, please read this because there is one little change that is quite important!
To access the class materials, you need a login name at our class forum. If you have one from this past year's Christmas Journal class, open a new tab/window and login here to make sure you remember your login and password.
If you didn't participate in Christmas Journal '07, you won't have a login yet. No problem—you just need to pick a name! Go here and register. You won't be able to actually post on the board yet…that's absolutely fine. You just need your login name at this point.
Okay! From here on out, it's easy! You can pay in US Dollars or UK Pounds. (If you're not from either of those countries, you can still join us—just pick whichever currency you prefer.) Click the button to pay. When you pay, there will be a box for your forum login name. Just put the login name in the box and all will be fine! Ready to click?
$20.00 US Dollars £10.00 UK Pounds
A few little things to remember:
If you do not put your login name in the box during payment, there may be a delay in receiving class materials.
Please keep your confirmation email from Paypal. It is your receipt for the class.
The first prompt is delivered on Monday the 24th of March.
And now that's quite enough formal talk for one evening! I think I shall go retire to a room that is more comfortable than the office, because after all, there's no place like home!
(Yes, like Dorothy in the Wizard of Oz. Because I am from Kansas, after all.)
xlovesx
PS: Just to clarify—if you forget your login name or don't see the box for it, please don't worry. I can look your name up and all will be fine right now. It's just really helpful if you do remember. And of course, if you wait until the day the class starts to sign up, then it gets a bit crazy. But so far we are doing just fine and everyone has had a name when I've looked it up so we're all good!
Also, several of you have won places on this course or received them with other classes and so on. That is my big job for Monday, so I will be in touch with you then! ETA: This started today but it was a big job indeed so will finish tomorrow (Tuesday). Today's other big job turned out to be driving through this. Whoa.

Read more about:
06 March 2008

Next post: A sneak peek, a giveaway and a little extra help
Previous post: Just sayin'...