Well hello! As you may have guessed, by my ever so cryptic title image there, I interrupt your normal monthly viewing of 10 on the tenth with a hijack post! I hope you don't mind Shimelle! Mwuahahahah!
I will start by saying a brief hello. "Hello!" I am Sj and I organise the giveaways on Shimelle.com, which I LOVE doing (and hope you love too!)
Normally Shimelle would be writing this post with her chosen topic for "10 things" but today I am taking a sneaky chance and hopping in first to share a post of my 10 favourite posts on Shimelle.com.


1: Cupcakes. Yup. I really did say cupcakes. I have never known someone make cupcakes like Shimelle does. Epic. My favourite ever recipe of hers is second down here – pumpkin cupcakes. Whenever I sniff autumn in the air and see a red leaf on the ground I get a bit giddy that pumpkin season is on its way. The smell of spiced pumpkin cupcakes the best smell to come out of my kitchen ever. So, that is why my first choice is cake!
---


2: My second favourite post, is a post that Shimelle created back in August 2011 at the time of the riots. It was a 10 things post, based on London. The post is clearly embedded with her love of the city, but the past that struck a chord with me was the section entitled Sudden community spirit. To read such love for London when the rest of the world seemed to be condemning spoke volumes. I will let you read for yourselves to see if you feel what I felt when I read it for the first time.
---


3: My third choice is ANY post shimelle writes about cameras and photos – because, there is nothing quite as infectious as reading about how much this girl loves a photo! I love photography an incredible amount, and reading hints and tips from other passionate photographers is always a favourite blog find for me. This is fantastic for getting the most out of the camera app Hipstamatic
---


4:Hmmmm is my number 4 too much of an obvious choice? Well – I'm going to choose it anyway! The photos from my 29th Birthday party will always be some of my favourite photos ever. Having an Alice in Wonderland Mad Hatters tea party was more fun than I could have ever imagined – and you can see why by popping by the blog post here. Would you just look at the costumes!
---


5: Number five for me was an easy choice, especially when singing the famous 12 days of Christmas carol "Five gold rings!" Journal Your Christmas of course! If there is one album on my shelves I would save from a fire gasp it would be my JYC from the year that my son was born. I love it now, and I will love it still in 40 years time, because it was created and written directly to my son, a of diary his Christmas. If you have never joined in with JYC , I urge you to swing by here and see what the glorious fuss is about, you won't regret it.
---


6: One of the biggest things I feel I need to mention here, is actually a bit of praise for Shimelle, and her involvement in the Olympics. Not only by day does she wear pink and purple and work as a guide for tourists, but she is also dancing in the closing ceremony! Proud? Yup… me too.
7: Number 7 on my list involves generosity. Shimelle's classes are all incredibly reasonable (did you know she was the first to offer online scrapbooking classes?) But did you know that she also offers up lots of free tutorials. No? Well you do now!
---


8: Eighth for me are ALL of the videos on Shim's youtube channel. How often have you searched for a craft tutorial video, only to find dull, dark and blurry videos? I love that Shimelle's videos are so bright, clear and informative whilst also being incredibly inspirational.
---


9: Number 9 is a post that reminds me of a very fun day I had at the beach, with a girl in her wedding dress. A day of pink netting, veils, pretty shoes and ice cream.
---
10: And last, but by no means least – is a post about a page. It's hard to choose a favourite page of Shimelle's, it would probably change monthly, but right now, one of my favourite pages of Shim's is this one: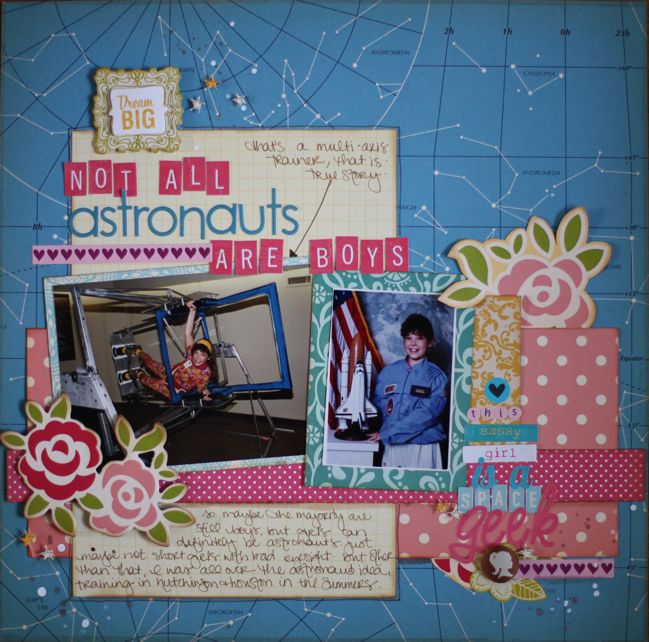 I love the colours, the theme, the title and the fact that Shimelle went to train as an astronaut one summer when she was younger!!!!!
---
I can't think of a better way to end my post on than astronaut revelations, so I will part ways with you now. As always – join in – and add your link us to your post!




Read more about: 10-things
10 August 2012

Next post: Glitter Girl and scrapbooking supplies, out of the box
Previous post: Glitter Girl and Instant Photo Inspiration (scrapbooking polaroids and instax pictures)