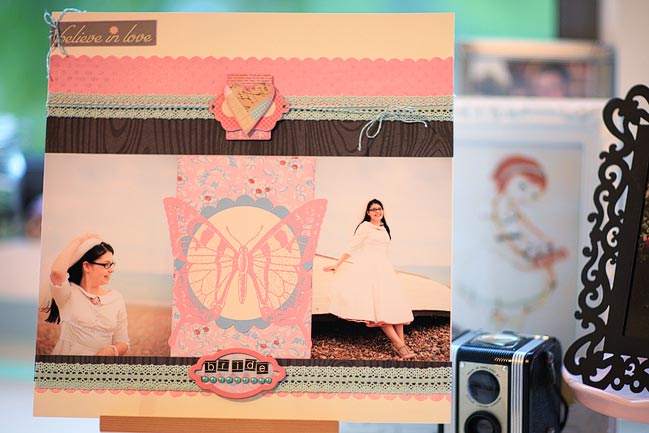 I tried out the brand new Jenni Bowlin inks and paints for this layout and I am so in love with the pink that I may need to stockpile it! I'll show you the polka dot painting at the top in more detail soon.
I actually blogged about my wedding dress before the wedding, but of course I couldn't share any pictures at the time — that would have ruined the secret! I actually went to every fitting on my own because I didn't want anyone to know about the dress. Apparently I was so secretive that some of my friends had a betting pool about what colour it would be, so I suppose in the end it may have been far more traditional than some expected!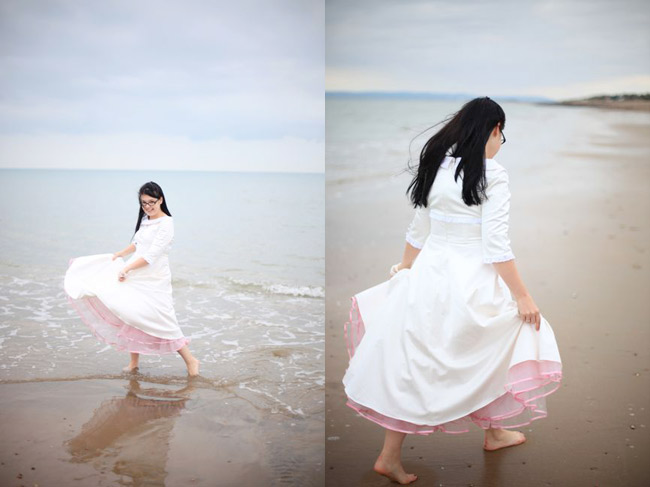 I actually only tried dresses on at one place. I looked at some others but couldn't commit to trying things on that just weren't right. The fabulous girls at Candy Anthony never tried to talk me into dresses that didn't meet my little checklist of what I had imagined in my mind. It was so refreshing to have someone take me at my word when I made blanket statements like I don't want a strapless dress. They never tried to change my mind like so many others. The studio is an amazing little place and the in-progress dresses just visible through a doorway were just as intriguing as all the beautiful things on display. Popping in to see the dress come together was particularly cool. Taking it home in that giant bag, I don't think I stopped smiling at all, even though I had to take it on the train during rush hour. Men were clueless and thought I had clearly gone on some sort of ridiculous shopping spree; women knew exactly what would come in a bag that big and smiled or even asked about the big day.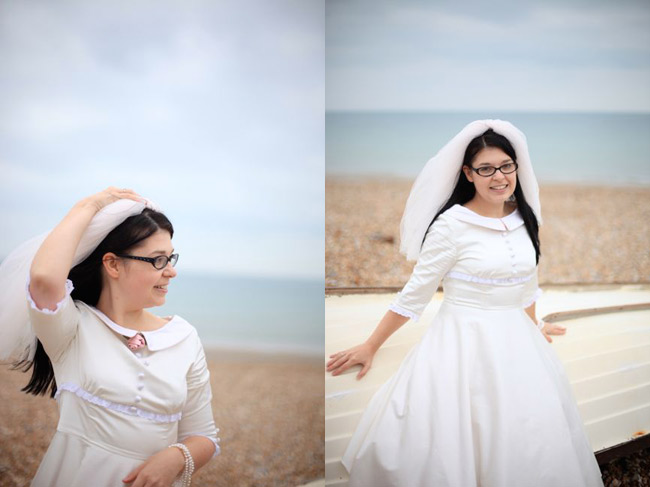 Originally I had imagined I would go with something a little more funky — I loved the idea of her polka dot dresses (and if this one had been in the collection at the time, it might have swayed me!) but in the end they seemed too much, and it was the simplicity of this dress that had me at hello. It wasn't one they would bring out for an obvious choice of a summer wedding, but it turned out that sleeves were exactly what made the difference to me. I just liked the line of it all and when I asked if they thought I would melt wearing sleeves in August, the reply was Darling, you'll be wearing a million layers of crinoline. If you melt, it will have nothing at all to do with sleeves. Oh: quite right.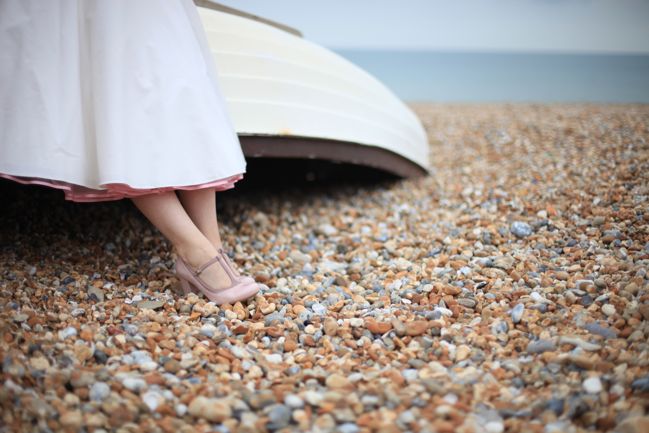 And pink crinoline, yes please! Pink and white in the veil too — although given the choice again, I think I would have gone for an additional petticoat and foregone the veil, but it was hardly an issue. As much as I wish I could wear my wedding dress for other occasions, I do actually wear that pink petticoat from time to time with other skirts and dresses. Once I wound up in a Marks & Spencer in full petticoat and it was quite amusing to try to fit through the sandwich aisle in all those layers of fluff!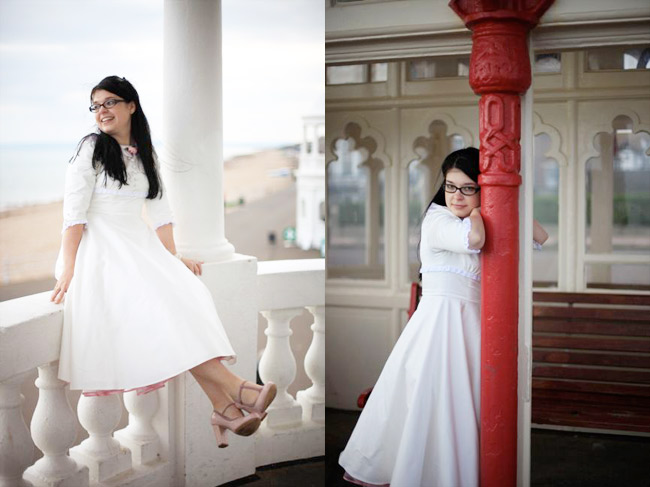 I have worn my dress exactly once since the wedding — for some photos taken by SJ in which we spent the day walking all over the picturesque seaside town where she lives. It's a quiet place, so anyone who did see us seemed shocked at the idea of walking around in a white dress, and several people asked if we were going to a fancy dress party (what was SJ's costume then? A photographer?) and some people stared a little more than what was comfortable but all in all it was a fabulous fun day and something I would totally recommend. We didn't take lots of portrait type pictures at our wedding because we wanted to enjoy the day, so we knew something like this would be an option. Some people actually do trash the dress sessions, but I didn't want to trash my dress in the slightest and I can assure you that it survived entirely. Perhaps another benefit of a slightly shorter dress was that I never had to worry about it dragging along the ground.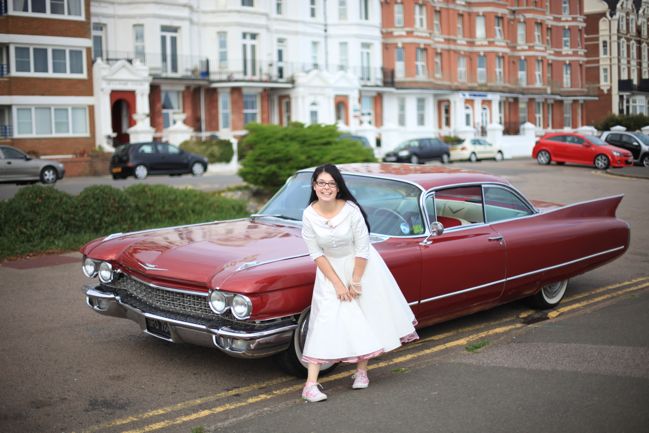 Also, I think if you have a friend who is a dab hand with a camera, this is exactly the type of photo shoot that is perfect for a friend. Don't get me wrong – there are amazingly talented photographers out there who do bridal shoots and I'm sure the experience would be amazing! But it was also nice to have a known quantity for the support when you're doing something a little out of the ordinary, like walking around town in your wedding dress. Some of the silly ideas we tried didn't make for amazing photos after all, but some of them worked and some of them just happened — like when we walked along the sea front to see this gorgeous old car. The people who owned it were sitting nearby and they giggled as we tried to take the pictures quickly before anyone noticed. But really – how perfect was that?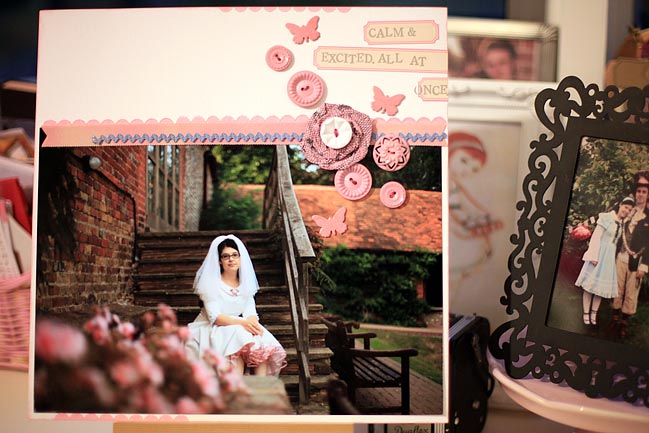 More Jenni Bowlin paint here – for the stamping and painted onto the back of crepe paper to make the flower. I promise to share more paint things once it hits the stores!
I have been trying to plan a day for The Boy to join in the photos as well but sadly he is a bit more camera shy. Seriously his suit was amazing so eventually he will have to give in to more Kodak moments at his sartorial best! Oh, and unlike my dress which was many, many months in planning, he picked out his suit about 72 hours before he walked down the aisle. And had it tailored in that time too. I kid you not.
For the record, I don't think I have ever included so many photos of myself in one post and I'm not planning to do it again any time soon. Eeep. But many thanks to SJ Dowsett for taking these pictures for me!!
Also, I am loving the snippets of your own wedding stories that are being left in the comments this week. I can't wait to hear your wedding dress stories now!
xlovesx
PS: I still have the giant purple bag, and although it is a ridiculous size to store, I have no intention of ever giving it up.

Read more about: wedding
26 August 2010

Next post: Oh, I do love a wedding...
Previous post: Lessons learned from sewing dresses for bridesmaids