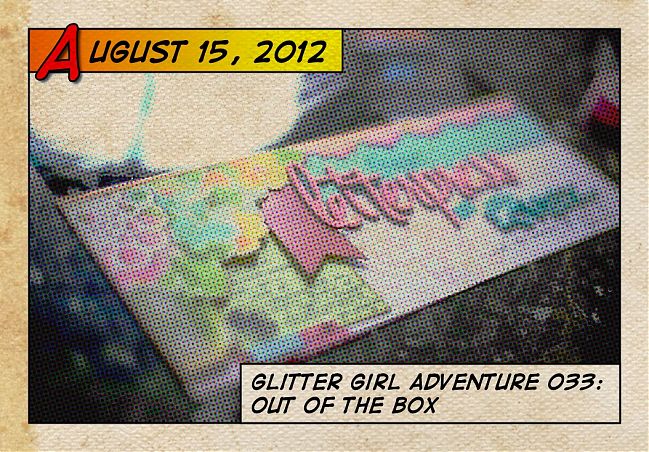 This week, Glitter Girl gets as close to a haul video as she ever will. Have you heard of the haul video phenomenon? It's an interesting concept… basically, it's the idea of going shopping, then sharing your shopping (and possibly the fabulous bargains you grabbed) with an audience via your webcam and a Youtube video. These videos can go two ways to me – sometimes the shopper shows you something they found with a clever deal or great excitement for a new project and it makes you consider a product you've never seen or never considered. That sort of thing can be quite inspiring! As someone who tries to pick the supplies I will love and use rather than just the things that are a crazy discount, sometimes haul videos can be a bit too much stuff for my personal taste and I get a bit twitchy, but I know that's just one of those things about being me! But this week, Glitter Girl unpacked an order from Two Peas in a Bucket (funny, I'm sure that box says it's address to mild-mannered scrapbooker Shimelle Laine) and takes you through her process of how her creative process starts straight out of the box.
This week's adventure was inspired by this question on the message board, about mixing and matching various companies and collections in one project. The truth is I don't set out on a special quest to mix like that – it's just what happens as I look at new supplies and start to match them with what I already have. (To give you an idea, I tend to order from Two Peas on an average of once every three weeks, and I normally kit up about five layouts straight out of the box, then everything else gets put away with my supplies. Kitting up a few pages straight away inspires me to get creating rather than just looking through all the pretty paper for hours… which I could easily do!)

For a full list of supplies for this project and some of the highlighted items from the order, please see this page and scroll to the bottom to add your favourites to your shopping basket. Those Ink & Wit stamps on 75% off sale can be found here by the way – there are a variety of designs and they are all in final inventory and won't be restocked, so if you see something you like, grab it!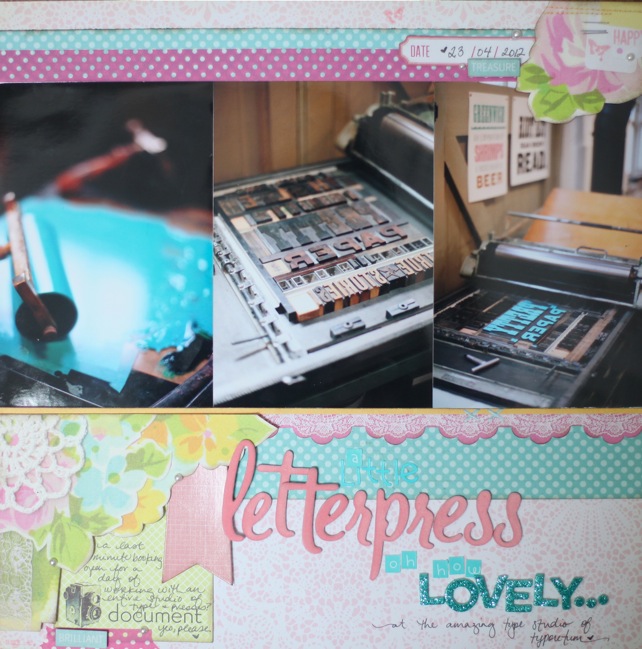 The photos on this page are from a rather lovely day indeed, when I took up a last-minute place on a letterpress workshop at Typoretum in Essex. Highly recommended. Perhaps I should write up something about that day in more detail? I have done some letterpress before (I have an antique small format press, which we used for our wedding invitations and some other projects, but I have just a limited selection of type and the lot is in storage at the moment as there is nowhere for it to live in the tiny flat of these days, but I would never agree to letting it go!) but I wouldn't say that was necessary in the slightest to enjoy the workshop. Instead, it made me want to focus on what I couldn't do with my own equipment, which was work in a large format. So I pressed up something with lots of mixed wood type and swooned over the serious collection of type and presses at the Typoretum workshop. I'm hoping I'll be able to work there for another day soon with more project ideas brewing away!
Now if you were paying attention, you'll have picked up on how I said I tend to kit up about five projects straight out of the box, yet this episode only included one scrapbook page. Would you care to see the rest? If so, I'll see what I can do.
Your challenge this week is to mix products from a variety of manufacturers – but especially by paying attention to the steps in your creative process as you gather your supplies. Share your project in the gallery at Two Peas and let us know how it all comes together for you.
Onward, covered in glitter, my dear scrapbookers!

The Adventures of Glitter Girl is a weekly series on Two Peas in a Bucket, and goes live every Wednesday. I'll share each adventure here shortly after that. I hope you enjoy her quests for crafting happiness, and if you ever have a scrapbooking dilemma yourself, you can always call her to action on the message board.

Read more about: adventures-of-glitter-girl two-peas-in-a-bucket
15 August 2012

Next post: End of the Party :: My part in the London 2012 Olympic Closing Ceremony
Previous post: 10 Things :: Aug (10 reasons) hijack!