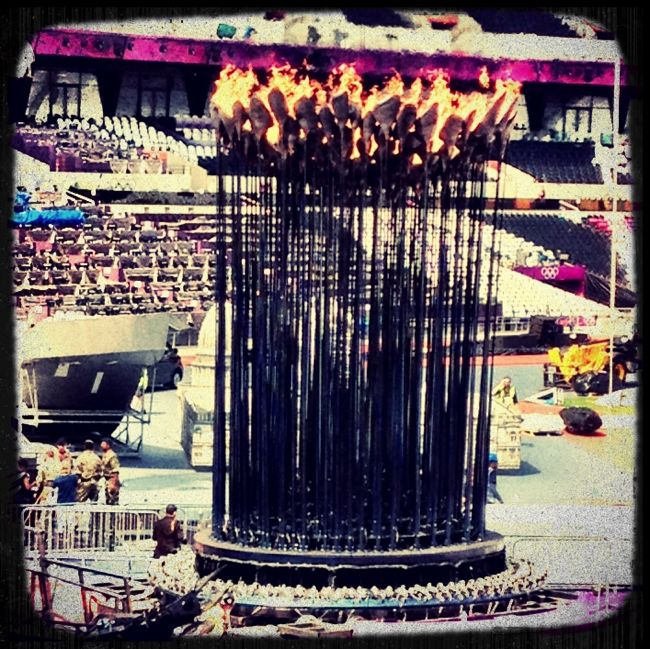 More than seven years of planning for sixteen days of events and so far, it's taken me at least six days to recover. It's been one heck of a party indeed. I feel like I'm in Olympic withdrawal, hyperaware of everything real life that got moved to the side during the games, yet a bit listless that there's not a crowd in front of a giant screen across the street, that the buses are back to their normal schedule, that there are far fewer security passes hanging on lanyards around necks. So many other volunteers I know say they are feeling exactly the same. I've even seen Gamesmakers spot each other on the train by way of still wearing the shoes Adidas sponsored for their uniform, and suddenly exchange their best stories from the experience.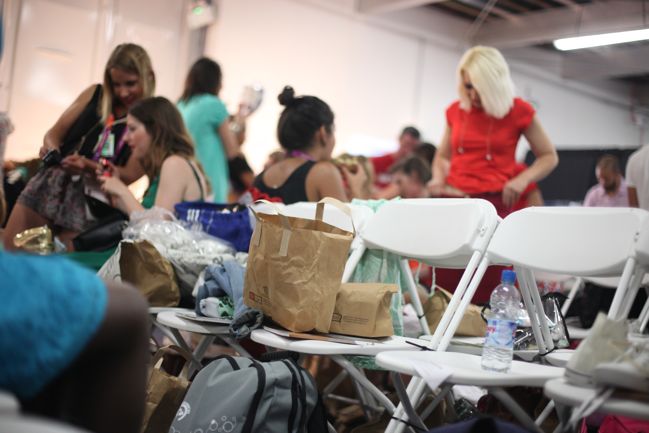 My biggest story is certainly that of the closing ceremony and the long journey that led me there. At so many steps along that path, I thought it wasn't meant to be for me. Anyone could sign up on the London 2012 website to volunteer for the opening and closing ceremonies, but I only discovered that about two days after the closing deadline and thought surely that was the end. A few days later a recruiter with a clipboard stopped me after dance class and explained they were still looking for people, and asked if I would come give it a shot. From that recruiter, I went on to a first audition in early November, and it was definitely the most unique audition I've ever attended. The staff at these auditions were looking for performers from all walks of life to take part in all four ceremonies: open and closing, Olympic and Paralympic. I auditioned during the day, and in my group I met a university professor who travelled hours to London, a teenage student who had bunked off school for the day and was a bundle of nerves because he had never skipped so much as a single class before but really wanted to get a part, members of a deaf music group and their signing interpreters, and a gentleman who remembered the 1948 London Olympics in his youth. That was all just waiting around for everyone to arrive and sign in and we still had no idea what we would be asked to do for the next few hours.
Once on our feet, we went through a variety of exercises to see if we could take direction, if we were afraid of the camera, if we could keep a beat. We learned to navigate a large space by grid of coordinates and how to start in a big crowd of people and move out to form the Olympic rings. We marched around the room following a zig-zagged line on the floor whilst jamming along to a variety of tunes. We did a little improved dancing here and there with a partner, and I was partnered with a man called Geoffrey, who is largely paralysed and gets around with an amazing motorised wheelchair and communicates with some fancy gadgetry. Even with all that I could tell he was so excited and I so hope Geoffrey got a part in one of the ceremonies. He was great fun as a dance partner! As a big group, we mimed a morning routine with an attempt at coordinated yawning that caused a most hilarious run of actual yawns to pass through the room. Then to finish, we quickly tried a bit of a dance routine while cameras rolled and people compared notes behind clipboards. Danny Boyle came in to watch for a while. And right before we ran that simple little dance for the last time, we were told to 'spice it up' with whatever special flair we could, and suddenly each of us would catch a little improved spin or jump or clap out of the corner of our eye as everyone in the room tried to think on their feet. We were told to check our email closely for the next forty-eight hours.
Then it was done. Back on the 108 bus home. Crazily checking my email and seeing nothing. Searching Twitter to find people saying they received an email just a few hours after their audition. Feeling like it had to be over when I didn't hear back in the forty-eighth hour, and being sad but okay with that.
Then getting an email the next evening, at more like the eightieth hour and finding out I needed to come back to a dance-specific audition ten days later. Somehow the fun and the ease of that first audition gave me some sort of false impression that the call-back would be easy as well. While we were queueing to go in, a discussion came up about what sorts of things people did for a living. The person behind me was a dance teacher. The person in front of me was in the cast of Chicago. THE CAST OF CHICAGO, PEOPLE. Every single person who joined in the discussion had dance as some sort of professional element in their life, and then there was me, ten years older than everyone else and someone who treated dance as a hobby or a bit of fun. Again I was thinking there was no way I could be successful in this audition, dancing next to people of that standard. It only got worse when I saw the routine, and we were told that first move should be 'probably three pirouettes – four if you can, just two if that's all you can do clean'. My 'clean' runs out at about one and a half. Then a sudden yet controlled fall to the floor. My version of 'controlled' meant getting to the floor without breaking any bones, and it didn't look anything like the gravity-defying coordination of the lady from Chicago. We had to pick up an entire sequence in just a few minutes (it was about double the length of what I would normally learn in an hour-long class) and a huge part of me sighed in relief when the steps in the second half of the sequence came more naturally to me, but would anyone still be looking after I had struggled so much with the beginning? There wasn't much time to think about it, as we were immediately broken into groups of four or five dancers in front of the judges (and hundreds of other dancers) in a giant room, and then it was all over. This time we were told we would hear in a few weeks. I only told my closest friends that I had auditioned at all, and with the caveat that I was sure I had blown the callback.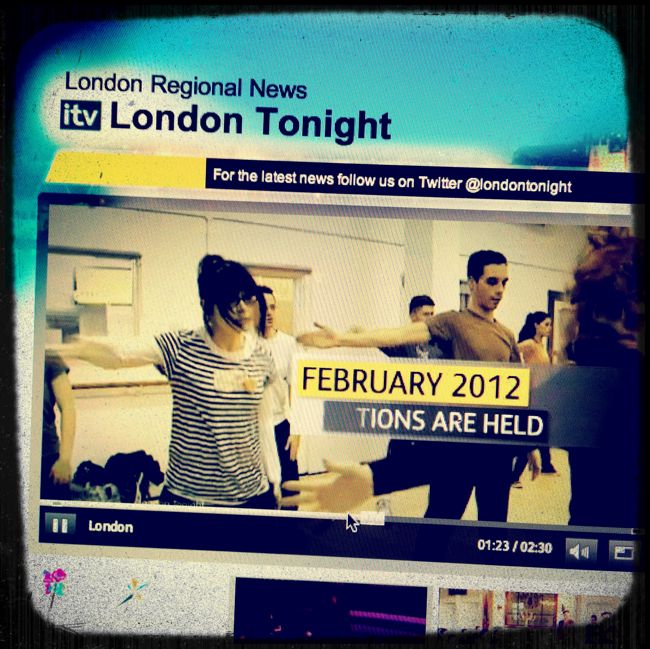 Several weeks later a camera crew rolls into the class I go to every Friday lunchtime to take some footage for a news feature on London Tonight. It turned out that after all those auditions, they were still looking for more men, as the recruitment drives through dance schools and drama groups had turned up mostly women. They interviewed some guys from dance class about whether they had known about the auditions (they hadn't) and then ran some text about how the public could get involved over shots of us running the routine. I still didn't tell anyone in class I had auditioned, then that night my phone kept lighting up with people asking 'is that you on the news? – something I scrapbooked here, which you might remember.
By the time that piece aired it was well past the 'few weeks' we were told so being part of that news piece was a bit bittersweet, as I was convinced I didn't have a part. I later found out they had vastly underestimated the time it would take to cast everyone and contact them. That very weekend, I got an email saying I had been cast in the closing ceremony, in a part that required both 'a character role and a spectacular dance sequence'. That was the point when I decided it was okay to tell people I had auditioned… but I was also sworn to secrecy and especially warned about saying anything on the internet, since the ceremonies would need to be kept secret from the press. But I shared the news with dance class friends and we compared notes as several others had auditioned by then. Some of us were in the closing and others in the opening. None of us were in the same groups, so our rehearsal schedules varied greatly. Some people had thirty rehearsals but they were all in the evenings for just a few hours. My group had far fewer rehearsals but they were almost all full days that left us quite drained. We all desperately wanted to talk about what we were doing but agreed we had to keep as much of the secret as possible.

Rehearsals started in early spring, first indoors at Three Mills film studios, just a short distance from the Olympic park. Then we moved outdoors and further east, to a car park in Dagenham. Literally. There we had two spaces marked out at the same size and shape as the real stadium, but without the seating and such, of course. When we moved outdoors, we started rehearsing with a radio system, where we had headphones that would let us hear both the music and the directors speaking to us. In the event that one's headphones fell off in the middle of a run, there was strange moment of realising you were at the world's largest silent disco, while hundreds of people danced in time without a single sound to be heard aloud.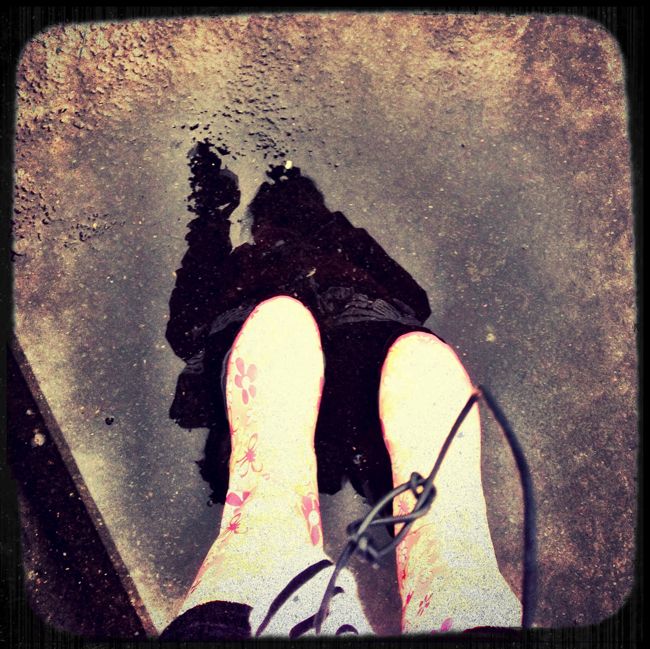 Our group had a special talent in making it rain whenever we had rehearsal. Admittedly, it just rained a lot throughout most of this year in England! But we could have five days off and they would all be sunny and dry and as soon as we arrived at rehearsal? It would start bucketing down. Every. Single. Time. After many of us ruining multiple pairs of shoes, we smartened up to the weather and started dancing in our wellies. It might be dry when we started the run, but give it twenty minutes and we'd be wondering if Michael Fish was currently broadcasting there will be no hurricane' to the rest of the British public. We started the show underneath the ramps that held all the set, so sometimes we thought we could escape it there, but it often rained so hard that the water would start to deluge through the gaps in the ramps and we ended up worse off than if we just stood in the stuff. Plastic ponchos and a million layers of clothing became quite normal, and I will just tell you now that dancing in wellies is really not the best thing for your feet. You really don't need to learn that for yourself.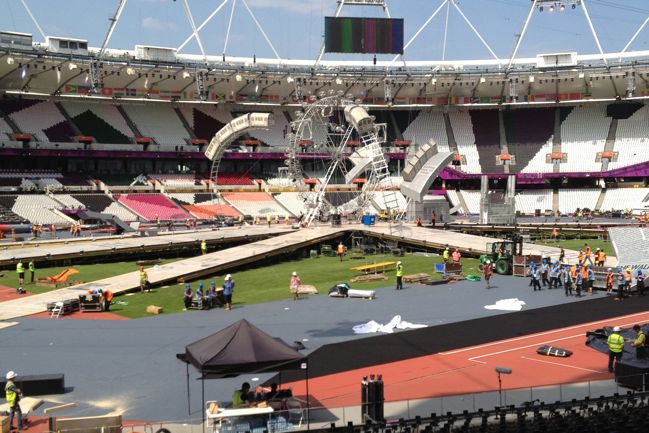 One big difference between the opening and the closing ceremony rehearsals is that the opening performers rehearsed in the actual stadium for several weeks. They were the only ones allowed in at that point while all the final preparations were being made to the park, and they had time to learn so many specifics about the place. My friends in the opening knew the seat numbers that would be the best place to see them and had all sorts of specific information about how the show would work in that space. Seeing how they completely changed the set in the first five minutes of the show going live, there is no way it could have worked without that! Watching their show was amazing. But by the time they were done and out of the stadium, it needed to be used for something else of course, and we were still working in a car park with no idea how things would come together.
The day of the closing ceremony was the first time we walked on that ground. We never did a dress rehearsal in that space. Being in the first half of the show, we had very little idea of what was in the second half of the show, because we were always dismissed when our section was completed. During the games, lots of people asked me if the closing was going to be as much of a production as the opening, and all I could think was that it would have to be so very different. I didn't realise it would be as different as replacing a choreographed timeline of civilisation with a giant inflatable octopus. But really, who could?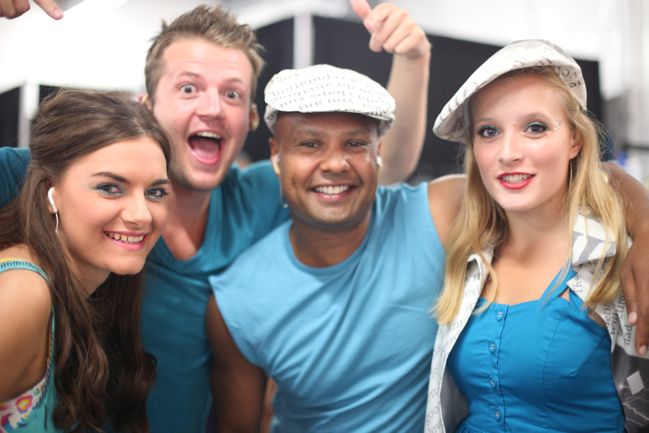 If you haven't followed along on Facebook, Twitter or Instagram to see all the random little updates, I danced in a section called Rush Hour, at the start of the closing ceremonies, and was on stage for about half an hour. From all that, I was on television for roughly a second and a half. But that's okay: it's a second and a half more than plenty of other people in the show and there was a rather large live audience of course so we were definitely performing to real people. I started under the stage, with a giant newsprint overcoat concealing a five-and-a-half foot flag. Which is interesting, because I am five feet two. I was pretty much the last person to come up the stairs and onto the stage – something that was purely coincidental of where we needed to go in the given time, but there was something very calming about that. A frenetic energy under the stage when we were all cramped in there and just moments later there's not a bit of newsprint left under there. Winston Churchill stops us in our tracks. We manage to unfurl all those hidden flags. We sing the national anthem. The newsprint is furled off pretty much everything to reveal so much colour – including all of my group in shades of turquoise. And then there is much, much dancing.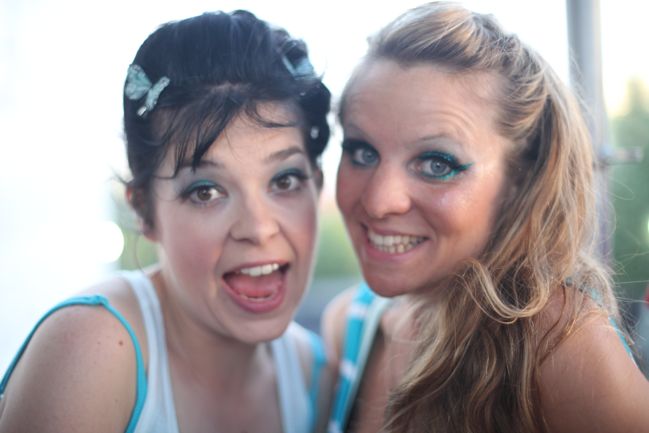 We danced with chairs. With wine glasses. With party hats, polka-dot plates and cucumber sandwiches. We'd never actually practised with real sandwiches before, and one of the dancers in our group gave this amazing commentary to us as he ate the sandwich then pronounced it completely revolting and we could barely hold it together for wanting to laugh. We sang along with Madness. We shimmied behind the Pet Shop Boys and their fancy hats. And yes, we did a great deal of na-na-na-ing with One Direction. Who I kept calling One Division by mistake. Let's be honest: I am old enough to be their mother. But I clapped and sang and danced my heart out as if you walked up to sixth grade Shimelle and told her she could dance at a New Kids on the Block concert.
We cleaned up to a rhythm with Stomp. Stomp always reminds me of this conversation I had with a professor right before I turned in my dissertation. It had taken me a while to find my feet in that course when I first moved to England and then once I did, I had actually come up with a dissertation topic that several of my professors wanted me to extend into doctoral study, but there was no way I could afford to stay a student at that point, so I was explaining that my advising professor. Like many serious academics, she was ridiculously talented and inspiring in her field of expertise, but perhaps a little unaware of some other parts of society from time to time. She told me it was silly that I couldn't afford it – she had some students who managed to fund their studies by 'going down to the seafront and banging around on some rubbish bins'. Well yes… those were the students who founded Stomp, and I wasn't convinced I could make enough to pay my tuition in the same way. And then all those years later, here we both are, right there in the same place, doing a bit of a show with the rubbish bins.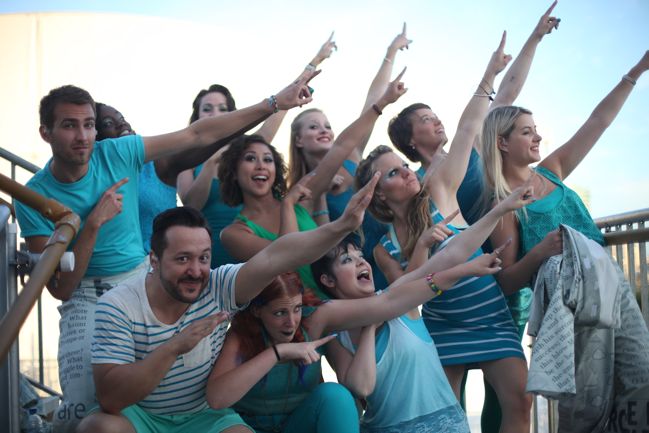 Then Waterloo Sunset. At this point, we had no set choreography – just enjoy it and imagine it's the last song of the most perfect festival weekend. Which seemed quite realistic since we were always in festival wellies for all those weeks! I love that song. I loved that we got those few minutes to sway back and forth with all the friends we had made over this entire process. I loved the craziness of the first time they brought the kids in to form the Thames in their sparkly suits – their cues were always given as the 'river children', making me imagine something from a children's adventure film set in the rainforest. (There was a beautiful moment when one of the children got a little confused when their choreography had been transferred to the round set: 'We learnt forward and backward, but now there is no front of the room!') As soon as the song finished, we exited through the audience, who gave us the most fabulous high fives.
Now we've gone from seeing those same people nearly every day to a week of just chatting on Facebook while we get caught up on real life. This weekend, I have a Sunday that will not involve a single moment in a car park. During the weeks of rehearsals, I would bake cupcakes for the turquoise team and now I'm back to having no audience for baked goods. There were always a couple cakes left over at the end of the day and I would give them to other dancers on the bus home or strangers on the tube. I miss funny little things like that. I was so much older than many in our group that some of them were dance students at university and for me it felt a bit like coming out of retirement, since there was a time in my life when I did show after show (admittedly not with an audience that big!) but now it is a real rarity. We weren't allowed cameras at rehearsals which broke my heart. Shattered it into pieces, really. I took the odd sneaky shot with my phone when I could, but most of it is stuff just in my mind, not in pictures. There are a few pictures of our group that have circulated through the press, but I don't technically have the rights to blog them here, so I'll have to link instead. This shot of us doing the Mobot probably got us the most attention at the time (we may have slightly broken the rules of the choreography at the last minute by deciding to strike some Olympic poses rather than the random cheesy options we had planned) but I am not convinced the Mobot is a good look for me, especially when looking down at the camera! This one I like far more – from the 'You don't know you're beautiful' chorus. For the record, I've been waking up every day this week with either that or Waterloo Sunset in my head, playing on repeat. Our moment with turquoise on telly came when the Pet Shop Boys cruised by, and that moment has also turned up in plenty of pictures, including this in the special souvenir edition of OK! magazine. The back of me is in OK! magazine. For real. (And there are butterflies, because of COURSE there should be.) I'm not sure if that's better or worse than my hair appearing in the newspaper.) I'm quite fond of the sheer joy from everyone in this shot. If you're interested in how such a big production comes together creatively, check out the Closing Ceremony Tumblr, which brings together all the notes for what they wanted to include with random facts, rehearsal photos and costume sketches.
So it's been quite a party, and it's not truly over yet, with the Paralympics on their way very soon, but my biggest project is done. Which leaves me one big question: just how can I scrapbook all this? (Don't worry: I really, really have an idea.)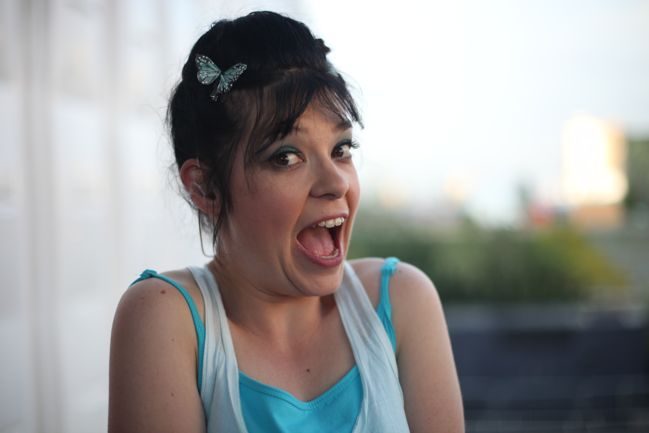 Thanks so much for indulging me during all this Olympicness! It's been fantastic and I'll find a way to get myself back to normal blogging and all that other work! (After all, Learn Something New starts again quite soon, you know!)
xlovesx

Read more about: london
18 August 2012

Next post: Gardeners' Digest scrapbooking blog hop (August 2012)
Previous post: Glitter Girl and scrapbooking supplies, out of the box