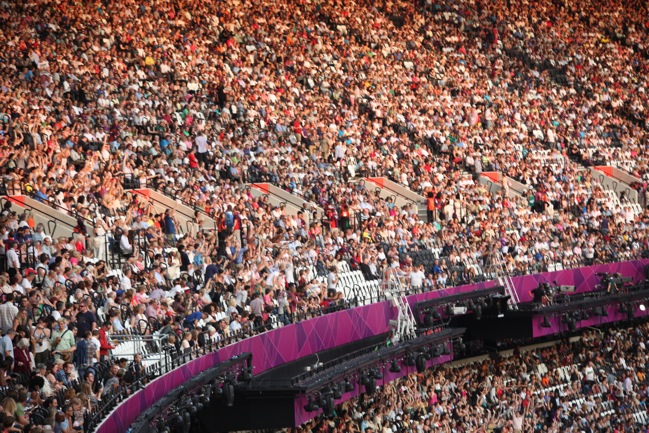 After a very late Friday night I had to be up very early this Saturday morning, off to help tourists for the day in all my bright pink and purple glory. I couldn't quite muster the idea of getting up and sat reading tweets in bed whilst the US west coast was watching the opening ceremony of London 2012, and this tweet was my very favourite: London, there appears to be a party in your house. Oh Chris, how right you are.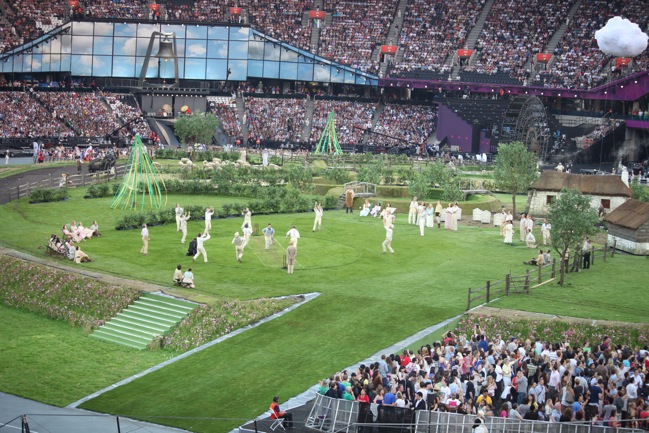 I have no time for anyone who is not excited by the games at this point. I have set aside everything I felt didn't go perfectly in the seven years leading up to this and now I am here to enjoy without a grudge. On Friday, I started the morning on Westminster Bridge for All the Bells: an art project with the idea of all the bells anyone can find to be ringing for three solid minutes. From the bridge I could hear forty rings of Big Ben from 8:12 in the morning, plus a handbell choir in the crowd, the chimes of Westminster Abbey and what we think must have been St Paul's in the distance. And my favourite bells of all? A crowd of cyclists who pulled to the side at exactly 8:12 and rang their bicycle bells like crazy for three whole minutes. Bells rang all over the country and it was sweet and simple and lovely.
Then I spent the day helping out in front of City Hall, in the shadow of Tower Bridge, including the arrival of the torch in the middle of the Thames, arriving at a set of floating rings and eventually heading indoors until finishing the journey during the ceremony.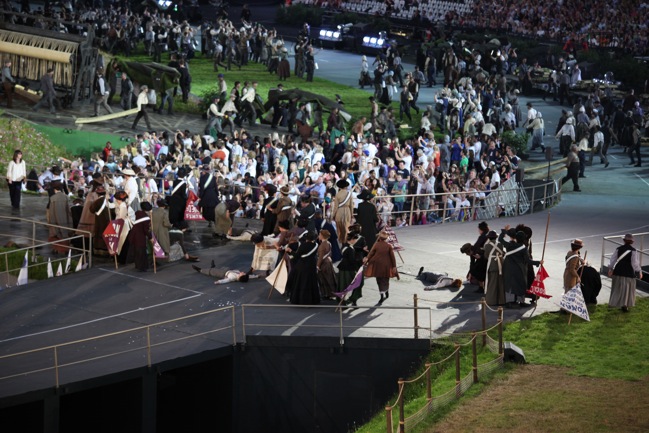 This was my favourite part – the most dramatic part of the Suffragettes choreography wasn't shown on the BBC footage we were watching, but it was such a beautiful moment.
And then there ceremony! I actually watched on a big screen at the Royal Naval College (with The Boy, Kelly and Stephanie) but earlier in the week I had attended one of the final dress rehearsals for the show, and I was allowed to take my camera. So I have pictures! I couldn't share them until the appropriate moment in the actual ceremony, so I did a bit of 'live' tweeting while watching until my phone ran out of battery.
I knew from the moment I sat down and saw the ceremony's opening set that the hymn Jerusalem had to be involved. I know I am not really British, but Jerusalem always makes me cry. It turns out it makes me cry even more when I hear a voice singing it from the crowd and turn to realise he's just there, a few rows to my right. And that was just the start of the show. I loved every minute.
I've uploaded my favourite snapshots from the ceremony here and they are licensed under Creative Commons so they can be used by anyone for free. If you want to scrapbook the ceremony and need some pictures – feel free. You don't even have to ask. If you want to blog about the ceremony, you can use them! All I ask is that if you use them on the internet, you include a credit link. That's all. I got to see the ceremony for free and I want to pass them on in the same spirit.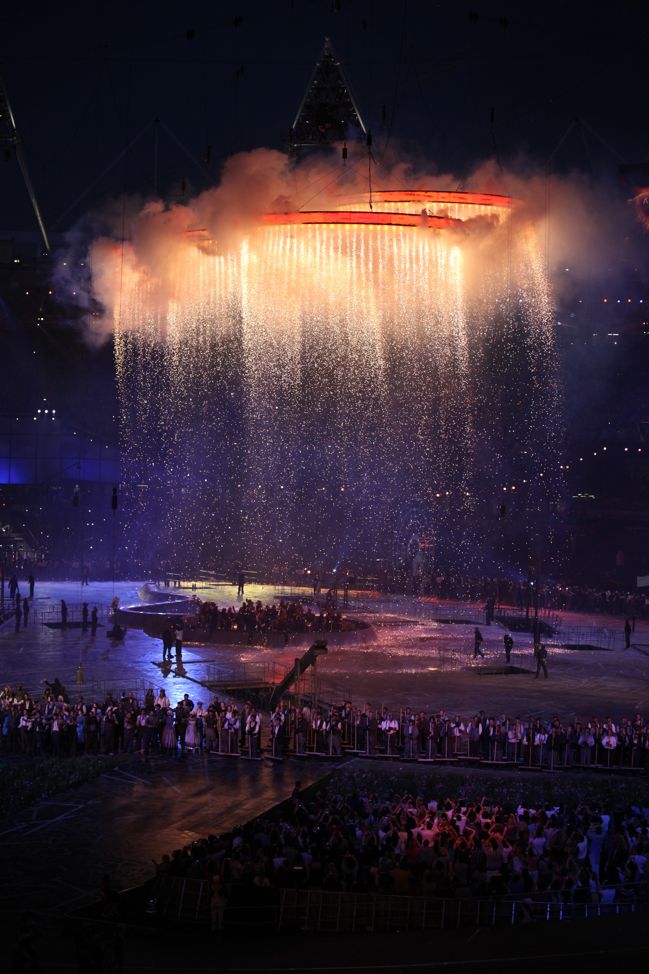 And to those of you who have been guessing at what my second Olympic project might be, I'll finally tell you. A bunch of you guessed that I was in the show last night – and I wasn't. I had friends in the show and was so excited for that! But I was definitely sat on the ground aside the Thames watching from Greenwich. I do however jump straight back into rehearsals this weekend. Because that super secret second Olympic project for me is the closing ceremonies. I still can't tell you anything, but I will be dancing in the show and I'm at the beginning so don't be late. Schedule your TV viewing now, yes?
Yes, London, there is a party in this house. And there's going to be a big finale too, we promise.
But first! Let's play some sports! If you're local and have no tickets but want to watch something today, you can catch the cycling road race for free. And the screens at Hyde Park, Victoria Park, Potter's Fields, Greenwich (old Greenwich, not North Greenwich!) and Blackheath (um, right in front of my flat!) are all free to enter. Most are running a 7am to 11pm schedule. If the weather turns, your better option might be a Vue cinema. They are also devoting screens to free BBC coverage of the games.
Right: I better go help some tourists find their way from Tower Bridge to the Globe or Earl's Court! Have a fabulous weekend.
xlovesx

Read more about: london
28 July 2012

Next post: Scrapbooking with the new Amy Tangerine and Dear Lizzy collections
Previous post: Scrapbooking Giveaway Day