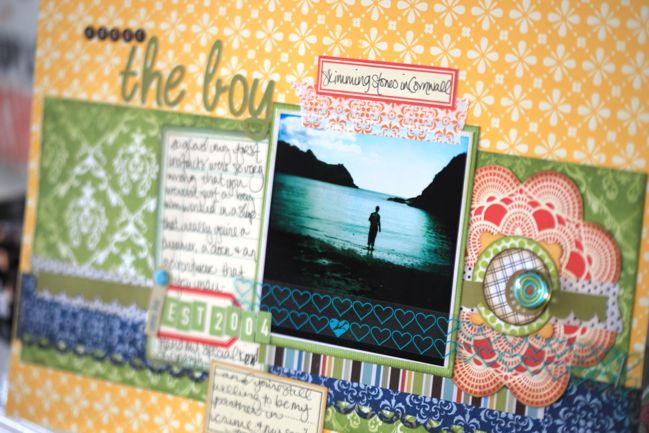 So I fell in love with Hipstamatic in early April and started sending pictures to various friends with iPhones, and suddenly I found we were all ignoring all other cameras in favour of Hipstaprints. And then I started promising to blog specifically about scrapbooking with Hipstamatic, but got so inspired actually scrapping with these pictures that the blog post was maybe a long time coming. So without further ado, grab an iPhone and let's get scrapping, Hipsta-style.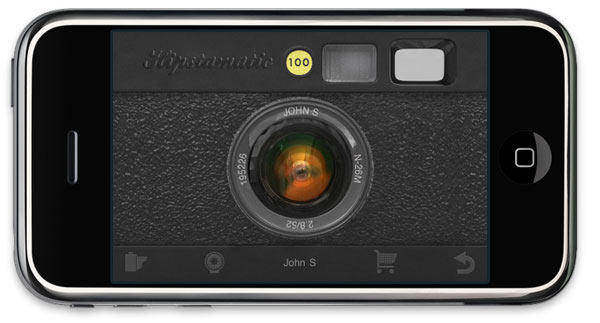 About Hipstamatic
Hipstamatic is my favourite of all iPhone apps, and in basic terms it turns your iPhone camera into something that is more like film. Of course, the pictures are still digital, but it uses the technology to give you digital equivalents of several kinds of film, different lenses and a variety of flashes, all which can be switched, mixed and match to get lots of looks. (And it's seriously a huge number of looks. You can see them all here to get an idea.)
The app is only available for the iPhone and it only works as a camera — you can't open a photo you've already taken and apply the effects like Photoshop. (Well, not without cheating, which we'll talk about in a minute.) You have to use it as a camera to take your picture and wait to see what you get — like a film camera. Admittedly the wait is shorter than developing a roll of film, but you do have to wait: if you close the app before the developing process finishes, the photo won't exist! Because you can't fire off a shot every second or so, Hipstamatic makes you think just a little about how you take the picture — or you learn to get what you're given! The waiting part of the app is part of the fun more than frustration. A cute little reminder to slow down and stop taking things so seriously.
If you want to scrapbook with your Hipstamatic photos, go straight to the settings and make sure you're set to save high quality images. Higher quality does slow the app down, but it then saves images that will print without losing any definition. It's limited by the quality of the camera in an iPhone, but if you think about it, there are just as many megapixels available in the iPhone as in many of the cameras we used for the first few years of digital-camera-mania. And those photos printed just fine.
The app has two main screens – the front and the back of the camera. Swap them by clicking at the bottom right corner. Changing the lens, film and flash is as simple as swooshing across your screen on the front of the camera and clicking the one you want. Or shake your phone to randomly choose a combination. When you view your prints within the application (click at the bottom left on the back of the camera) you can click on any picture and see what lens, film and flash were used, so if you find a combination you love by chance, you can go back to it on purpose. My current favourite is the Float film and the John S lens with no flash, which creates an aged look like this.

Ordering Hipstamatic Prints
I love ordering photos online and it's my default way to make sure I have plenty of photos ready to scrap at all times, so printing Hipstaprints online was one of my first big questions. The answer is that they don't just print – they print so very well! The images from Hipstamatic are square rather than the standard rectangle, so you will need to pay attention to the settings when you order your prints to get what you want.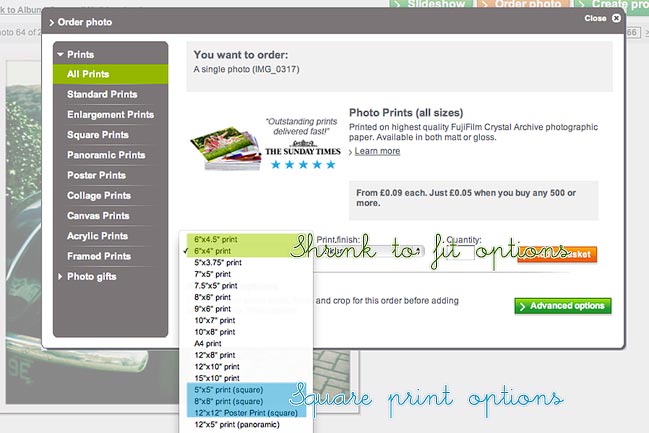 I order my prints at Photobox and it's super easy once you know what to do to get your square prints. Start by uploading your images, then select what you want to print and add it to your basket. There are a few options for square prints. Photobox offers 5×5, 8×8 and 12×12 print options that already a square format, so you can pick these from the dropdown menu when you choose your photo size and just add it to your basket and be done. (I have ordered them at 5×5 and the print quality is just fine. I haven't tried 8×8 or 12×12.)
Or if you want a smaller print, select the 4×6 or 4.5×6 size and add it to your basket. But be careful – you need to follow one extra step. The default 4×6 setting will automatically crop your picture to a rectangle.


If you want it to be a square, go to your basket and click on Print Options. Your photos will then load as thumbnails and you can see how they are cropped.
Default cropping:



Shrink to fit cropping:



Click the box that says Shrink to Fit and then Apply Changes at the bottom of the page. This will change your prints so you have a 4 or 4.5 inch square on the print, like the stack of prints above. Then you can just trim off the extra for the square print.
If you're in the US, Scrapbook Pictures makes it even easier as they offer square prints right down to 2 inches, so you can add the photos to your card then just select your size. Easy!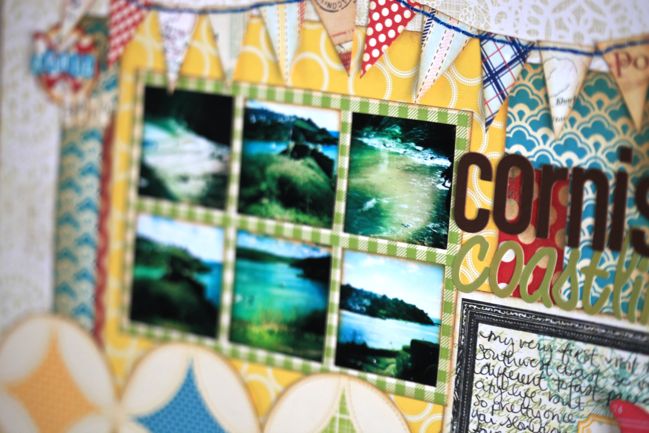 Printing Hipsta photos at home
Of course, you can print these photos on your home photo printer. I use iPhoto, so I tend to just select a bunch that I want to print and choose the 2×2 size or a custom size for any other size that would fit the project.
If you use Picasa, select your photos then click to make a photo collage, and you'll be able to print several images on one sheet of photo paper. These photos look great at a teeny, tiny size that is handy for page designs with grids or that use photos as an embellishment of their own.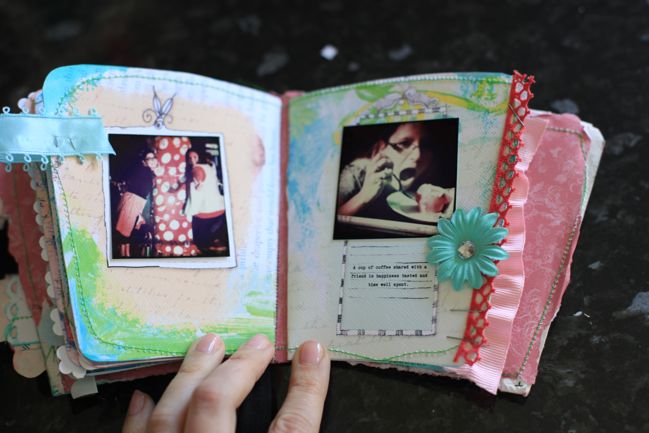 Hipstamatic cheats
So technically you can't open an old photo and apply the Hipstamatic effects to a non-Hipsta photo. But you can open any photo on your computer, display it full-screen size and then take a picture of your computer screen with your iPhone. In fact, you can probably do that quicker than you can open it and alter the levels in Photoshop. That's what I used to create this minibook with photos taken last summer, in life before Hipstamatic.
Or if you have a real preference for rectangular photos rather than squares, just select a film that has a minimal frame and print your photo at the standard 4×6. You'll get the image and colour effect, minus the frame, in a standard rectangle rather than the square. (I may have done this by accident by missing a few 'shrink to fit' buttons and the prints are still definitely scrappable, just with a different look.)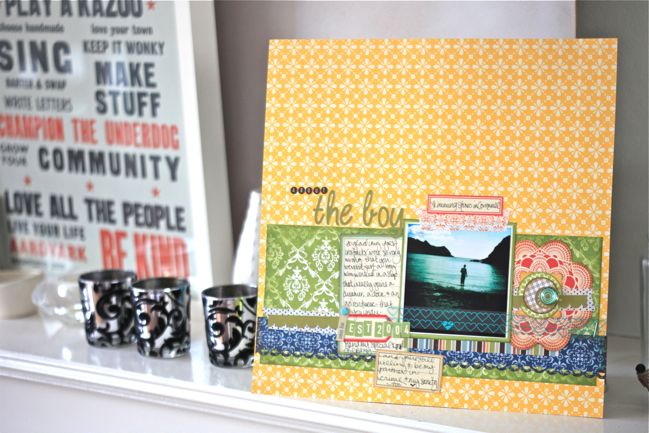 Supplies: Patterned papers by October Afternoon and Pink Paislee. Die cuts and small letter stickers by October Afternoon. Large letter stickers by Bella Blvd. Transparency by Hambly Screen Prints. Tapes by Pink Paislee. Glass bauble by K&Company. Ranger Distress Ink, American Crafts pens and border punch by Fiskars.
Paper scrapping with Hipsta photos
So once you have prints in hand, the scrapbooking is the fun and easy part! If you love lots of pattern and embellishment, you can use just one photo and have plenty of room for open space and journaling. This particular image is one of my favourites so I wanted to give it a page of its own.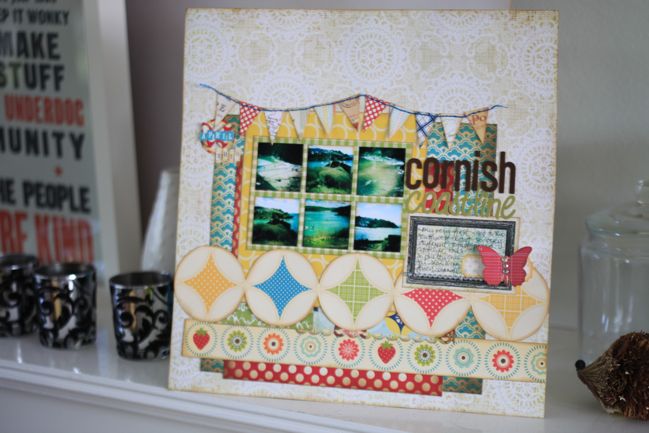 Supplies: Patterned papers by BasicGrey, October Afternoon, Cosmo Cricket and Girls' Paperie. Webster's Pages journaling card. Butterflies and labels by Jenni Bowlin. Letter stickers by Cosmo Cricket, American Crafts and Bella Blvd. American Crafts pens and border punch by Fiskars.
The square nature of the pictures makes them great for grid-based layouts, which can be easily adapted to clean and simple or something more embellished. I printed this particular set of Hipstamatic images at 1.5 inches all on one 4×6 sheet of photo paper and then used a square punch to quickly make them identical in size.
See more examples of paper scrapping with Hipstamatic photos here, here, here, here and here. And if you have more examples in your gallery or on your blog, please leave a link in the comments!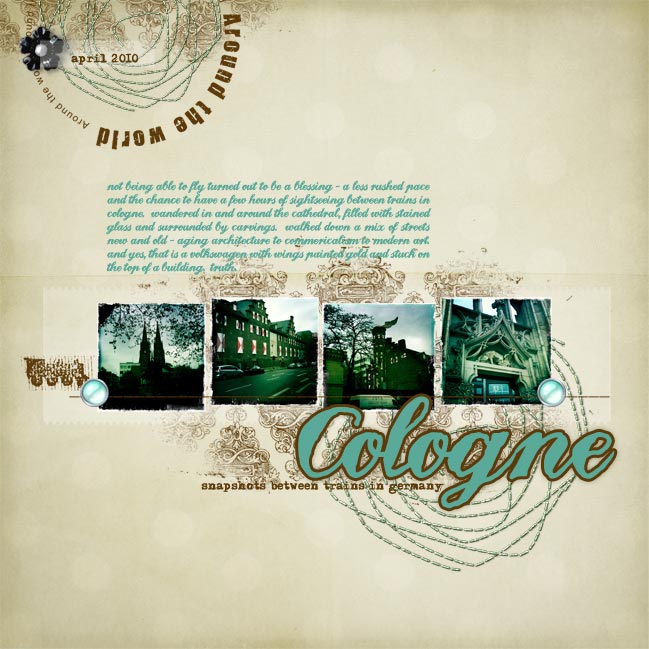 Supplies: Page template and papers from Shimelle Digitals. Travel and floral embellishments by Vinnie Pearce.
Digital scrapping with Hipsta photos
The images from this app are definitely the right quality for digital scrapbooking. Just open them in Photoshop or your preferred scrapping software and copy and paste them onto your layouts. I love this app for capturing random snapshots when you only have a few minutes or can't bring along all your camera gear – hence these shots between trains in Germany and the six shots above from a long walk along the Cornish coastline. This digital page is made with a layered page template so it came together in just minutes.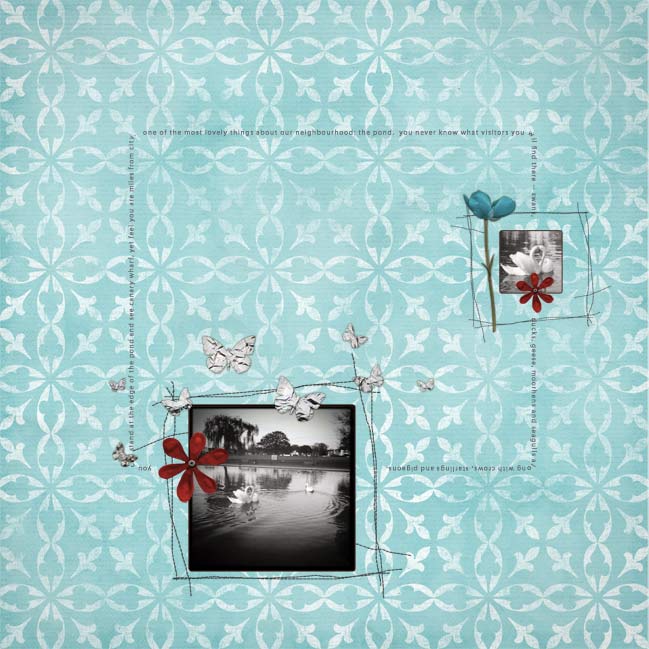 Supplies: Template, paper and embellishments all by Vinnie Pearce.
Or if you want to draw attention to a favourite image, try a page design that leaves lots of open space on the page, like this template from Vinnie Pearce.
See more examples of digital pages with Hipstamatic prints here, here and here. If you have more examples on your blog or in your gallery, please leave a link in the comments!
So I reckon that's enough of a resource post for now! I can't wait to hear your ideas for what you would photograph and scrapbook with Hipstamatic. Please share!
And for those that don't have an iPhone, please don't throw too many tomatoes. I promise I don't make those rules.
Learn more about Hipstamatic for the iPhone here.
xlovesx

Read more about: photography digital-scrapbooking-and-hybrid-scrapbooking
19 May 2010

Next post: Care to share a minibook?
Previous post: Welcome Home cards, anyone?