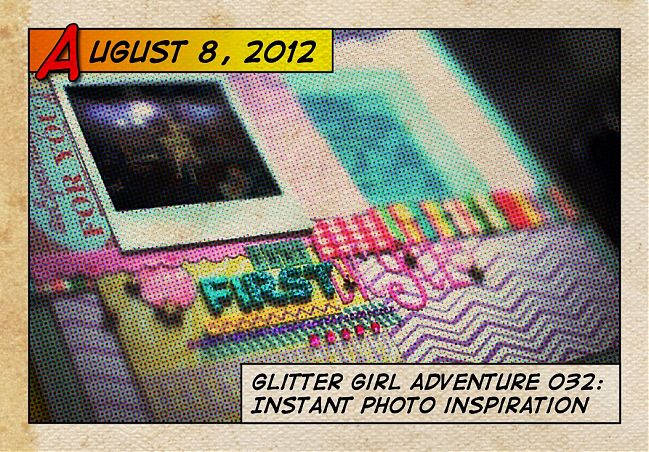 Glitter Girl got quite excited this week upon reading this thread on the message boards and realising it was time for an entire episode devoted to instant photos, like Polaroids and Instax. She got so excited that she went a bit over the top, with an extended episode just over forty minutes long including two scrapbook pages and a section all about your options for instant cameras and prints. Grab a drink and have a watch, won't you?

If any of the products in this week's episode strike your fancy, do click over and scroll down the page to add them to your shopping cart. There are quite a few of my favourites in this episode: wood veneer shapes, that Bella Blvd alphabet in several colours and the Paper Cottage collection pack from BasicGrey.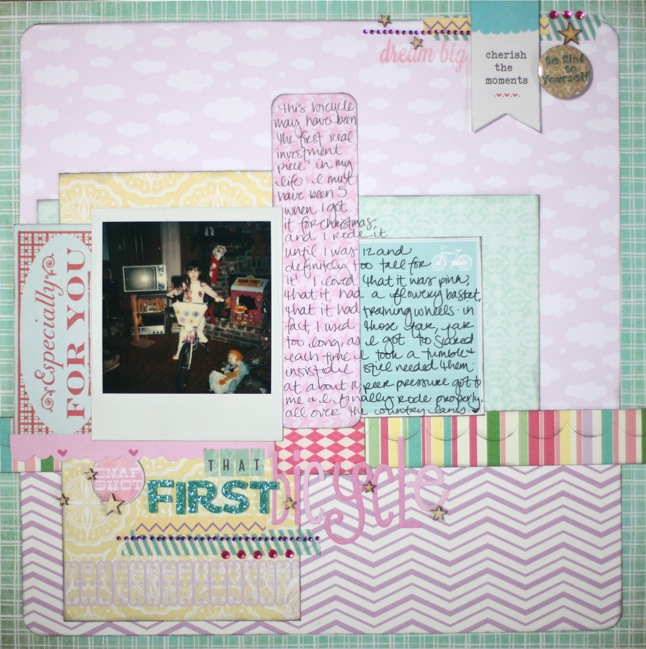 The first project in this week's episode includes a vintage Polaroid from my youth. Most of the Polaroid prints from my family were taken at Christmas, but I really wanted to tell the longer story of my first bicycle rather than focusing on the Christmas gift aspect, so I didn't scrap this in reds and greens. Pink and aqua (and this time, red) are winding up on my table a lot lately.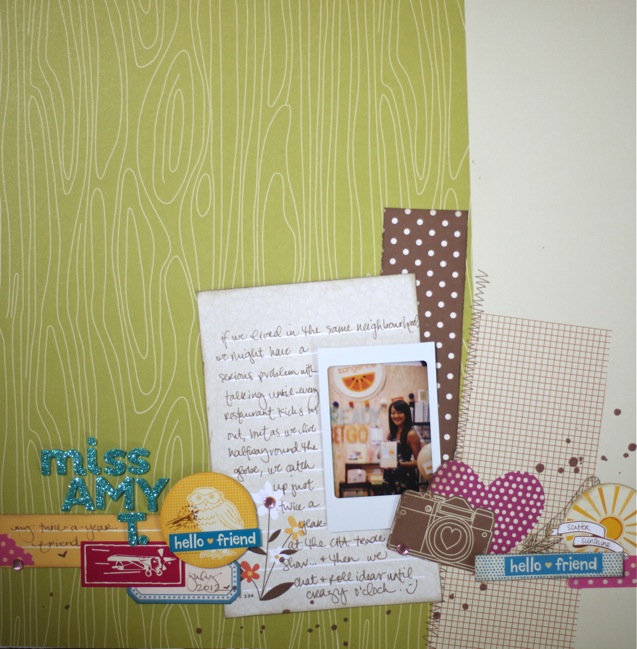 The second page is one tiny, recent Instax Mini picture printed from my regular digital camera on a Pivi portable printer. I know not everyone likes one tiny picture on a big 12×12 page, but I like variety, so sometimes I think that's just right. Amy and I have started a bit of a tradition of a photo of her in front of her new collection in a certain style, so this shot from the summer show was perfect for writing down a few details about this lovely girl who is a faraway friend.
Onward, covered in glitter, my dear scrapbookers!

The Adventures of Glitter Girl is a weekly series on Two Peas in a Bucket, and goes live every Wednesday. I'll share each adventure here shortly after that. I hope you enjoy her quests for crafting happiness, and if you ever have a scrapbooking dilemma yourself, you can always call her to action on the message board.

Read more about: adventures-of-glitter-girl two-peas-in-a-bucket
08 August 2012

Next post: 10 Things :: Aug (10 reasons) hijack!
Previous post: Fancy a clear stamp bargain?