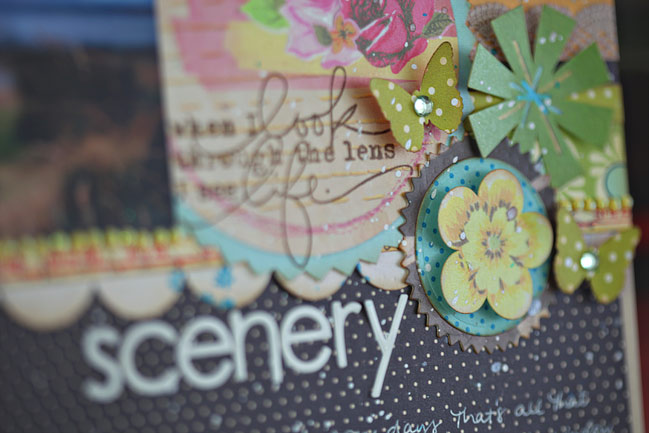 Sometimes it's all about the outlook. Over the weekend, I was enjoying scrapping quickly, getting lots done and flitting to and from my desk as I mixed crafting in with all the other things that normally happen on a Saturday and Sunday in our little corner of the world. Choosing supplies helps me work quickly but it doesn't always help me create my favourite pages. I always find if my outlook is to aim for speed, then I take the same shortcuts. It doesn't mean the pages are bad… it just means I can look and know if I was working quickly or taking my time.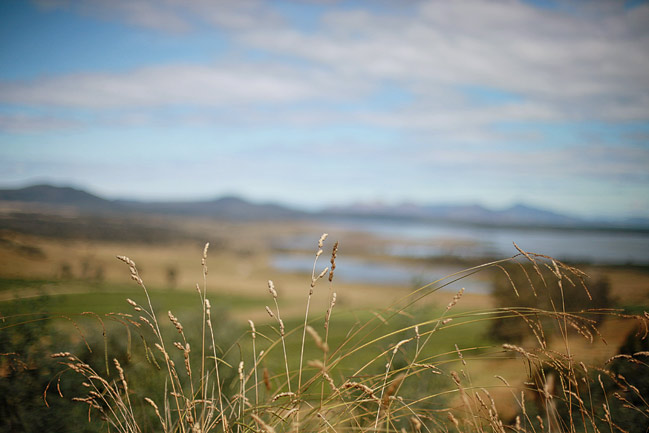 Then I came to this photo in the stack. Perhaps it's a picture that could be overlooked – there's nothing particularly vital in focus. It might be hard to recognise without knowing where I snapped that image. In a way, it's nothing more than some neglected grass at the side of the road.
Except I remember taking that exact picture for a reason. For that tall grass grown to dried grain was something I very much remembered from growing up in the countryside. Of course that's not what I called it then. I called it The Sticks. It's only grown-up citygirl me who uses words like countryside. But for as many times as I have seen grain at the side of the road, it was not usually against a backdrop of sea and mountains. So that was what made me take the picture: capturing something familiar and something foreign, all in that little moment of scenery at the side of the road.

So yesterday I scrapped that photo. Same supplies still out on my desk but no need to rush. A change of outlook while I stayed put at my desk and didn't mind if I pondered for ten minutes over which flower or which punch. Making this page made me quite happy indeed. And that's always a good outlook anyway.
Two little notes: Today is sketch day and it shall be online later today (and it's not a single photo layout). And all the weekend challenges are still open until this Sunday, so do check them out if you have crafting time this week.
Getting started (just comment to enter)
Challenge one (patterned paper as a background)
Challenge two (create a triangle of embellishments)
Challenge three (add a border between two photos)
Challenge four (scrapbook a photo that needs an explanation)
Challenge five (try a photo edit – with or without the tutorial included)
and my challenge for Two Peas (to create an embellishment with bits and pieces) is open until Sunday too. All the challenges have prizes, so enter as many as you like.
xlovesx

Read more about: travel
11 May 2011

Next post: Scrapbooking sketch of the week
Previous post: How to travel light