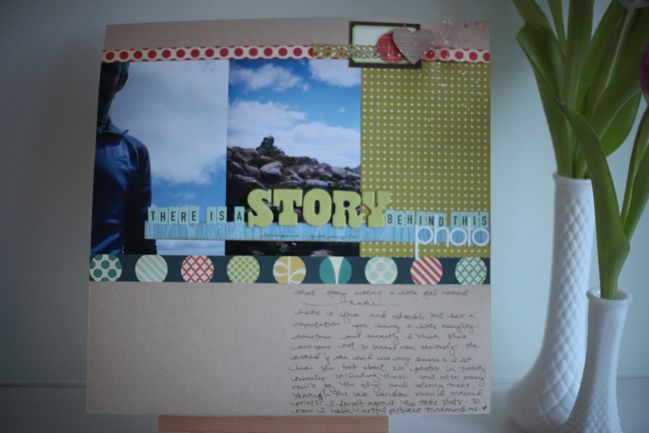 I love photos that take a bit of explanation. Because normally the explanation is just as good – if not far better – than the photograph, right?
When I ordered those 691 prints, I got a bit bored of picking individual photos and I had a couple folders that I may have just clicked 'order all'. Then when the prints arrived, I found I had a lovely collection of photos I didn't remember taking. They were certainly from my camera and I recognised the people and the scenery, but surely I didn't take three dozen photos of trees out the window and various clouds and rocks? And then I remembered: I let someone else use my camera for a bit.
She just happened to be four years old.
I kinda love this picture of one-quarter of The Boy. But it does take some explaining. Portraiture by Miss Hattie, Age 4.
Do you have a photo that needs explaining? That's scrapbook day challenge numero quatro: Create a page with the story behind a photo. Find something that has way more story than what you first see, and get explaining!
A note about all the Scrapbooking Day challenges here: You can enter any time between now and Sunday, 15th May, so you have a full week to do as many challenges as you like. Unless otherwise noted, winners have a choice of prize – an online class pass or a gift pack of scrapbooking stash. I'll also be choosing three winners from all the links and comments left today (Saturday the 7th of May) on any post, so just participating and saying hello gives you another chance to win!
xlovesx

Read more about: inspiration-party
07 May 2011

Next post: Scrapbooking Day Challenge 5 :: Try a new photo edit
Previous post: Scrapbooking Day Challenge 3 :: Add a border between the photos