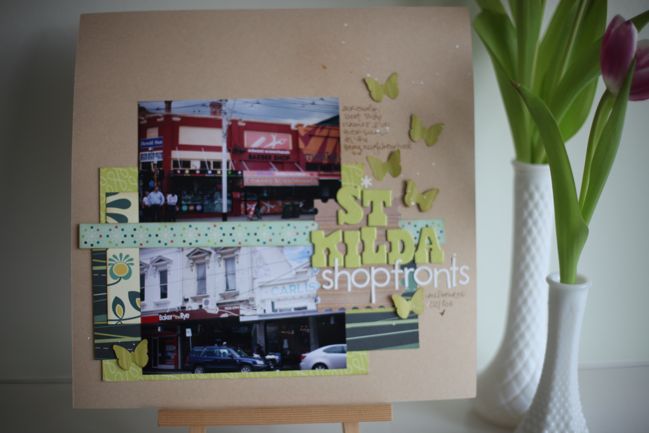 I once had a college professor who had a simple rule for choosing a hair salon: nothing that involves a pun. That ruled out such adorably named establishments as Shear Madness, Blown Away and The Cutting Edge. Actually, if you're faced with a surplus of hair salons, it's a pretty quick way to create a short list.
I don't think Edward Scissorhands the barbershop counts as a pun. It's a reference. THat's different. There's no second meaning of Edward Scissorhands. It's just someone who is confident enough with cutting hair to say Oh yes, I am willing to put myself up there with Johnny Depp and frankly, that is the sort of confidence I would want in a barber. You know, if for some reason, I needed a barber. (I realise now it's kinda hard to see what's in the pictures, so take my word for it: a barber shop called Edward Scissorhands and a bakery called…)
Then there are literary-referencing bakers: the Baker in the Rye. Now that is both a reference and a pun. But I don't think my professor applied the pun rule to baking establishments. Just places that groom hair. JD Salinger may not have had much sense of humour about it, but as a lover of Catcher in the Rye and not so much a fan of rye bread, I loved it enough to take a photo.
But the best bit is these two shops are just a couple blocks apart. And that alone gives you a feel for the adorably kitschy neighbourhood of St. Kilda in Melbourne. It was a little bit Camden meets Brighton meets Vancouver, and yet nothing at all like any of them really.
I'm thinking this layout isn't finished. But I'll be honest: I was also thinking I had to catch a train. So I'm going to post the challenge and then come back to it in a little bit, because the trains in my neighbourhood are a little too busy to bring along a 12×12 page and finish it. (As opposed to the time when Mary Anne set eyelets with a hammer on the floor of the train on the way home from a crop, if I remember correctly.)
So the challenge then: Use a border between two photos. You can include more photos (and more borders!) if you wish – but the border has to go between the pictures rather than to the side or elsewhere. Make sense? The border can be as simple as a strip of paper or as ornate as something you create from many layers! Totally up to you.
A note about all the Scrapbooking Day challenges here: You can enter any time between now and Sunday, 15th May, so you have a full week to do as many challenges as you like. Unless otherwise noted, winners have a choice of prize – an online class pass or a gift pack of scrapbooking stash. I'll also be choosing three winners from all the links and comments left today (Saturday the 7th of May) on any post, so just participating and saying hello gives you another chance to win!
xlovesx

Read more about: inspiration-party
07 May 2011

Next post: Scrapbooking Day Challenge 4 :: The Story behind this Photo
Previous post: Scrapbooking Day Challenge 2 :: Create a triangle