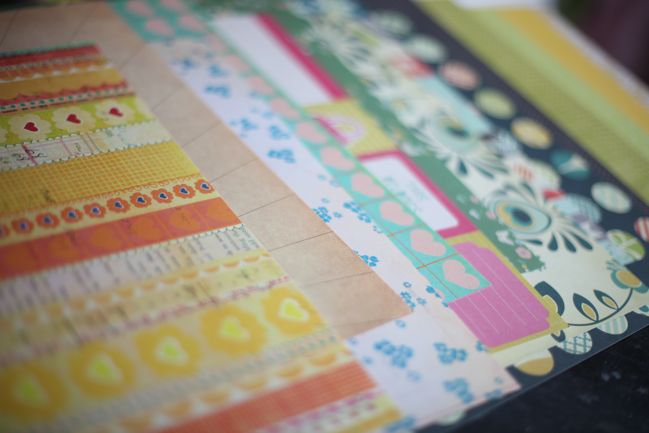 It started as National Scrapbook Day, and it's recognised as NSD or maybe iNSD for those who embrace the international participation, but I'm just going to make it easy and call it Scrapbooking Day. Sound okay to you? It's today, by the way. The first Saturday in May, each year.
And to mark that special occasion of Scrapbooking Day 2011, there's something special in store for you here at shimelle.com, all day long. Perhaps even all week long, depending on how you like to play!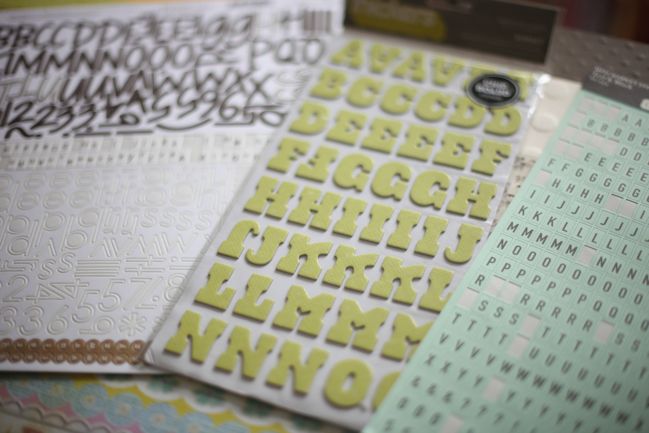 Today I'm posting a series of challenges with new layouts, tips and tutorials, and each challenge has a prize up for grabs. Plus there are some bonus discounts and special offers coming up. But to get started, I'm all about getting some supplies ready.
The projects I'm featuring today are all made from the same supplies that I chose at the beginning. You can do the same and create a set of supplies then use them for all the challenges OR you can approach any of the challenges on its own and not worry about the supplies for the whole stretch. Cool? That way if you're wanting to stretch your supplies as far as they can go, we'll do that. And if you would rather take part in lots of NSD Scrapbooking Day challenges around the web with whatever supplies you fancy, you can do that too.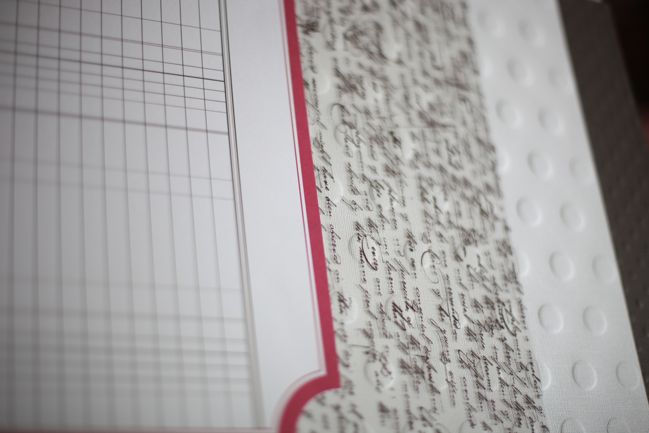 When I limit my supplies for a batch of layouts, I tend to grab four things: patterned paper, special paper, embellishments and letters. I like to choose things that will mix and match and are not overly themed, so I look for a mix of bold patterns and small patterns so there will be a balance. I also tend to go overboard on paper because I love it the most! (Shhh – don't tell my other supplies.) So for today's projects, I've set aside:
15 sheets of patterned paper, including Cosmo Cricket Upcycle and Social Club, American Crafts Hello Sunshine and Campy Trails, Sassafras Starters and Paper Crush and Sweetly Smitten, Studio Calico Countryside and Jenni Bowlin Family Tree. Which means I picked lots of different designs and manufacturers, but if you find it easier to stick with one collection, then that works too!
4 sheets of special paper, which is a very official term I've given to those things that are generally paper but they aren't just a plain 12×12 sheet. I've chosen two sheets of dot-embossed Core'dinations Cardstock, one die-cut label paper by Jenni Bowlin Studio and one screen-printed transparency by Hambly.
5 types of embellishments, with my love of stickers really showing here! Three of the things I selected are all from the same collection – the large and small sticker sheet plus the banner stickers all from the Sweetly Smitten collection by Sassafras. In typing this, I'm thinking I may go pull the Sweetly Smitten foldie sheet too, though it's not counted in this picture. Those stickers are all quite vintage and soft, so then I picked some stickers that are quite clean and modern, by American Crafts. And my non-sticker item is a butterfly, of course! These are wooden and by Studio Calico.
3 sheets of letters, and again I've gone with stickers. Letter stickers are really my go-to item with titles, especially a mix of sizes and some including dimension, so I have a shiny new pack of these Thickers by American Crafts and a smaller, flat set of Mini Market stickers by October Afternoon. Then the third option cheats a little bit, because this sheet of letters by Bella Blvd actually has four different alphabets on one sheet. Makes it great for packing for crops or working in a series like this. I've chosen brown and white but it comes in brighter colours too.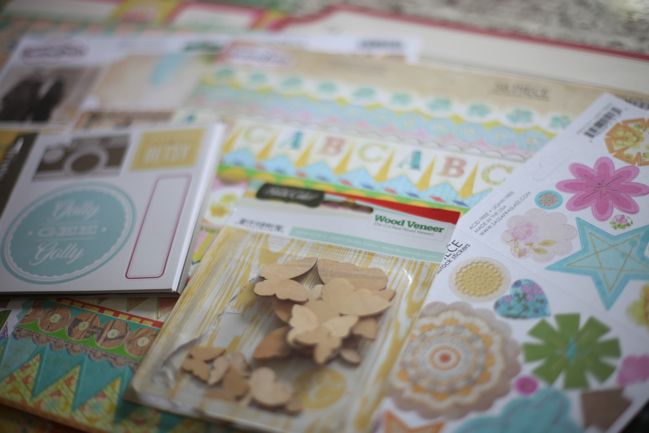 Now obviously there are some things missing here! If I use full sheets of cardstock for the background, I don't count that. In this case, most of these pages will be on kraft cardstock, and I will just pull those sheets as I go. If you're packing to go somewhere else, then you'll need to that that with you! I also don't include tools – so punches, cutting dies, stamps, inks and paints I will just choose as I go. That can help to change up the look even if the supplies remain the same. And lastly, if I'm scrapping at home I don't worry too much about adding little things. If there's something in my scrap basket or bowl of die cuts and I suddenly thing that's what the page needs – then fine. The idea of the starting supplies is to make things easier, not to make everything else prohibited. So you won't see any other major elements, but I might add in a scrap of paper or ribbon here or there. That's pretty much my process!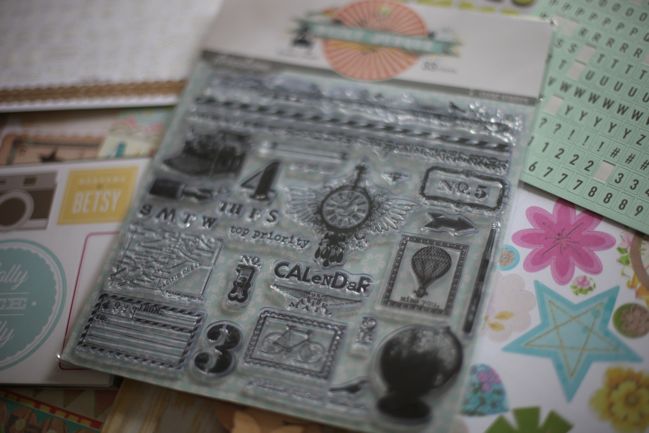 Oh, and I don't really use many themed papers, but I do like to include some themed things that can be subtle. I've been using this stamp set by House of 3 for Pink Paislee on many of my travel pages, so it's pretty much living on my desk right now. I will admit I pretty much bought it for the globe, but the whole set looks lovely, and it stamps especially well with Distress Ink.
So there we go – that's where I'm starting! But how about a GIVEAWAY to get Scrapbooking Day off to a great start? I have a pack of scrapbooking supplies to send to a lucky winner. Just comment on this post for a chance to win! (By the way, on some browsers, it helps to click the preview button when you're leaving a comment.)
Happy Scrapbooking Day! See you soon with the first project challenge!
xlovesx

Read more about:
07 May 2011

Next post: Scrapbooking Day challenge 1 :: Patterned Paper Background
Previous post: Scrapbooking giveaway day