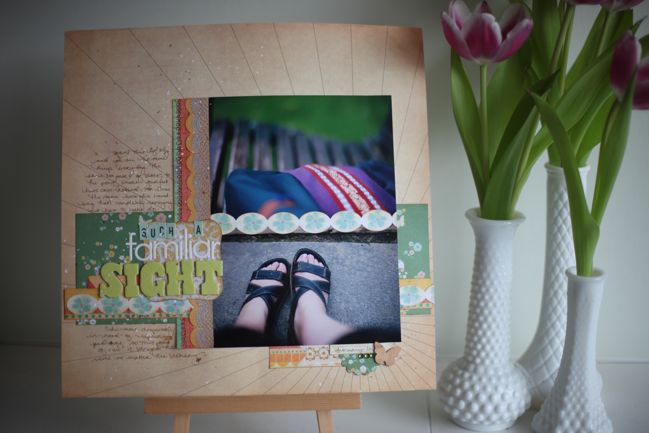 When I went back over some of our photos, these two made me laugh. I remember sitting on a bench in Melbourne, just too tired to walk or think straight for a bit because we had just taken part in a 'cycle for power' thing where you got on a bicycle that was hooked up to a power generator and the energy from all our pedalling got pumped straight into the city's power grid. It was kinda crazy sprint cycling (even though we weren't actually going anywhere) and about three minutes later we both looked at each other and realised we had to sit down. Now.
So these two photos were really me being exhausted and a bit silly, but they are the only two images in all those thousands that show something I saw every single day. With just two pairs of shoes, I was always looking at either these sandals or a pair of red Chucks. And that handbag joined our journey from Phnom Penh, after my first handbag (a completely fake Cath Kidston bag from a street market in Bangkok) fell to pieces. This green bag was horrible, actually. It was so uncomfortable to carry, it always got in the way… but I was determined to just make do rather than go shopping for a day bag yet again. We were both sick of the sight of this bag by the time we came home!
So now my feet have criss-crossed tan lines (despite covering them in sunblock every day) and I can sort out nail varnish rather than just leaving it to crack and I can carry a bag that I actually like. Two of the three are kinda fun. Also fun: scrapbooking with patterned paper!
So here's Scrapbooking Day Challenge 1: Use patterned paper for your page background. Pretty simple! You can follow this page if that helps or you can create something completely unique – as long as the background is a sheet of patterned paper rather than solid cardstock, then you're all set.
And there's a prize for this challenge! To enter, create your page and share it online – on Flickr, in a page gallery or on your blog. Then leave a link to your page via the Mr Linky box below – or you can leave a comment if you prefer.
A note about all the Scrapbooking Day challenges here: You can enter any time between now and Sunday, 15th May, so you have a full week to do as many challenges as you like. Unless otherwise noted, winners have a choice of prize – an online class pass or a gift pack of scrapbooking stash. I'll also be choosing three winners from all the links and comments left today (Saturday the 7th of May) on any post, so just participating and saying hello gives you another chance to win!
xlovesx

Read more about: inspiration-party
07 May 2011

Next post: Scrapbooking Day Challenge 2 :: Create a triangle
Previous post: Happy Scrapbooking Day! Getting Started with Supplies