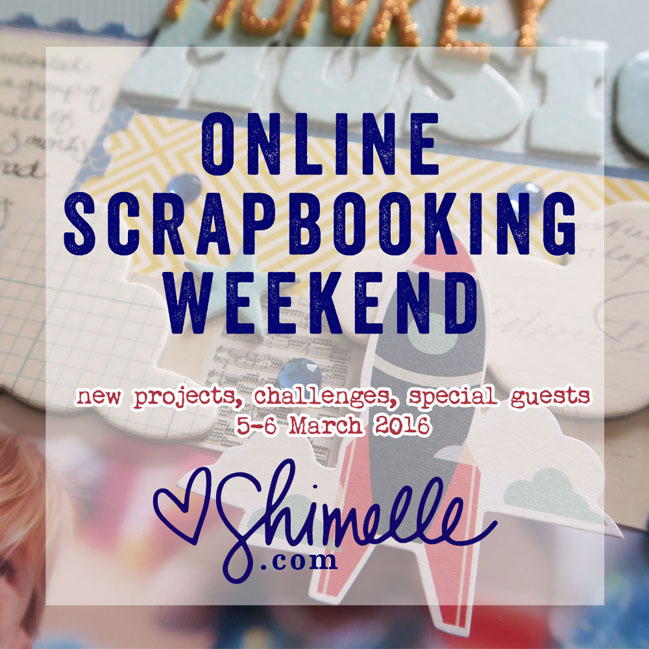 Good morning and welcome to an entire weekend of scrapbooking fun! From 8am to 4pm UK time, both today and tomorrow, you'll find a new scrapbooking challenge here every two hours. But don't worry if that time zone doesn't work for you – all the challenges stay open until the end of next weekend and you don't need to be here at any specific time. I hope your schedule finds a match sometime between now and then!
Now throughout the weekend, you'll see a variety of challenges plus some videos, special guests, plenty of new projects, and a surprise or two! But all the challenges are quite open for interpretation so you can make new pages that will feel right at home in your albums, no matter your style. The only guideline for all the fun is that the challenges are for new pages created from now on, not for existing layouts made before now. Easy enough!
I always believe in starting with a warm-up, so challenge one is the easiest of the ten – or is it? You'll have to make a decision! Since we started the recent weekly challenges here every Monday, we've had selfies, hearts, mixing old with new, monochromatic colour schemes, and the current challenge of maps and globes. To start, choose one or more (or all?) of those challenges to create your next page! Simple… once you've made your decision, anyway!
See you in two hours with your next challenge… and enjoy the warm up until then! So happy to see you here this weekend.

Read more about: inspiration-party scrapbooking-challenges
05 March 2016

Next post: Project Life Baby Book update
Previous post: Scrapbooking with symbolism and sketches