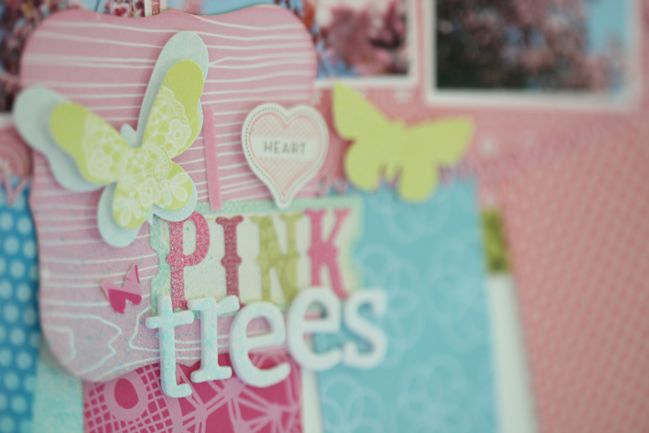 Full page here in the archives.
So many scrapbooked selfies from last week's challenge! It really made my week to see new pages pop up there and on Scrapbook like a Superhero every day. But we're getting very close to Valentine's Day now, so it's time for embracing all the pink and red and vintage text and sheet music and other prettiment in paper crafting.
Here's a new challenge! This week, get ready to get a bit symbolic. I challenge you this week to scrapbook with hearts. Make a new page and include one or more heart shapes in the design. Simple. Everything else is completely up to you, so you can take your inspiration in any direction you like! A few years ago, May shared five ideas for artsy crafting with hearts, and this past summer, I tried using hearts in a relatively masculine design! To get you started on this week's challenge, take a look at these new examples from contributing designer Heather Leopard and guest artist Chloe Murray.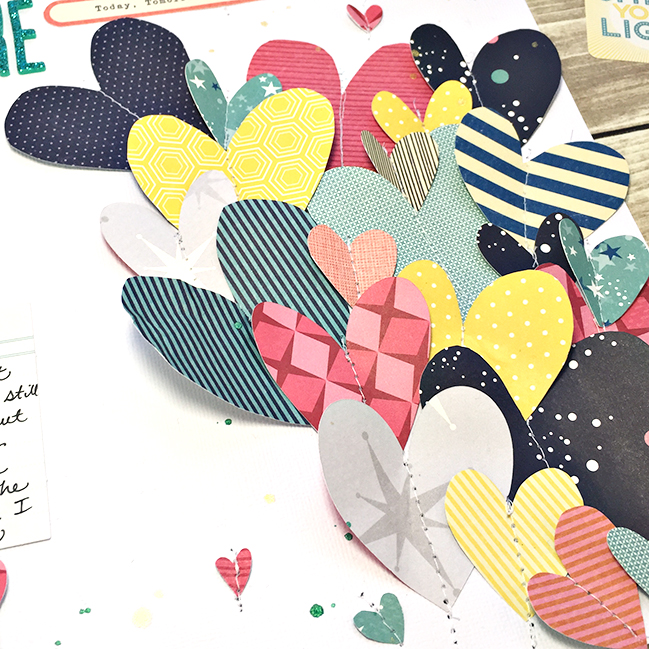 The contest my daughter and I have almost every single day inspired me to create this layout. This is actually becoming a battle and she's the one who instigates it 99% of the time but that's okay because the awesome thing is that this competition is a healthy one for us. It's a battle of who loves whom more. I've created pages about this before but I feel it's important to document this throughout the year since it's one of those ongoing special things between just us.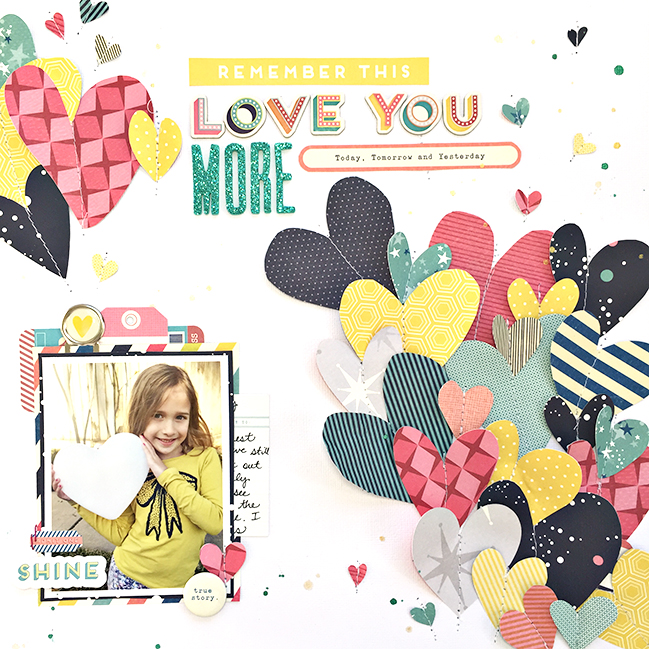 One of the things we talk about is how our hearts are exploding with love for each other so I thought it'd be fun to make it look like hearts were bursting from the bottom of the page. To create this, I started at the bottom and stitched the yellow heart. I then layered another heart on top, stitched it, tucked another heart under and stitched it, etc., etc. until I had all the hearts on the page.
Once the hearts were in place I added layers of paper, die cuts and other embellishments around the photo. I created a pocket under the right side of my photo to insert a journaling tag. I then created my title using a mix of alphas and two sentiments from one of the 12×12 papers.
- Heather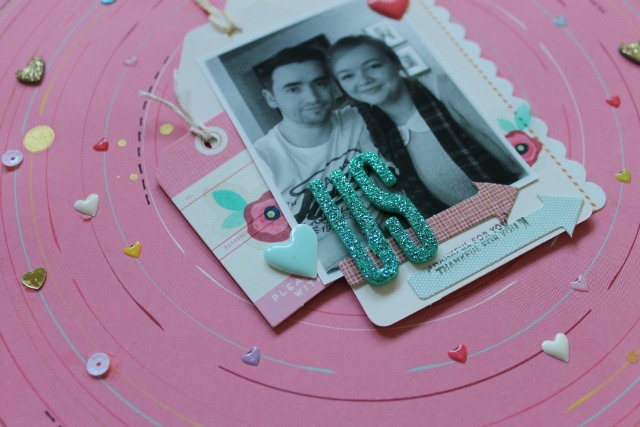 With Valentine's Day just around the corner, I decided to scrap this recent photo of myself and my boyfriend. I had this wonderful patterned paper from the new Starshine collection just begging to be used as a background, so I decided to keep my photo very small, and really make use of the movement in the paper.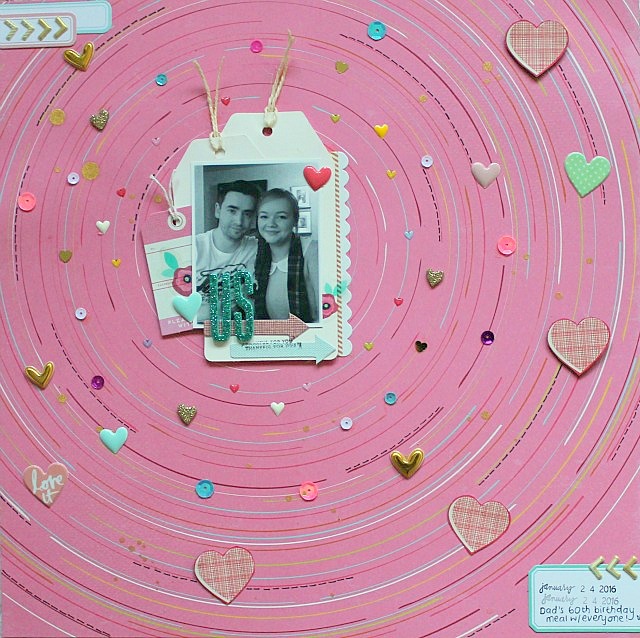 I layered the photo up on some shipping tags, a few die cuts from the Starshine ephemera pack, and some gorgeous floral stickers from the corresponding sticker sheet. Finally, I cut some hearts from an older Shimelle paper, and combined them with lots of other heart embellishments from my stash; I wanted to create the illusion that the hearts were emanating out from us. I'm really pleased with the overall effect.
- Chloe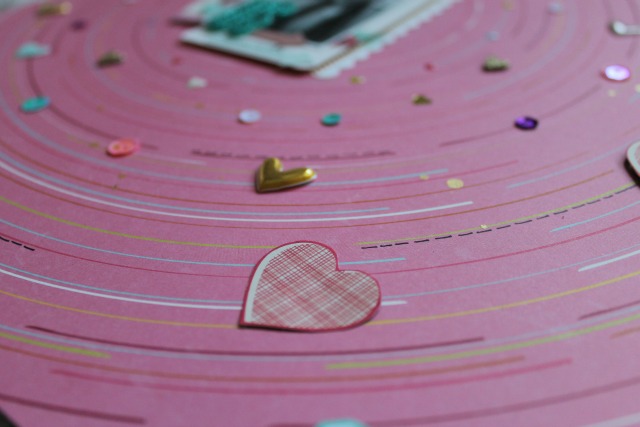 You have a week to complete the challenge and share a link – but of course you're welcome to set your own time schedule. Whatever keeps you happy and creative!
I'll see you tomorrow to share how I took on this challenge! Happy heart-filled scrapping!
Today's Guest Artist: Chloé Murray loves documenting the little things, reading, and her pet bunnies. You can find more from Chloe on Instagram, Twitter, Youtube, and her blog.

Read more about: scrapbooking-challenges
07 February 2016

Next post: My take on scrapbooking with hearts
Previous post: We are all made of stardust - scrapbooking with Starshine!