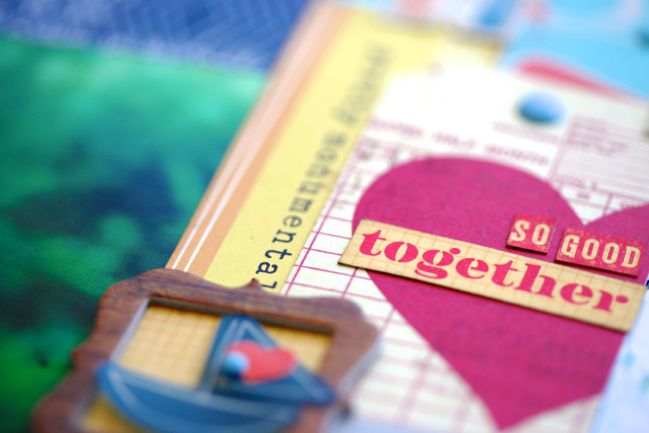 We have taken really goofy pictures for many years now. Having a child now makes this socially acceptable. WHY DID NO ONE TELL ME THIS? I have no better or more flowery way to express this sentiment. Just know, we continue to embrace goofy photos. I think you need a warning about that before you scroll down and see the full scrapbook page and all its goofy photo glory.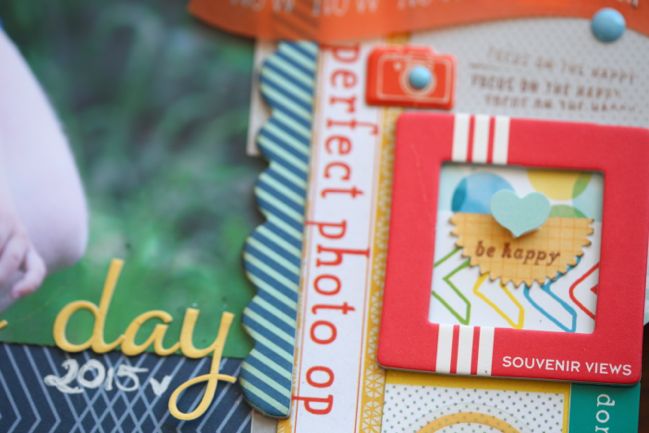 It's also been a while since I created a page that takes a little longer, with lots of embellishments that come together in a collage, bit by bit. I don't plan out what supplies I'm going to use and just let each step guide me to the next basket of stickers or bowl of die cuts. That process is definitely in my 'makes me feel alive' level of crafting techniques. I get such enjoyment from discovering that a punched shape fits in a chipboard frame matches the colour of an enamel dot and so on. I feel like that's admitting something secret and shameful, but you like paper. You understand. I hope. And now, moving on to a really long video with that goofy photo!

This time around, my train-of-thought bother comes from descending letters and hybrid handwriting that is neither print nor cursive. Riveting, I tell you.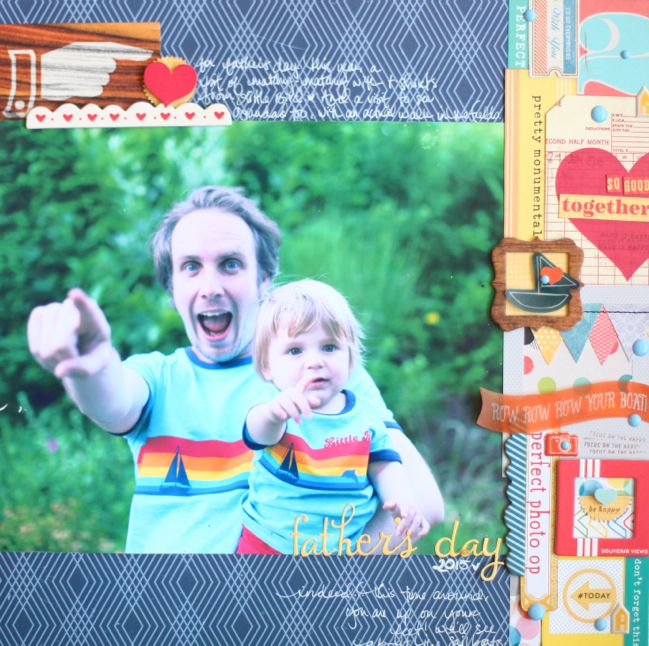 Supplies in this page are a true mix of new and old, and I tried to mention the brand of everything in the video as I went. The background paper, word stickers, polaroid-style frame paper and sticker, dotty paper, phrase stamp, and ticket and heart die cuts are all from my True Stories collection, the '2' at the top right is from the 6×6 paper pad in the first Shimelle collection. Other supplies include tags from Cosmo Cricket, chipboard and letter stickers from October Afternoon, enamel dots from Doodlebug, vellum shapes from Studio Calico, journaling card, fabric and puffy stickers from Amy Tangerine, stickers from Dear Lizzy, label from My Mind's Eye, sticker from MAMBI, stitched die-cut from Crate Paper. Adorably cheesy matching t-shirts are by Little Bird at Mothercare!
If you create a page with one side all filled with embellishments (or if you have already created one that is online somewhere), I'd love for you to share a link in the comments. What embellishments – new or old – are making you happy recently?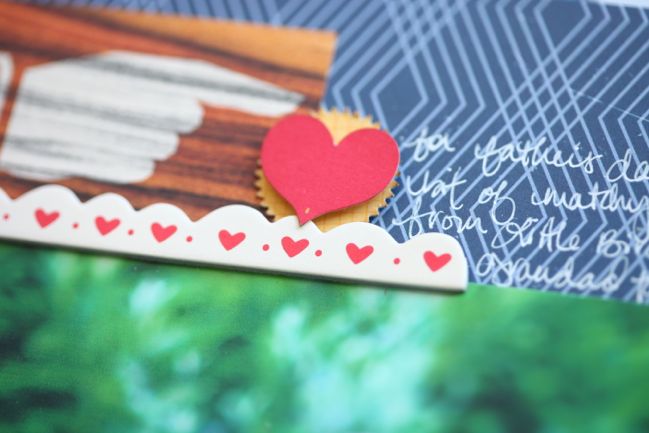 Have a beautiful weekend and may it have some time to craft. Bonus if it has time to craft with red love hearts, of course.

Read more about: american-crafts scrapbooking-videos
10 July 2015

Next post: Being honest with Project Life
Previous post: Scrapbooking with old and new supplies