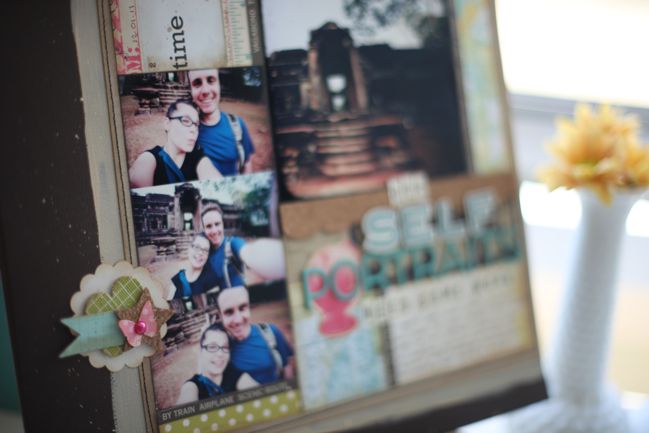 Welcome to February, and welcome to what feels like a new year here! Along with the Starshine release at CHA, this past month has been filled with putting together all those pieces to bring you the reenergised dream I shared with you on the first of the year. Scrapping. Filming. Editing. Scheduling. Collaborating. Commissioning. So many things I'm excited for you to see here on a near-daily basis, and it all starts today.
Scrapbooking challenges are no new thing in terms of motivating crafters to stop staring at the pretty paper and start sticking it to other pretty paper. I think it must be nearly fifteen years ago when I was starting to put my small stash to work following challenges on DMarie, UKScrappers, and Two Peas. Talk about 'back in the day'. But it's been a while since we've had any sort of set challenges here, and it feels like the right time! Every Monday, you'll find a new scrapbooking challenge right here along with two examples to inspire you: one from a contributing designer and one from a guest artist. Then you'll often see my version on Tuesday – this week it's complete with a new video too.
Speaking of contributing designers, I'm delighted to introduce eight talented artists who you will see here throughout the year. I've spent the last month having a creative pow-wow with these ladies and their individual passions for this hobby. I love that they love this craft. They love telling stories. They love beautiful design. And they love talking about it. I think you will love their work. You'll see each of them about once a month here, but they post much more frequently on their own blogs, of course. Please welcome Meghann Andrew, May Flaum, Heather Leopard, Gina Lideros, Nicole Nowosad, Leigh Odynski, Sheena Rowlands, and Kirsty Smith.
And now, on to the challenge! We're starting at the centre of it all – there would be no scrapbook without you making it! I challenge you this week to scrapbook a selfie. Make a new page with a photo of yourself. Everything else is completely up to you, so you can take your inspiration in any direction you like! A few years ago, I scrapped about our self portraits needing some work, and phew – they really did get better! If you don't rate yours right now, have faith and take the time to experiment. I know it won't take you as long to get to grips with selfies as it took me! To get you started on this week's challenge, take a look at these examples from contributing designer Leigh Odynski and guest artist Leanne Edwards.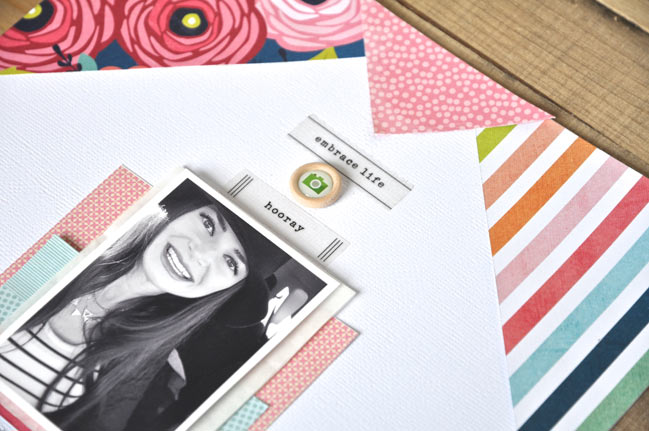 My selfie scrapping inspiration came entirely from my 'one little word' for 2016: aspire. Once I had that direction, I was ready to run with the idea!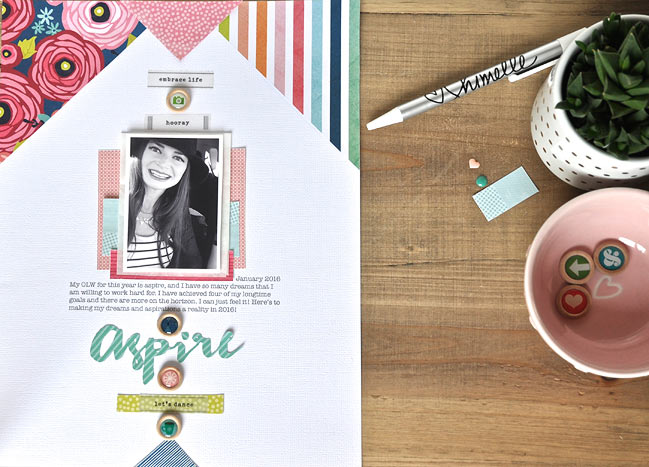 I got the idea to create an envelope effect at the top of the page, sort of like you are opening a letter from a friend, and inside is a scrapbook page. I am sure I am not alone in thinking these are the hardest pages to create – the ones about ourselves. This photo was taken a year ago,and it's amazing how time flies without the person behind the lens ever getting in front of the camera, so I'm glad of challenges like this that give me a much-needed reminder.
The vellum journaling strips from Shimelle's True Stories Tags, made for quick and easy journaling. I ran this page through my printer to add more journaling, but you could just as well add it with a typewriter!
- Leigh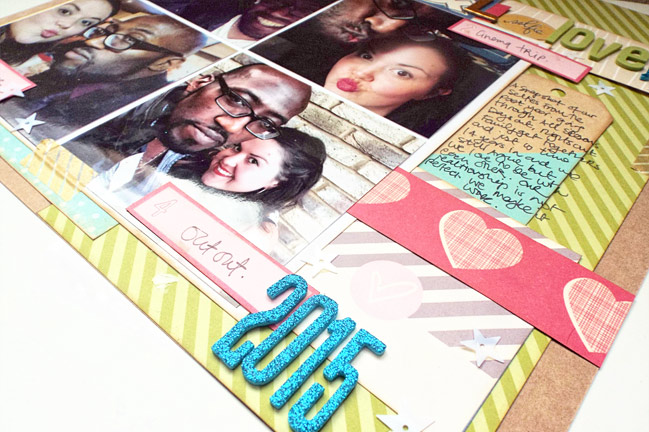 In the past I was all about scrapbooking and recording every little thing. Then I had two kids and became a working mum. Trying to balance my hobbies, I had to take a step back and work out how I could make this work for me. I think I am finally settling into a system which works for our family life: at the end of the year I do a stock take on all the photos I have printed and find the stories I want to tell. I can usually find themes among those photos, and one of the many themes in our daily life is selfies. My husband and I love them!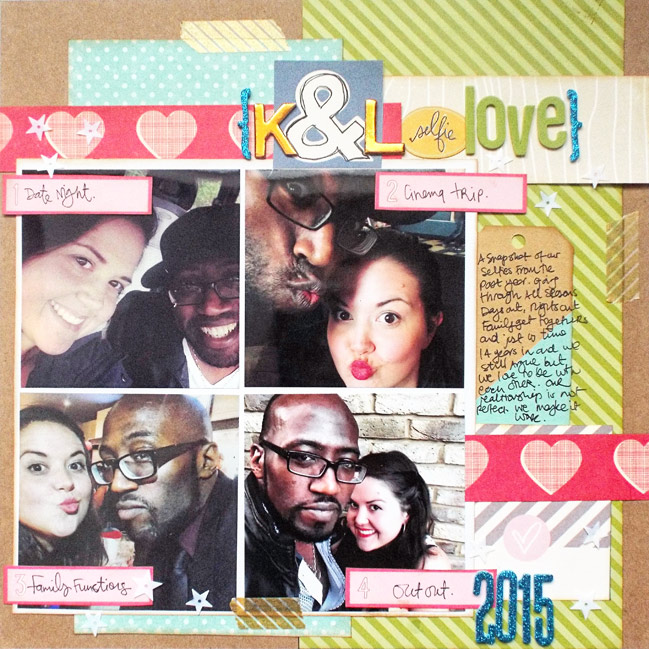 I have a nice stack of photos of the two of us from the past year, and pulled together four on the layout, taken at various points over the past year, seasons and various events. Making them into a grid with a mat gave me the focus for the page. All the layers behind that were from my bag of scraps – go me, remembering to use my stash! As the photos had no real colour theme I just went with what I liked. The red heart paper from Shimelle's first AC collection is one of my all time favourites and I am now down to these last few bits and pieces of that paper. Mixing red with green can sometimes look a bit Christmassy but adding the navy and pinks from Elle's Studio from the Thankful collection soften the colour palette.
- Leanne
You have a week to complete the challenge and share a link – but of course you're welcome to set your own time schedule. Whatever keeps you happy and creative!
I'll see you tomorrow for a brand new video to share how I took on this challenge!
Today's Guest Artist: Leanne Edwards loves being a mum, caffeinated drinks, and collecting hobbies. You can find more from Leanne on Instagram, Twitter and Facebook, and her blog.

Read more about: scrapbooking-challenges
31 January 2016

Next post: Scrapbooking Process Video :: Right Now
Previous post: Introducing Starshine, my new collection with American Crafts