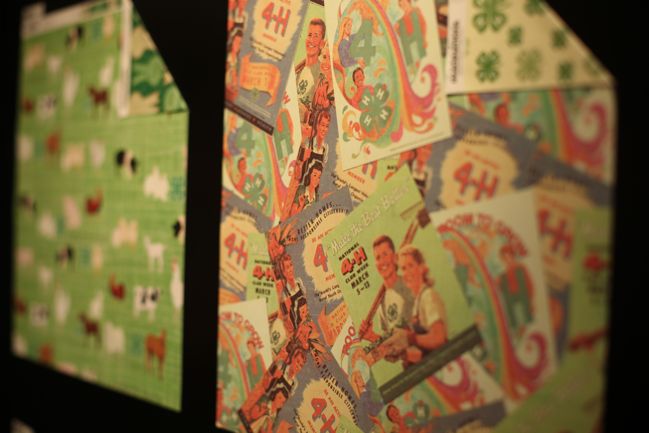 I have to be honest and say I miss the days when Creative Imaginations was producing the Narratives line of scrapbooking products and since that line went into an indefinite hiatus, nothing there has really inspired me to craft.
However… because something totally kooky caught my eye, I decided it was worth a look around and I ended up taking more photos than I expected.
Of things like a brand new range of 4-H branded papers.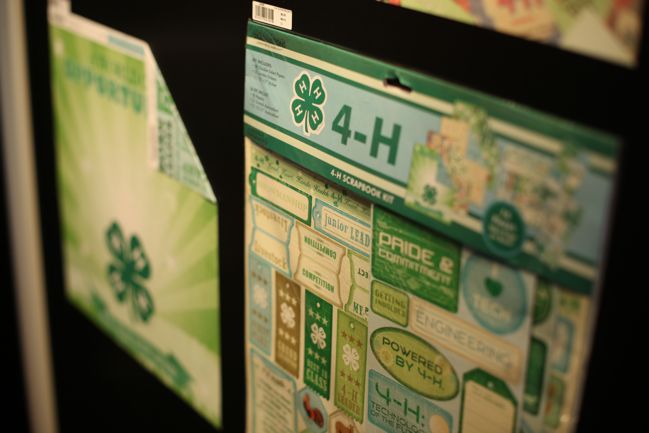 4-H will make no sense here in England, but as someone who grew up in Kansas, I can heartily put my hand up and sing along with '4-H, for youth, for America, 4-H!' How do you describe 4-H? Like scouts but it's girls and boys together? With an emphasis on farming rather than camping? But also on all things handmade, with projects that teach you to bake and sew and craft. And every year's learning leads to the county fair, where you enter what you've created or grown or taken care of all year long and hope to win a prize ribbon. The 4H idea stands for head, hands, health and heart, but that doesn't explain anything. Basically, it's a homegrown youth organisation that is most popular in areas with lots of agriculture but has grown to cover all sorts of special interests. Does that make sense?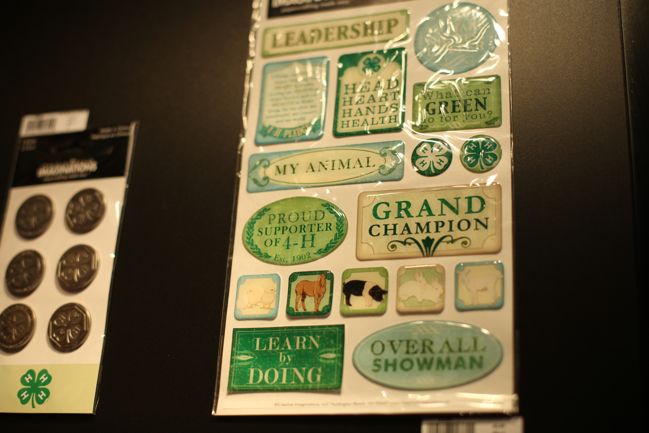 And long story short, there are now special 4-H themed papers for scrapping all that goes along with the 4-H experience. This is smarter business than many might realise, as the end-of-year assessment book that 4-H members put together to win awards is essentially the first way I scrapbooked. That's one way to sell a lot of scrapbooking paper to people who don't know they are scrapbooking!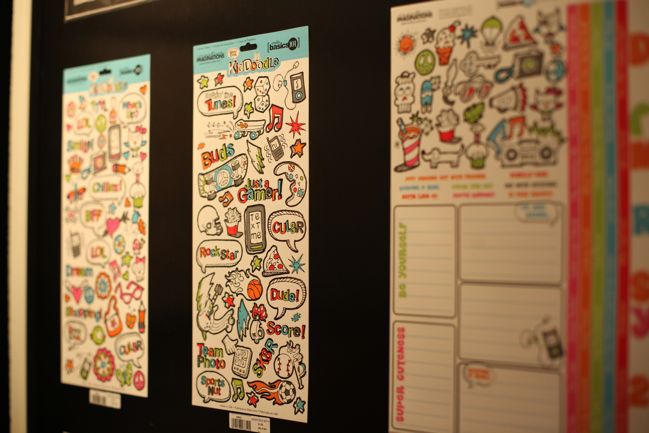 There is also this doodle line, which is mostly black and white and designed to be coloured in to suit. We've seen this come and go over the last fifteen years of the industry, but I think this is the first time we've seen it in a very youthful style.
As an aside, it reminds me of a pair of shoes I had in the sixth grade that came with special colouring pencils. A pair of shoes that may have landed me in trouble for colouring on my feet when I was supposed to be listening to a lesson on cell walls in plants. Why oh why do I have remember the details of such things? Moving on.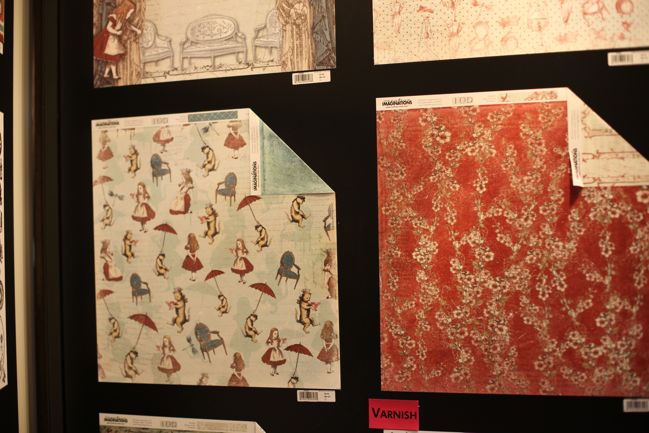 Wait, wait: what's this?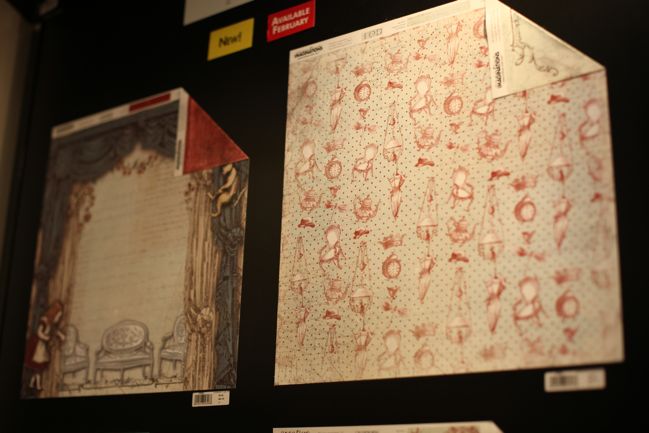 Why yes: it's an Alice in Wonderland collection! It's under the IOD Designs label and ships in March.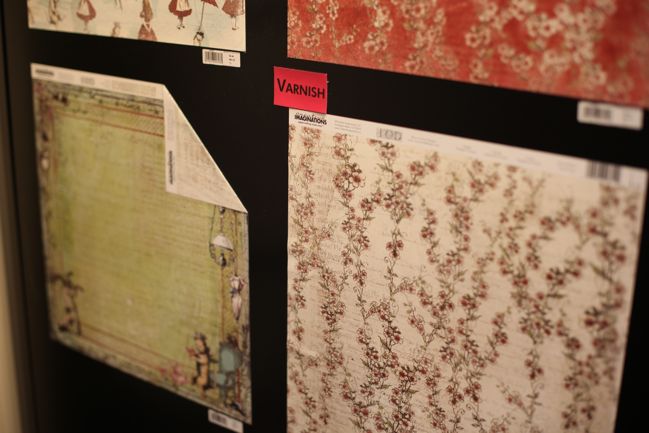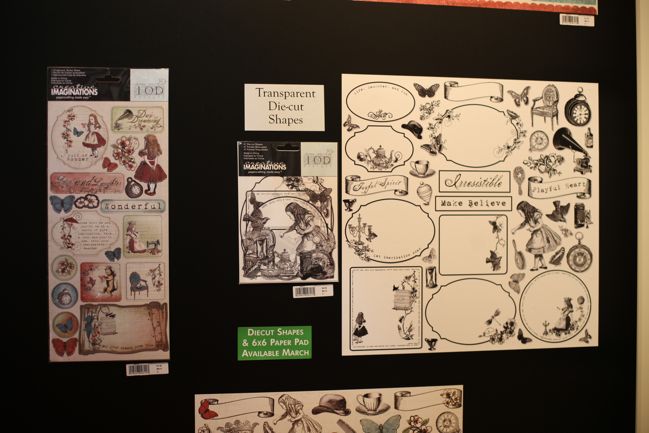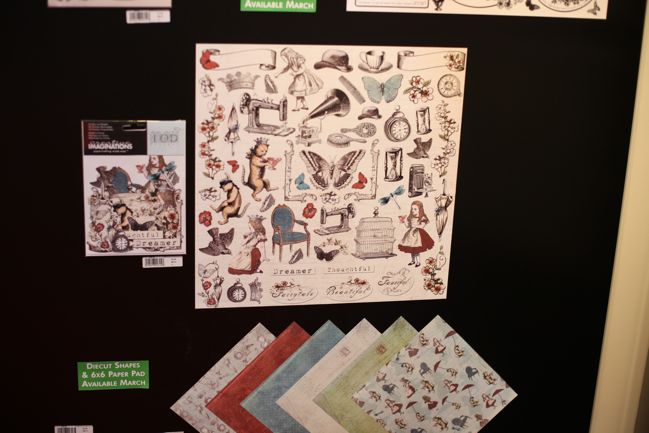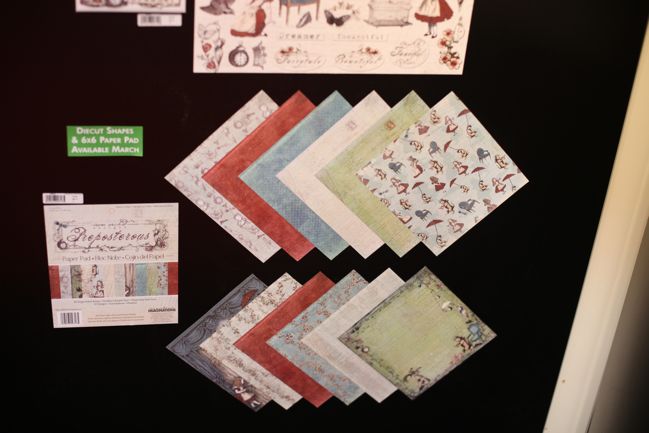 Admittedly, I have a drawer full of Alice in Wonderland party pictures and I'm still not sure I could use every single thing in this collection, but it's so pretty and dreamy. It's nice to see an Alice collection that is light and airy – I have found a few other Alice-themed designs to be very dark or very cartoony, so this is a happy medium.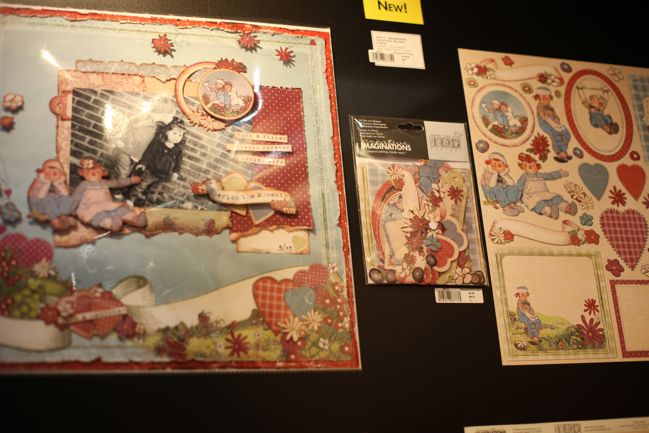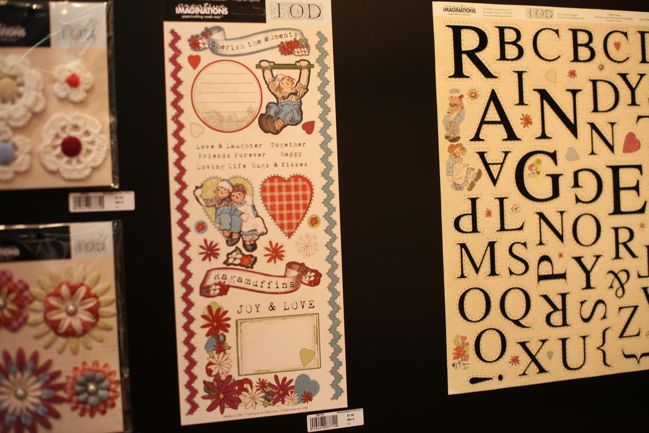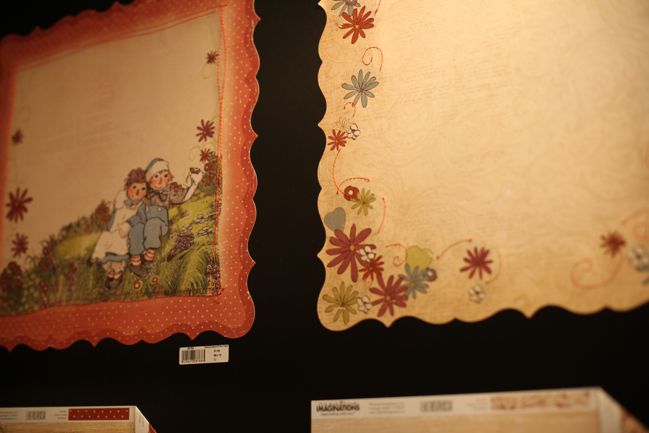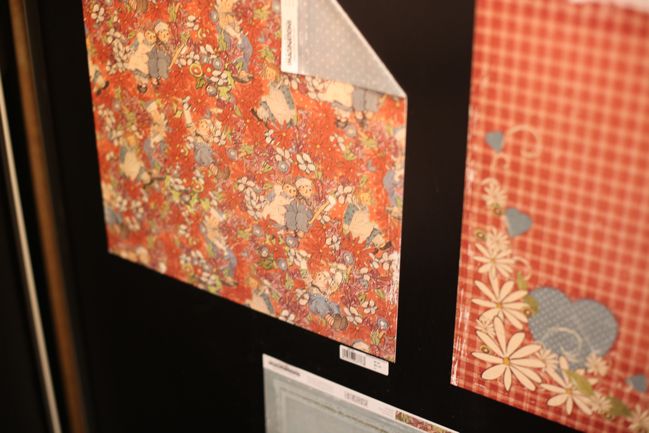 The same artist also has a Raggedy Ann and Andy line, at which point the Creative Imaginations booth really started to do crazy things to my mind, as my bedroom as a toddler was decorated entirely in Raggedy Ann and Andy, so between doodle shoes, 4-H papers and this, I was a little overwhelmed in memory land!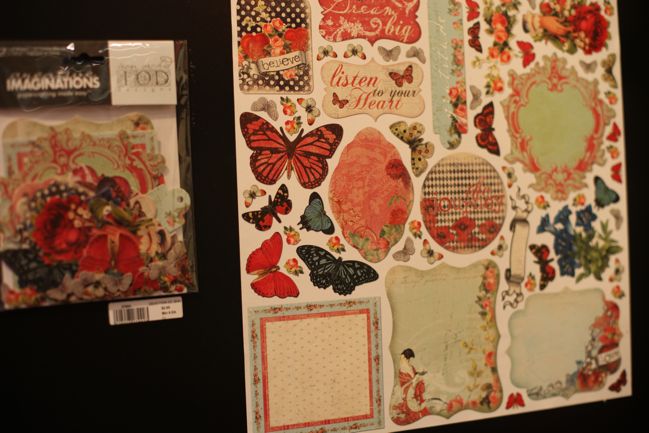 And then I was brought back to the modern day with butterflies. Hurrah.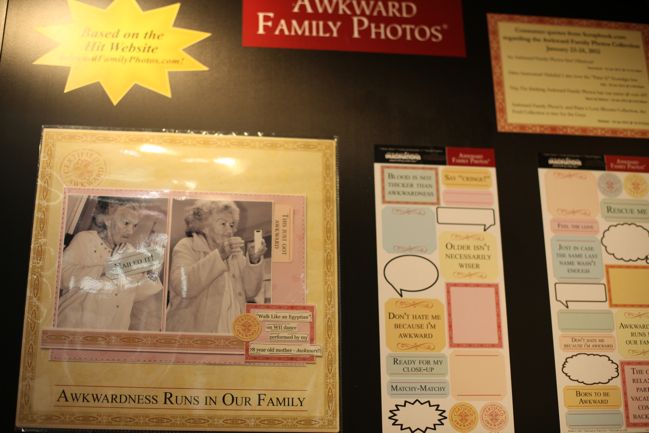 But are you ready for the real crazy? This was the line I would ask people if they had seen yet and they would just look at me in amazement and say 'surely not'. But yes. I bring you a scrapbook collection based on… Awkward Family Photos. A website entirely based on laughing at old photos that now seem very strange. And the collection looks like this: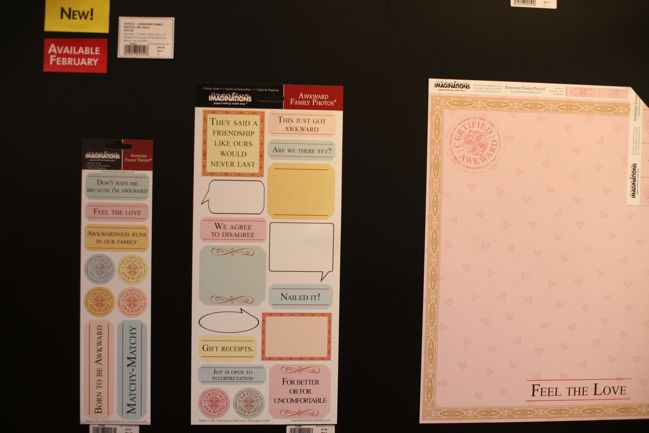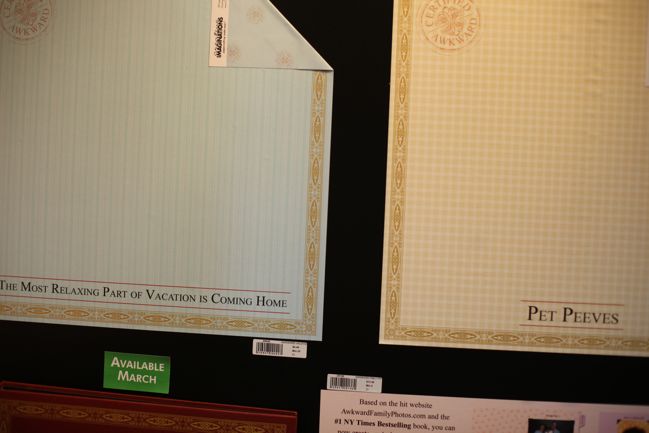 Somehow… I'm not convinced. I mean yes, it's a funny idea. But I'm not convinced.
And then there's the ultimate scrapbooking gag gift:


Yes. A premade album ready for you to add your own collection of awkward family photos.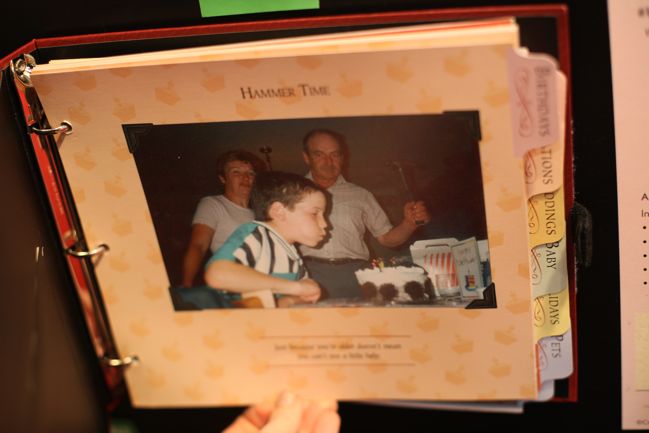 Complete with themed divider pages with excerpts from their book/website.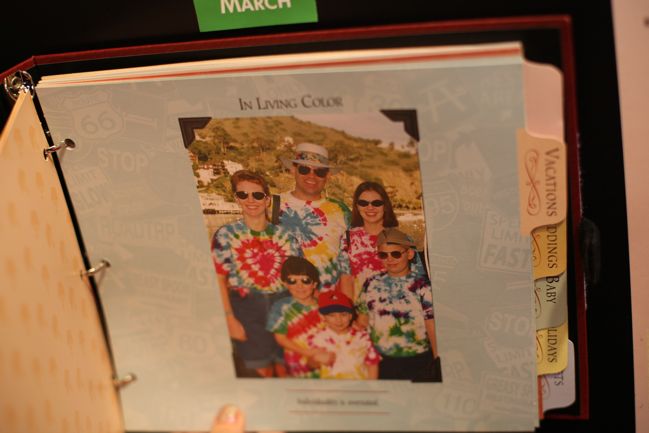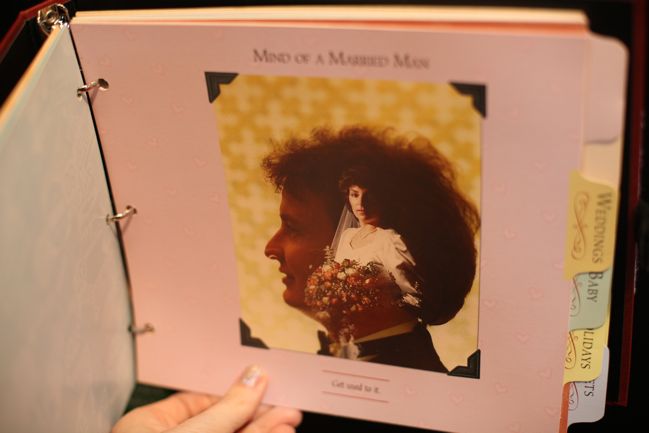 The baby themed divider? Includes a baby posed with head in hands who just happens to be throwing a rather rude gesture toward the camera as a result. Seriously? For scrapbookers? Exactly what kind of store is going to stock this item? It seems like the sort of thing you would find in a joke shop… but joke shops don't really attend CHA. And I think it would take a special kind of scrapbook store owner to stock many of these alongside supplies for the serious crafter.
So points for making me laugh? Yes. Dollars for making me order? Not so much.
Now you're all going to send me one of these for Christmas, aren't you? I can see it now: Journal your Awkward Family Photos 2012.
Sigh.

Comment [41]