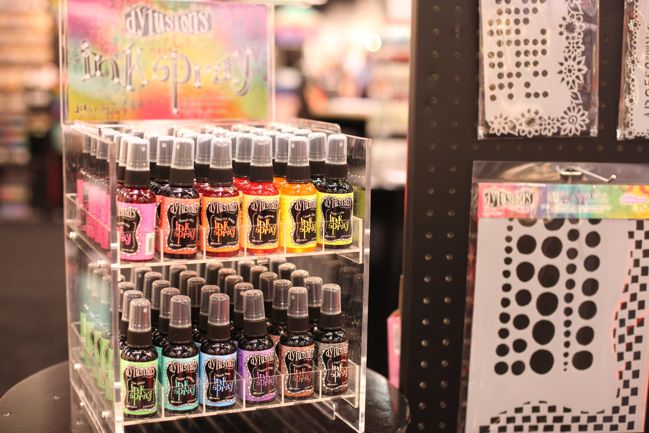 If you're a big-time Ranger fan, you will have already sought out all things Tim Holtz and so on, so do forgive me for not showing you the entire booth. I'm really boring when it comes to inks and I like Distress Inks for the edges and Jenni Bowlin inks for stamping and that's pretty much where I stop.
But pretty sprays in bottles? That does catch my attention.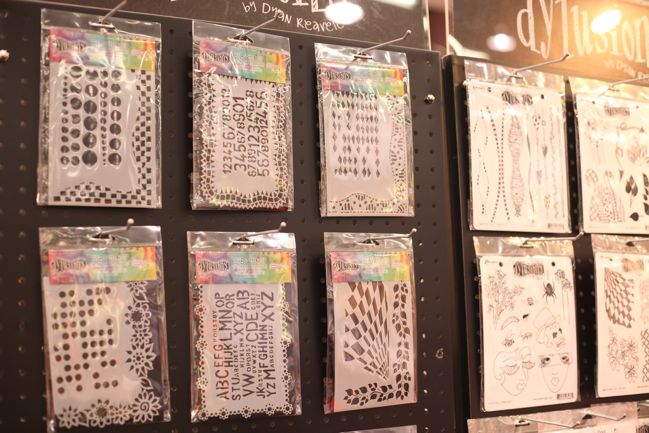 Dylusions is new to the Ranger family but not really new to many crafters here in England. Dyan Reaveley has been crafting at Art from the Heart in Yorkshire for ages, and has brought very cool innovations to brightly coloured papercrafting, with her own ranges of papers, stamps, paints and mists. Having been appointed as a signature designer for Ranger, her fabulousness gets to go global. Very exciting.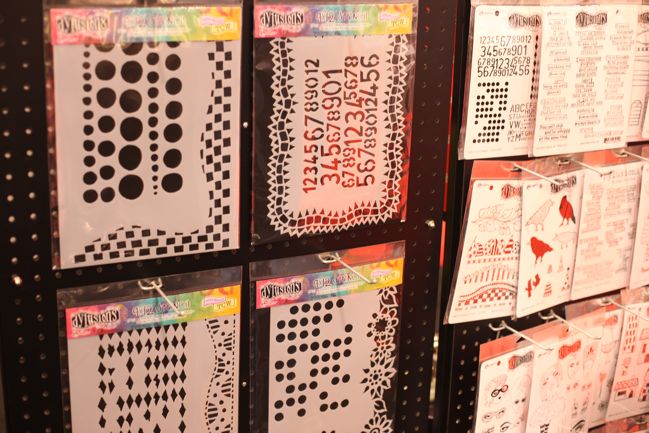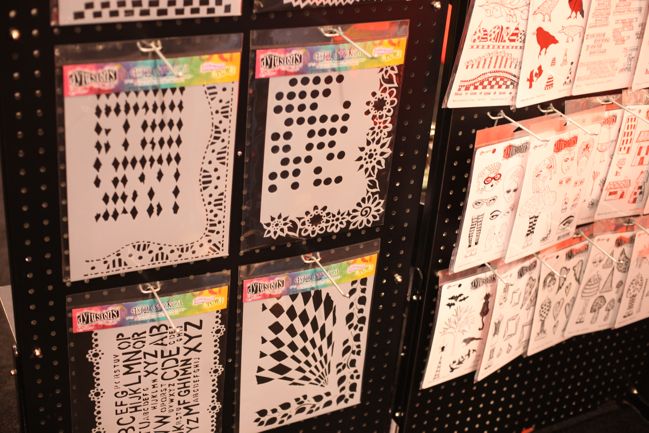 This debut line of products includes beautiful mist colours and a wide range of masks, with her signature style and lots of freedom in the designs. The perfect remedy for anyone stifled by too many straight lines!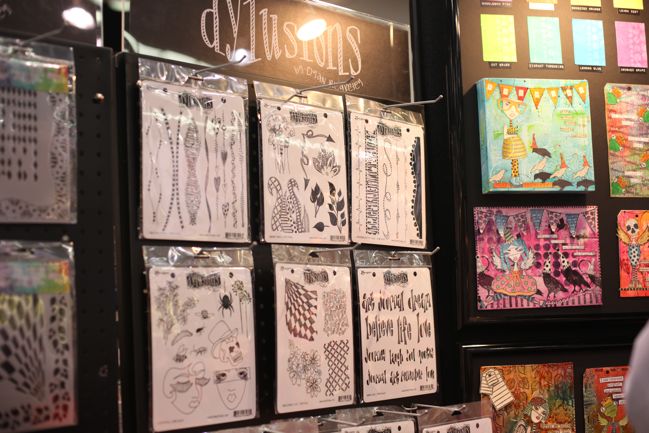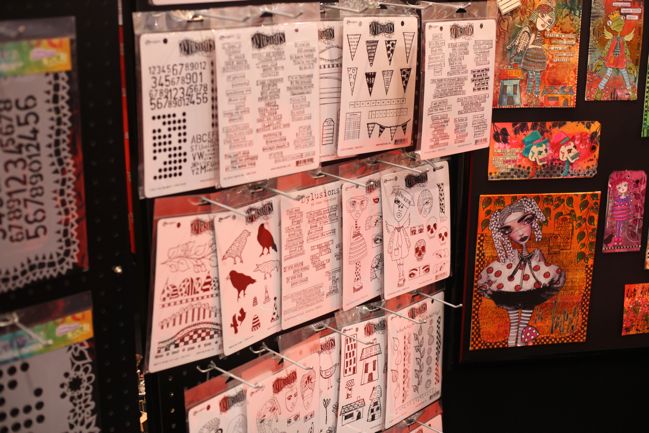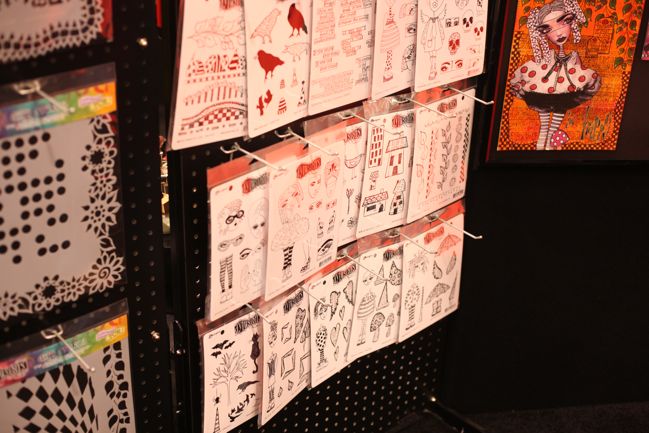 Plus all these stamps! Lots of hand-drawn goodness and stamps that layer together for collage effects. A very different style to some of the other products I've highlighted from the show, and it's for that very reason that I was happy to see this collection appear. Good to know that we're still very much an industry about creative freedom and inclusion, even when there are perhaps fewer collections and manufacturers than a few years ago. I love the energy in this line.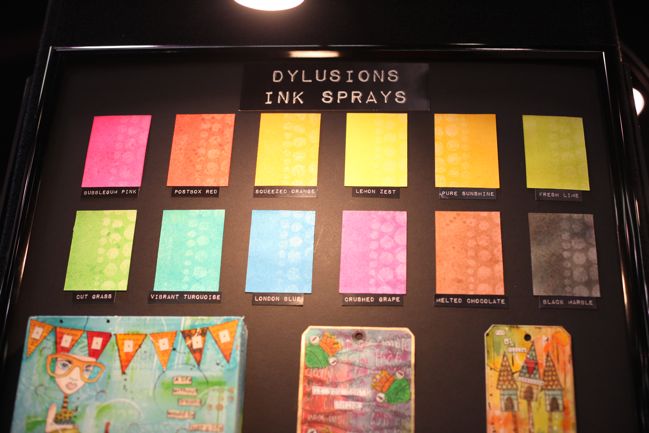 And my favourite thing is how bright the colours are in the Dylusions mists! The colours are sheer but layerable, so the right side shows you the difference a second coat can make, along with a mask. For a long time I thought Ranger was all about the earth tones, so when they release products with bright colours it makes me smile – and these are their brightest tones yet.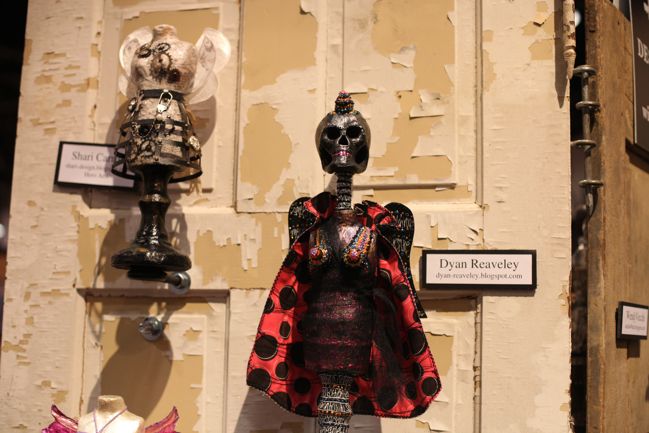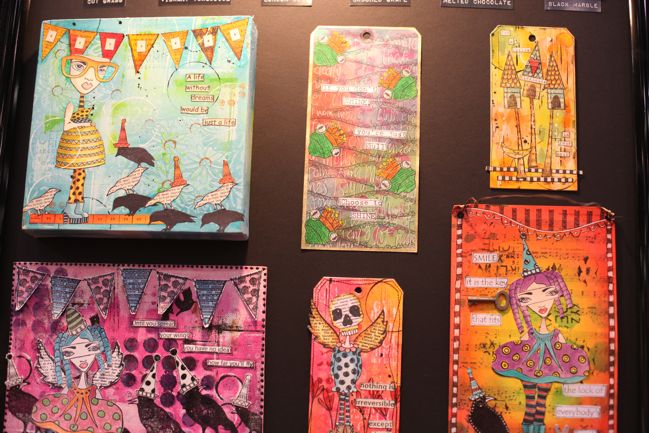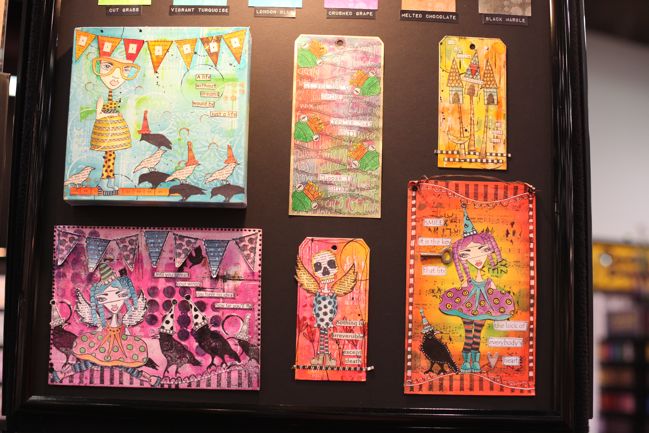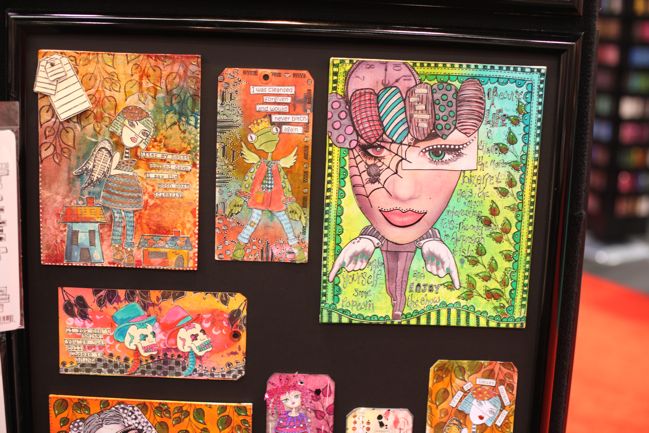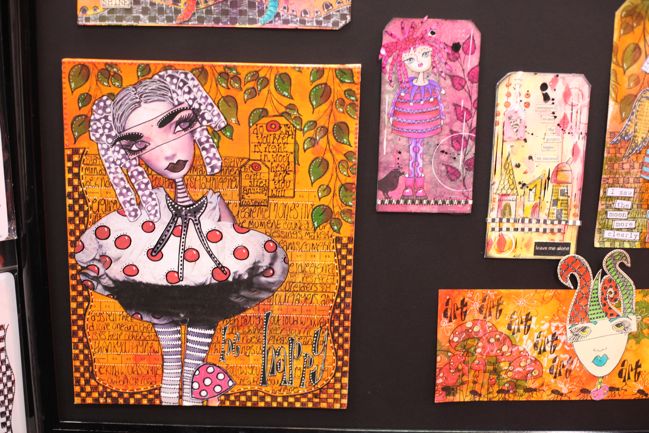 Here you can get an idea for Dyan's own creative style and how these products look when used together in altered art and art journal pages. So very different to my own projects and yet I could look at them all day, peering at the tiniest of details!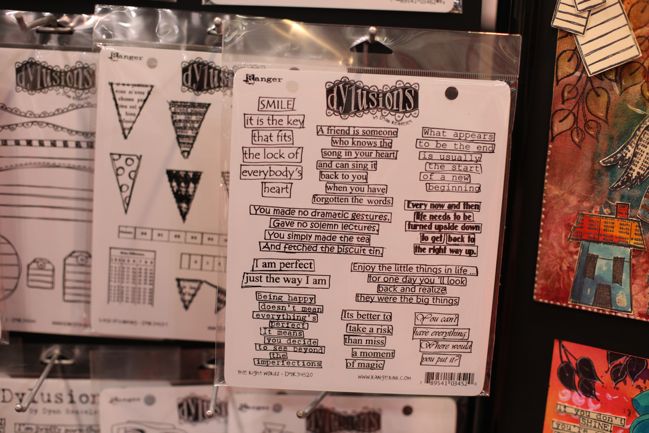 But in case you're not quite convinced just yet, there are certain elements hiding in this collection that might be right up your street even if you're not working in layers of technicolour mist – like these phrase stamps (and also the journaling lines and bunting to the left). Perfect for scrapbook pages and cards – and adaptable to any style and colour combination you fancy! I love looking for treasures like this.
The stamps are shipping now and mists and masks ship later in February, so look for them to hit stores soon.
Click here to shop for products from Ranger, and today find a few Dylusions stamp sets for 50% off!

Read more about:
09 February 2012

Next post: CHA Winter 2012 :: Hambly Screenprints
Previous post: CHA Winter 2012 :: French General