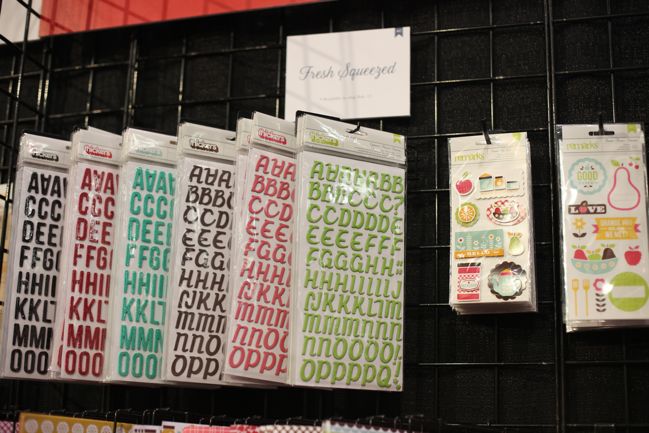 In addition to their designer brands Amy Tangerine and Dear Lizzy, American Crafts had quite a few new products in their classic branding, so let's start today with a look at all that, shall we?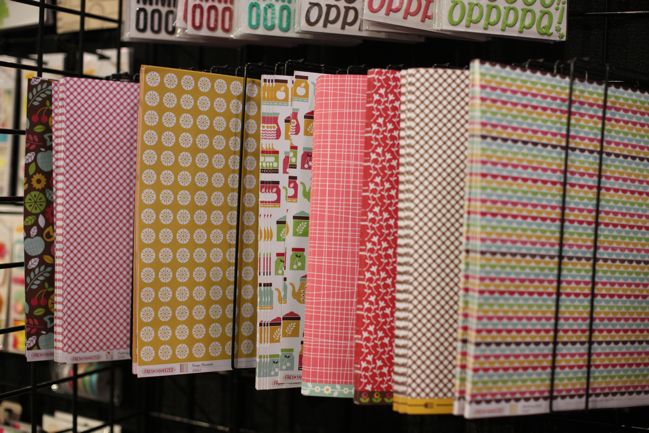 Fresh Squeezed is a summery home-themed line, with plenty of kitchen and fruit motifs mixed with a Scandinavian vibe.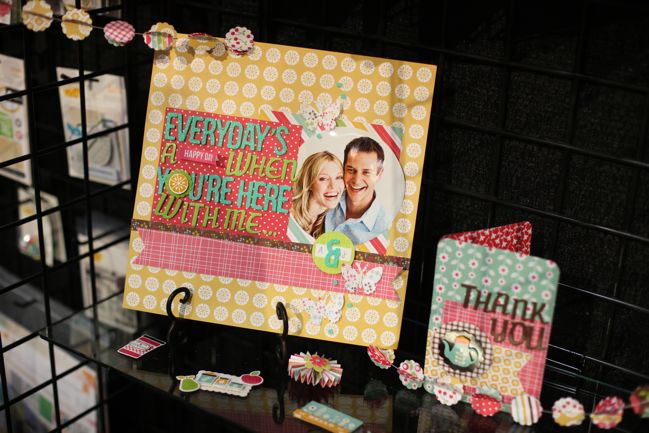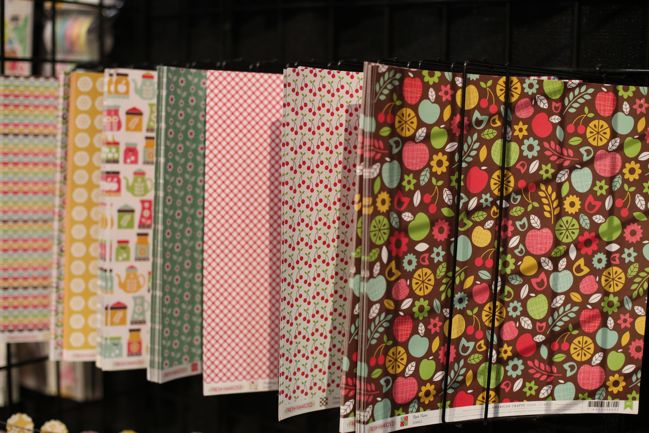 Lots of red, brown, yellow and turquoise.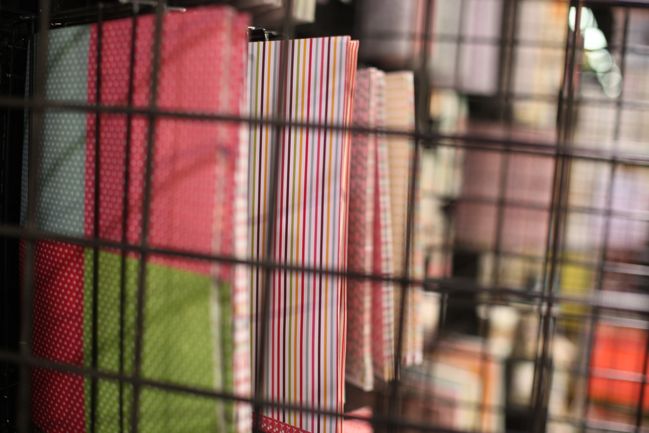 Sorry about this slightly rubbish photo, but I wanted to show you that last b-side paper – patterned quadrants! One of my favourite ways to mix patterned papers except now it's already done. Perfect for quick scrapping.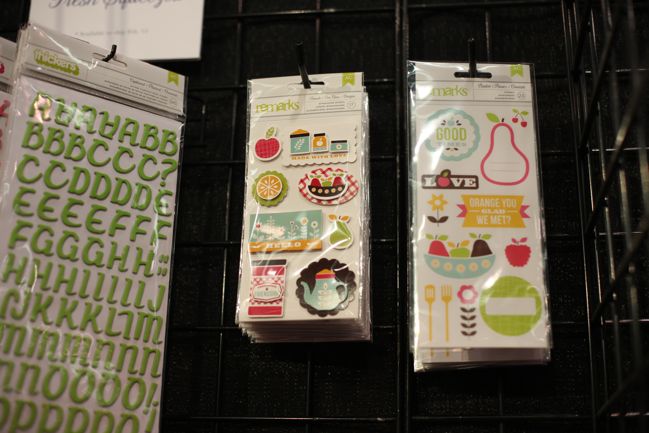 Thickers in a lush spring green, plus layered and flat stickers. The phrases on the flat stickers would be particularly useful for cards, as the reverse includes quite a few things that would work well as greetings.

Recipe cards. Quite pretty and could make a lovely gift.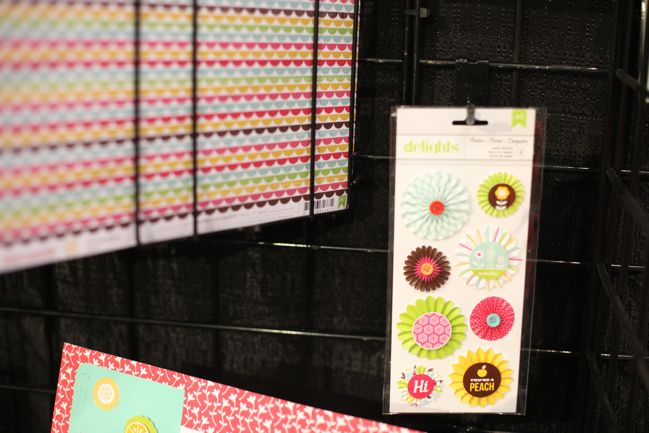 And hurrah: paper pinwheels are still here. Even if even lighting is not. Win some, lose some.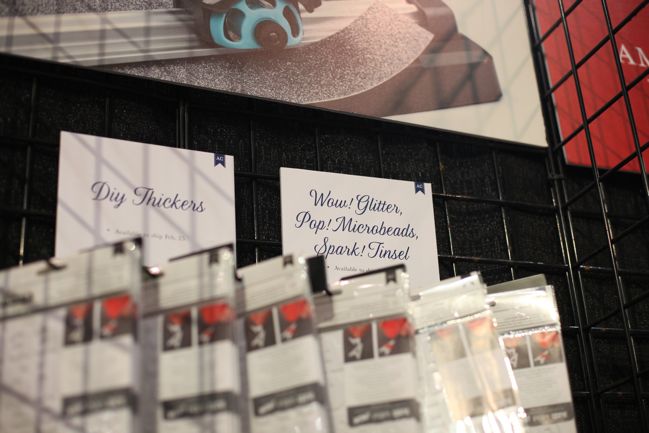 AC's new DIY line is something for anyone who ever wanted Thickers in a particular colour or style that wasn't in the line up… now you can make them yourself.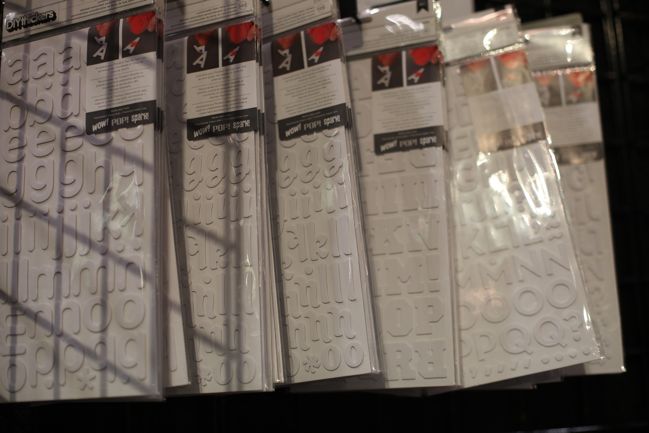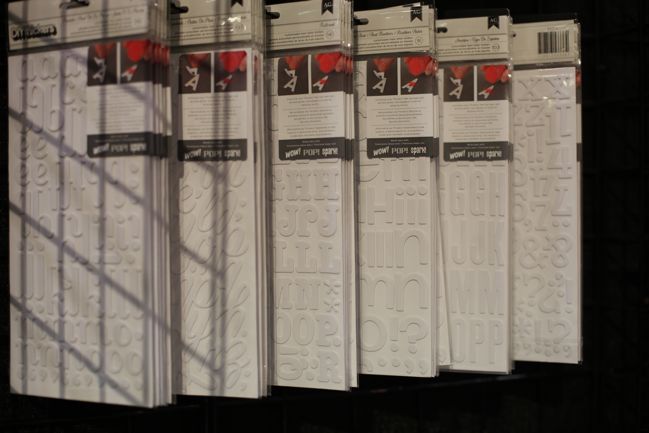 Start with your choice of font – these are all styles we know from previous Thickers collections.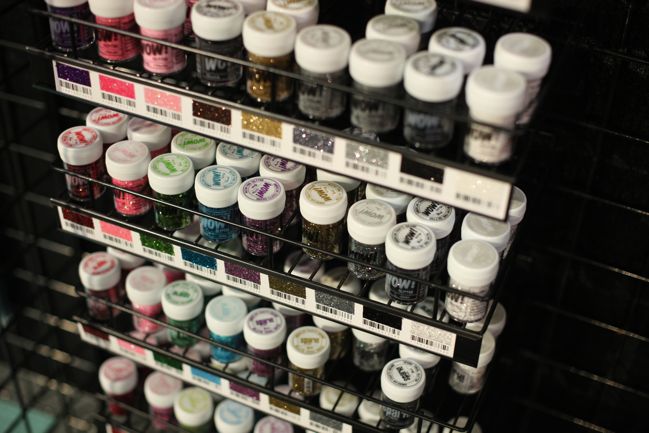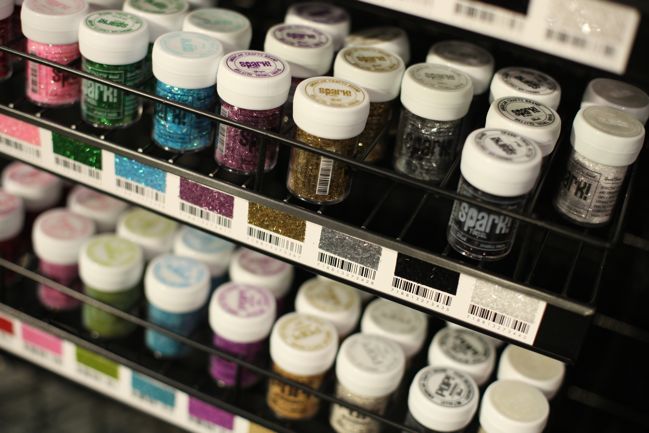 Then customise with your choice of sparkle, including extra-fine and chunky glitters, tinsel (like glitter in little strips) and microbeads. There were also samples that were heat embossed with embossing powders and coloured with markers, though I'm not completely sure how the colouring with markers works if there is an adhesive layer on the top. Will investigate that further sometime soon.

Chromatics is a new marker line out this spring, and basically American Crafts' answer to Copics and Promarkers. Chromatics are alcohol-based inks that blend gorgeously with ease. I gave these a try and they do shading and faded colour so very well on the very first try, so these are promising if you're in the market for markers. Plus there is something they have done that is oh so smart: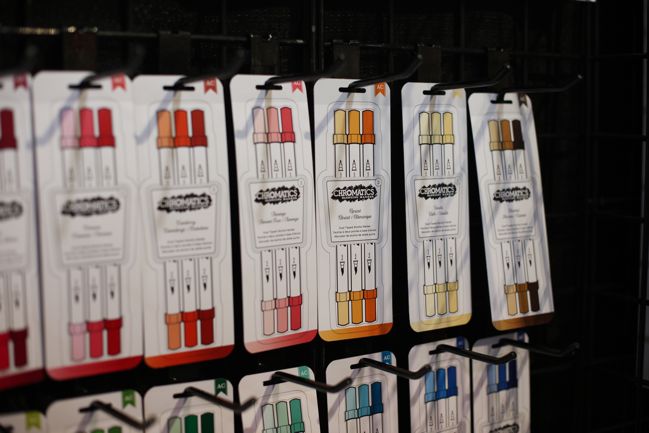 They come packed in threes of perfectly picked shades for fading from one colour to the next. No more looking at a zillion markers and wondering which ones will work best or where to start. Choose a colour of the rainbow and then the shades are already ready for you. Smart.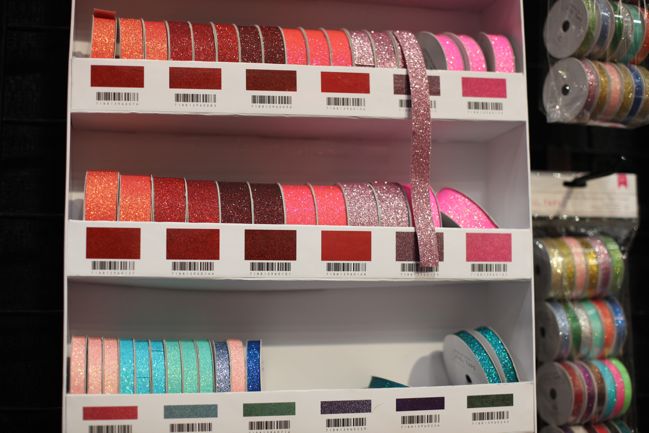 Glitter Tape was a new focus where American Crafts would usually have an entire new section of ribbon. Perfect for adding sparkle that won't fall apart on the page and has no mess. It comes in half-inch and quarter-inch widths and the colours, like those in the bottles of glitter, match the American Crafts cardstock colours.
Which of course led me to ask 'is there kraft glitter?' to which I was looked at with bemusement. Um… apparently if you make kraft metallic, it's essentially gold.
I may not have thought of that when I asked.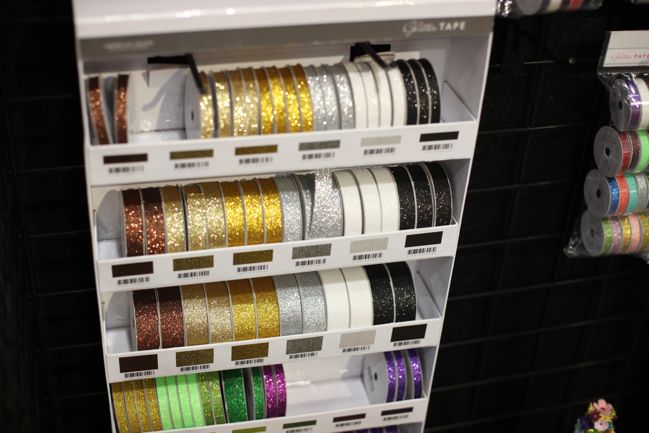 There are, at least, shades of gold and silver so there really is one that is perfect for kraft and not overly yellow. Disaster averted.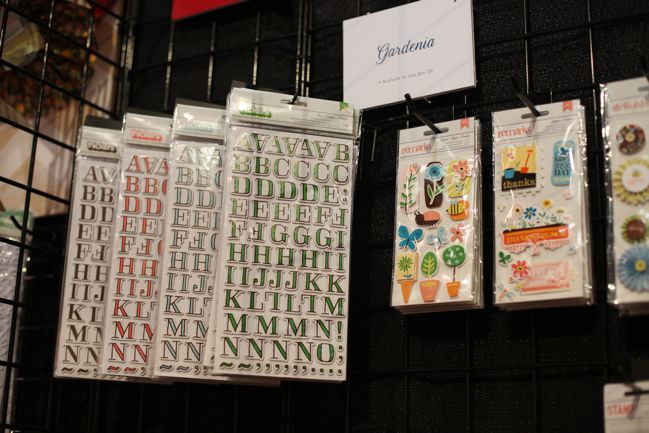 Then we have Gardenia, a garden-themed spring that doesn't go anywhere near the pastel shades. The Thickers for this collection have a new hand-drawn look.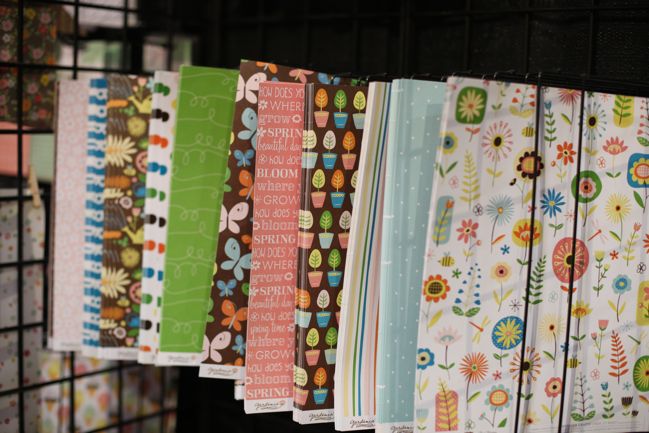 I especially love that green swirl! I must admit gardening lines make me a little wistful from my little flat with no grass to call our own, but on closer inspection these aren't overly themed and can be used for any number of topics. Just treat them as any other floral or polka dot or butterfly.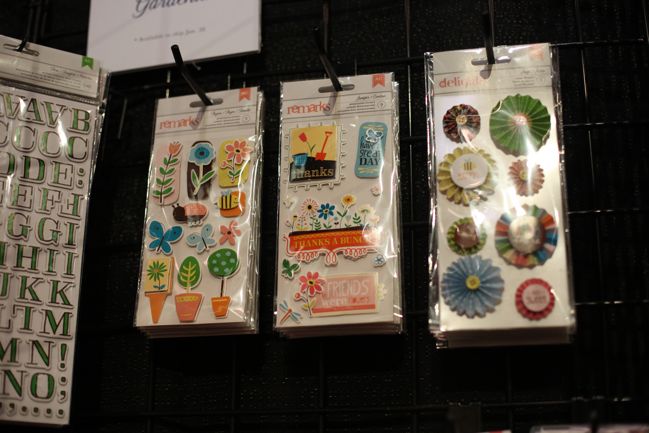 Plenty of layers in the embellishments, and again one particular pack that seems well-suited to cards.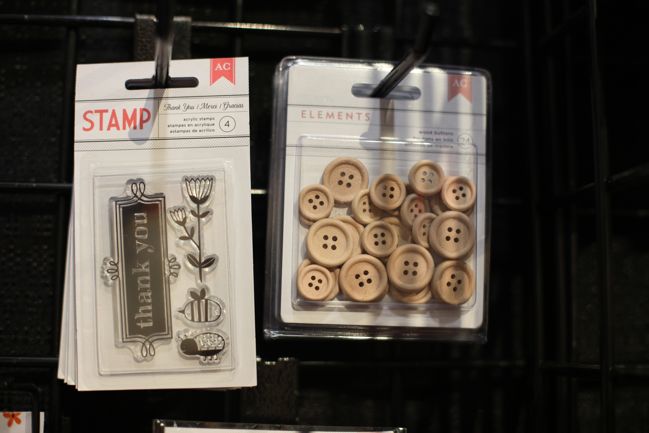 These two are must-haves: a really versatile thank you stamp and plain wooden buttons that can be left as-is and look great tied with brightly coloured threads or you can paint them to match your project. You can even sparkle them with some glimmer mist.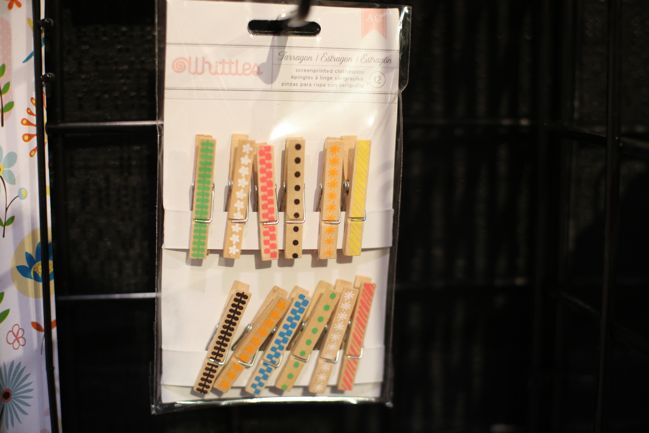 Cute printed clothes pegs, but a bit big for most scrapbook pages. Handy for mini books and all other sorts of things that don't require packing into a page protector. Or break them in half to use them on a layout for the illusion of a whole peg.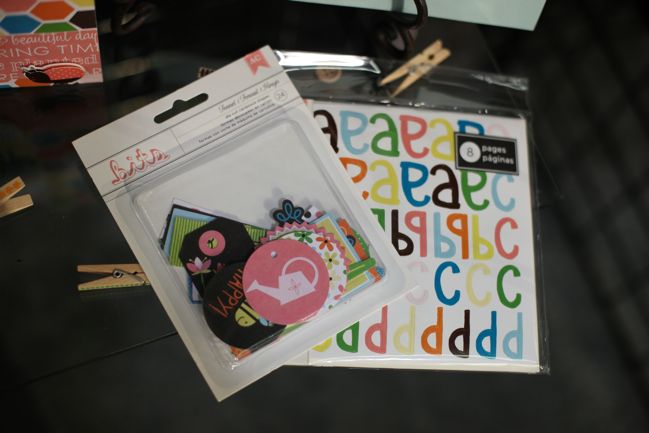 The printed die-cut shapes from the original Amy Tangerine collection were so popular the idea is now cropping up in several AC collections. Plus there's an additional flat alphabet sticker set in the right colours for these papers.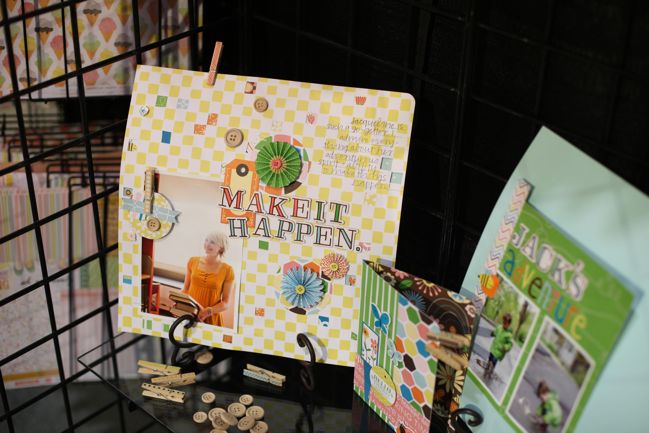 And a few projects from the AC in-house designers to illustrate that Gardenia is useful for far more than gardening photos!
Ship dates: The glitters (called Wow, Pop and Spark) and DIY Thickers ship right now. Glitter tapes and Fresh Squeezed ship later in February. Chromatics markers and Gardenia ship in March.
Click here to shop for American Crafts products.

Read more about: american-crafts
06 February 2012

Next post: CHA Winter 2012 :: Cosmo Cricket
Previous post: CHA Winter 2012 :: Echo Park