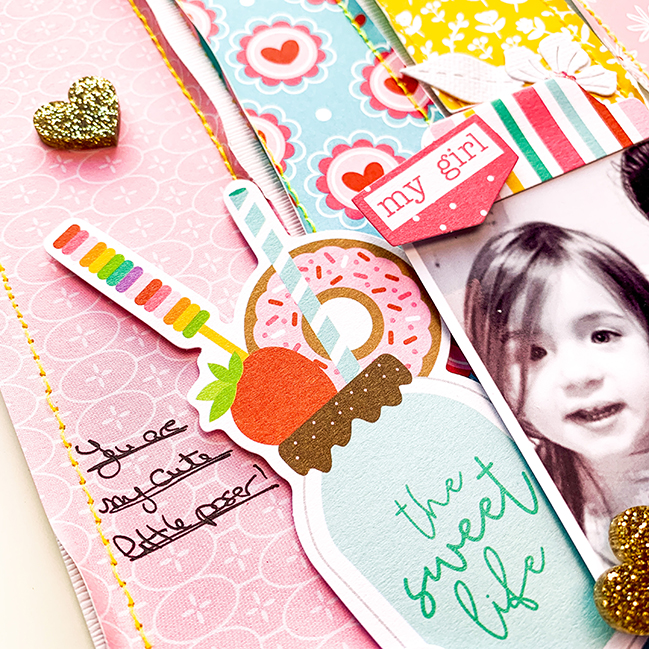 Today was the first live session in Scrap a Rainbow and I loved the questions that came up and how we were able to work on some concrete answers that I hope will help. I've even seen a few pages already from those who like to scrap along in real time, which is always super exciting to me. But here it's time for a new guest artist! Please welcome Emilie Chamel sharing a colourful project today! A reminder that supplies have affiliate links to make this all possible. Thanks for clicking through when you're shopping! Enjoy Emilie's handiwork! -Shimelle
Hello everybody! My name is Emilie and I am extremely honoured to be guesting on Shimelle's blog today. Thank you for having me!
You will know that if I am here, it means that I love scrapbooking! I fell in love with this hobby back in 2006. There are so many things about that craft that I love: recording memories of my loved ones, playing with pretty papers and sharing with this amazing community. But I love to give myself challenges sometimes, and it often has to do with the cost of this hobby: recreating the look for less, making "dupes" from your stash, and so on.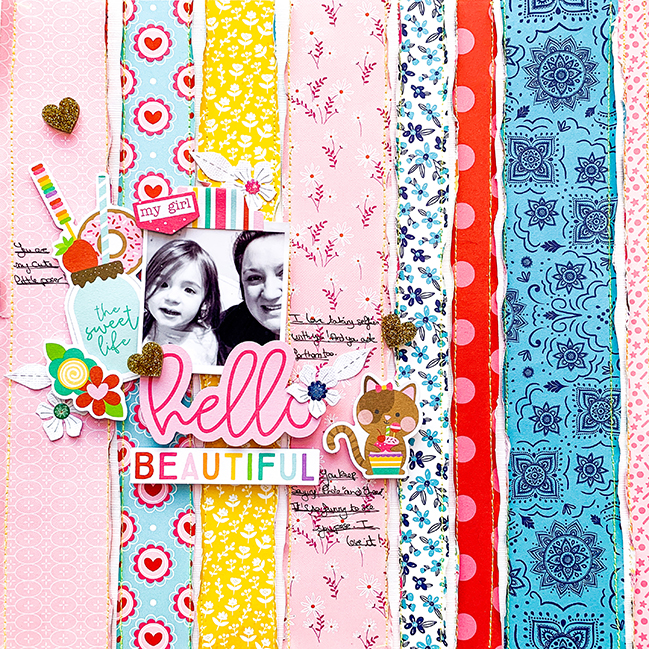 This is where this layout came from. I have several leftover scraps from collections or kits in my stash which seem destined to never be used as not enough is left. But is that really the truth? I challenged myself to go through my boxes of scraps and pull all the papers which I felt would work together without caring about the brands or collections, just the look!
I honestly could have come-up with so many looks and styles and I seriously almost went into a completely different direction but the pinks, red and blues caught my eye. The mix of Bella BLVD Candy Girl, Paige Evans' Go the Scenic Route as well as Hip Kit Club August kit worked a treat together!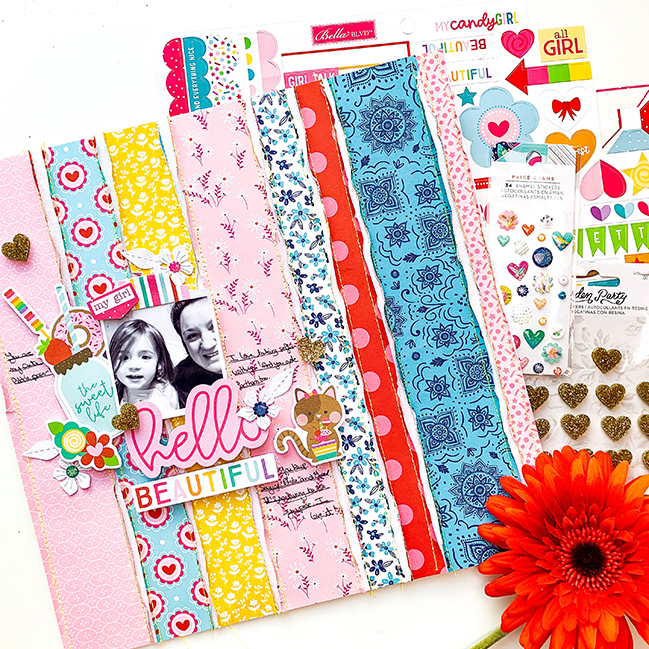 As I hardly had any full sheets, I set out to cut several strips of paper of different widths. They all had to be full 12" length though and vertical. This step in my creative process really helped me edit my selection of papers as I had so many which were no longer big enough. Once this was done, I machine stitched them to my background and ruffled up the edges. This creates such an amazing look that very little embellishments are needed from then on!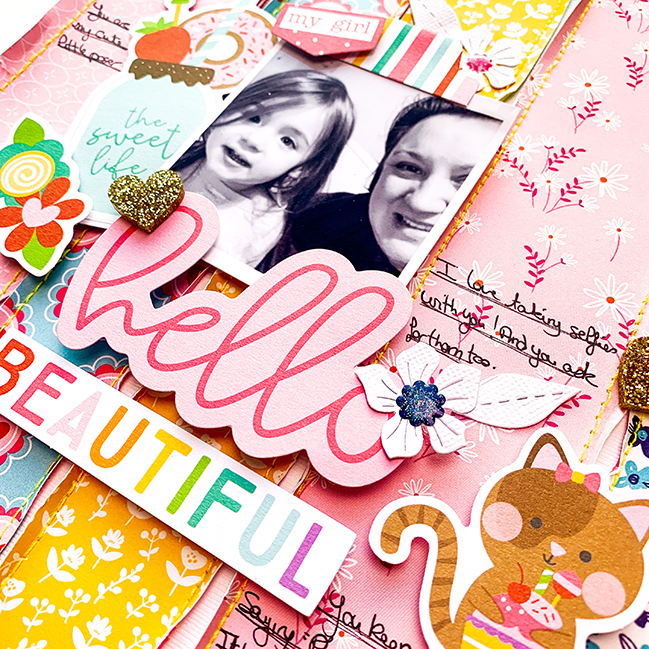 A black and white photograph ensured that no colour would clash with my already busy background and a few leftover ephemeras and enamel dots were enough to finish off the looks. I added an extra touch of bling with the super cute Maggie Holmes gold glitter hearts and it was done!
How satisfying is that?! A brand new, fresh looking layout made from using my scraps, nothing can beat that feeling of accomplishment! I hope that this layout inspired you today and that you will try mixing together your leftover scraps.
| | | |
| --- | --- | --- |
| Emilie Chamel comes from France and has been living in the UK since 2004. She has always been creative, even from a young age when she used to create clothes for her Barbies with her mother's scraps of fabric. Emilie discovered Scrapbooking back in 2006 when she made her first layout and she has been on several design teams since such as Simple Stories, PinkFresh Studio, Hip Kit Club and more. She lives at home with her daughter Sophia who is at the centre of 99% of her layouts, her step daughter Lucy, her partner Keith as well as her dog and her cat. You can find her on Instagram, on Youtube and her blog. | | |

Read more about: tutorials
20 April 2022

Next post: Scrapbooking on a small scale with Cristin Howell
Previous post: Using B-Side Papers with Becki Adams