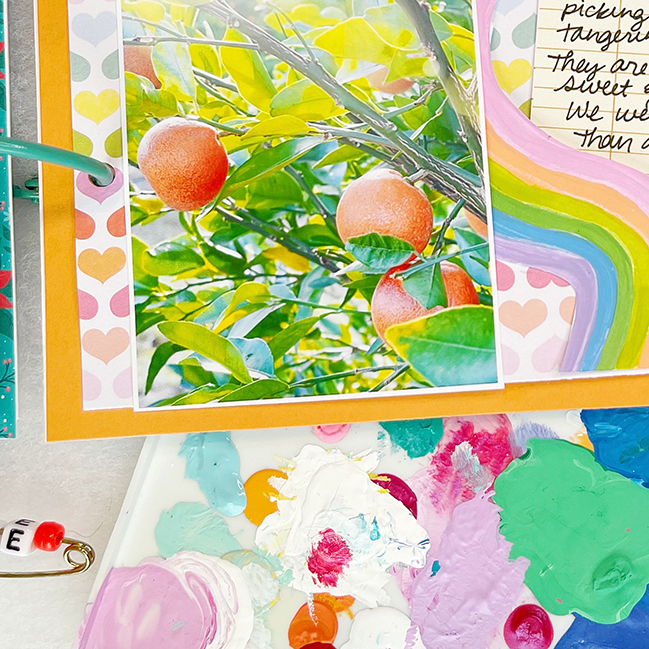 What size scrapbook pages do you make? With the exception of the Christmas season, I'm all in for 12×12 and have been for a while now. It's a format that works well for me, but it doesn't stop me adoring plenty of crafters' work in other page sizes and album formats! Today's guest artist Cristin shares a different page style in terms of size and binding but something familiar for sure – #scrapbookrainbows! Enjoy! -Shimelle
Hi there! It's Cristin here. First, I'd like to thank Shimelle for having me as a guest on her blog. I'm delighted to share this page with you today. and I love making bright & colorful scrapbook pages on a smaller scale (travelers notebook sized or 6×8). Keeping things in this format helps me keep up with recording my memories and, most importantly, remembering the good times. At the beginning of 2021, I started using binder/loose leaf rings to contain my scrappy albums. It's an inexpensive, informal way to scrapbook and it's easy to add in pages and not worry about bulky ephemera. I wanted to share a fun layout with you documenting a trip to a u-pick citrus farm this past December.
I had never been in a tangerine orchard before! I took lots of pictures of the little tangerines while looking through the branches. Of course I had to include a selfie with my spouse, John, and the "fruit" of our labor (ha!) – our bucket of tangerines. I usually scrapbook with a bright palette and for this occasion, a fun RAINBOW theme seemed perfect. Besides the fun background patterned paper, more rainbows were needed!!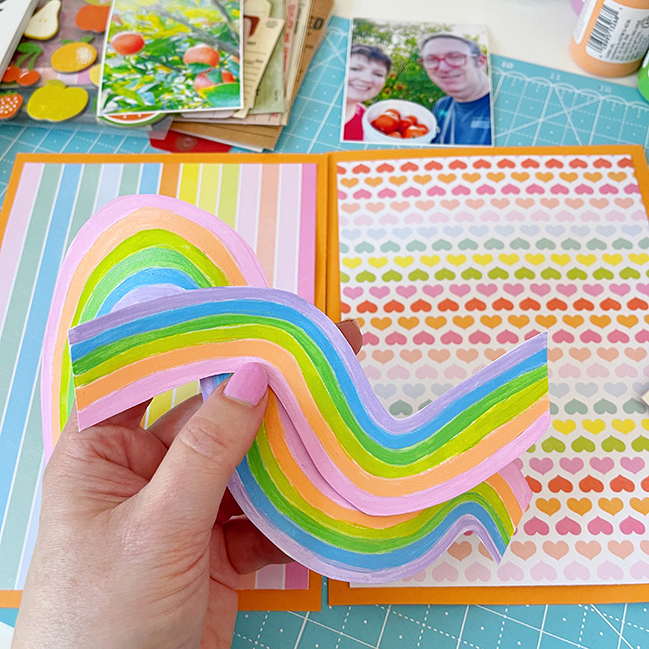 Sketching a curved line on plain white cardstock created the structure for the rainbow shape. Any shape will work fine – I like to cut my cardstock to the page size first. Then, a small paintbrush paired with a rainbow assortment of acrylic craft paints (any brand) followed the line to create the colorful rainbow ribbon.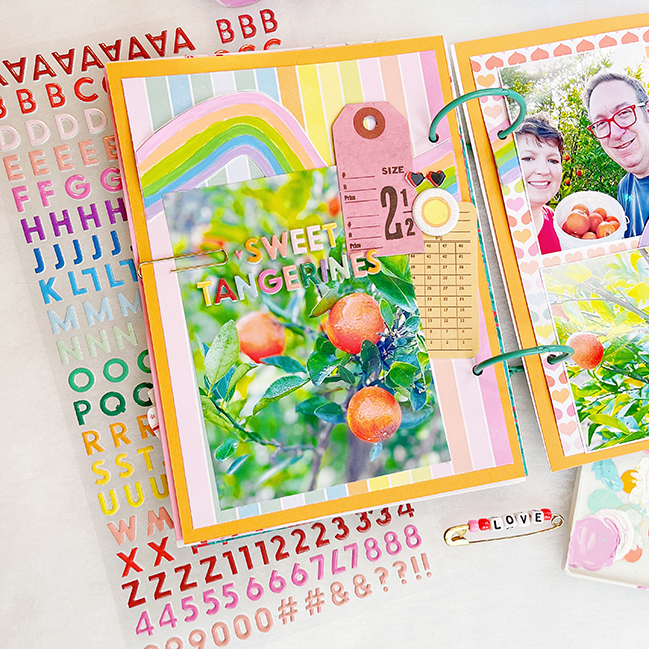 I recommend trying non-traditional rainbow colors and mixing up the color order to match your photos or paper. I like sticking with the same color saturation, though – meaning, the colors are all the same brightness. After drying, I trimmed these pieces from the cardstock and adhered them to the background.
Small letter stickers were used for the title, and since I'm scrapping on a small scale (no room to spare!), I stuck the title right on top of my main photo. I love how colorfully this turned out! Thanks so much for hanging out with me today as I shared my layout with you!
Cristin Howell lives in central Florida,

USA

. Memory keeping is her passion and she has been scrapbooking on and off since 1999. Cristin loves to create layouts in full color – bright pinks and turquoise are her favorites! This past year, she has been scrapbooking on a smaller Traveller's Notebook-sized scale.. Find Cristin on Instagram & her website.

Read more about: tutorials
21 April 2022

Next post: Rainbows and Die-Cut Files with MJ Magnuson
Previous post: Scrapbook Cocktail with Emilie Chamel