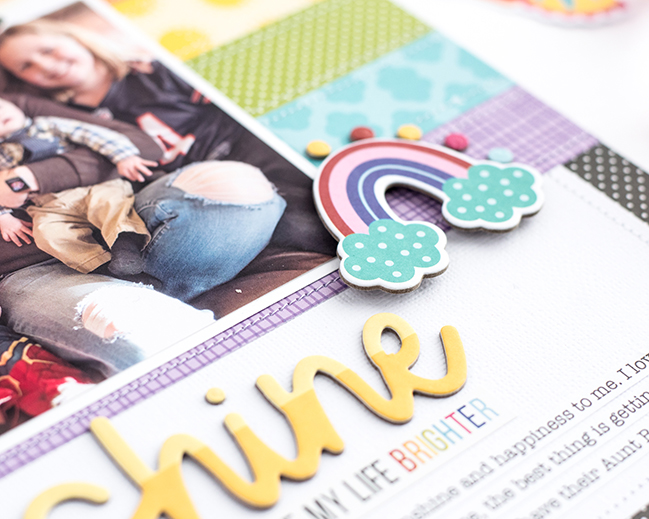 Hello friends! I hope you had a lovely Easter weekend, maybe with some new memories to scrapbook. Please join me in welcoming today's guest artist, Becki, here to share another delightful take on #scrapbookrainbows. If you want to join me for some colourful scrapbooking in class, you can join me for Scrap a Rainbow too! Right, over to Becki!
Often when I'm describing my scrapbooking style to other crafters, I say that I'm a "b-sided" crafter. I love the smaller patterned, tone on tone side of the patterned paper, the "b-side". I have found that these patterns are much easier for me to work with versus the bold, busy "a-side" of the paper. I had so much fun creating a rainbow background on this layout! I can't wait to show you how much fun it is to create magic with the "b-side" patterned paper.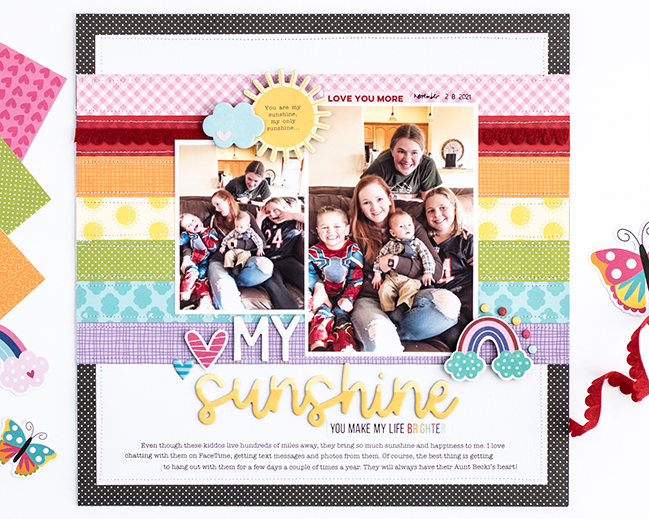 I chose a black polkadot background for this layout because I wanted to add lots of color with my patterned papers. Then I added 11" square of white textured cardstock on the top of the polka dot patterned paper. I used several "b-sides" of patterned papers to create a rainbow across the background of the layout.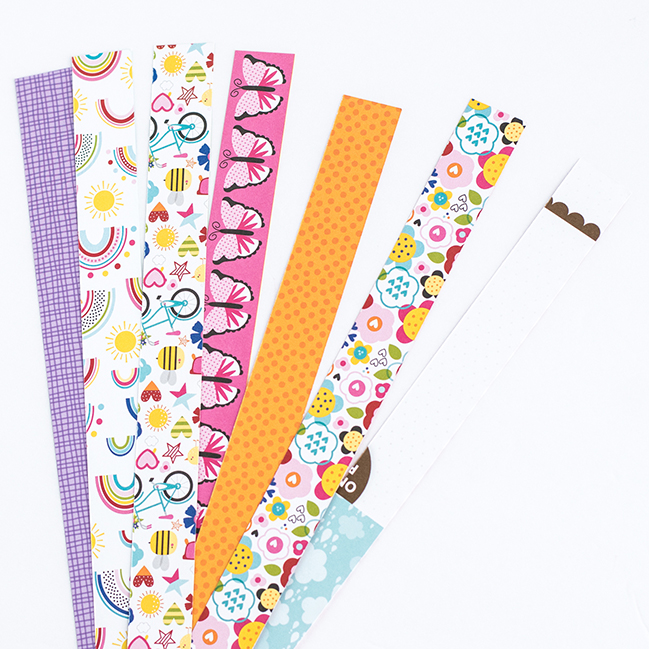 Each stripe on the rainbow measures 1" × 12". I adhered them slightly off center so that there was more space at the bottom of the page for my title and journaling. Stitching is one of my favorite ways to add texture and interest to my layouts. I stitched along the edge of each strip with my sewing machine and white tread.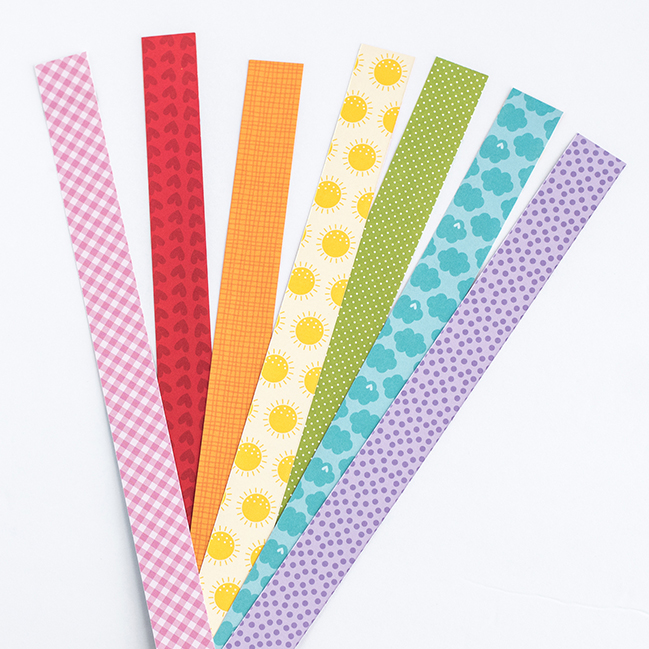 To make my photos stand out against the rainbow background, I printed them with a white border. I love that little extra pop of white to make the photos pop. Because I used the "b-sides" of the patterned paper, the patterns are tone on tone. This also allows the photos to stand out. If I had used the "a-sides" of the patterned paper that are much more bold, my photos would have gotten lost in the busy background.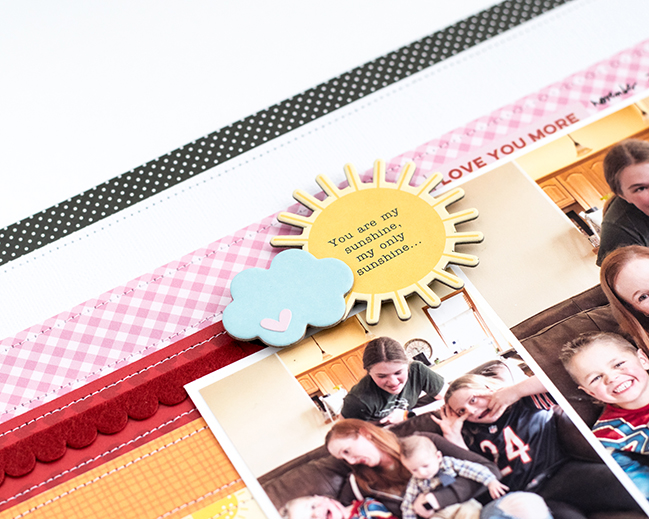 This happy, colorful background is the perfect way to tell the story of a recent visit with my sweet nieces and nephews. The journaling on this layout reads:
"Even though these kiddos live hundreds of miles away, they bring so much sunshine and happiness to me. I love chatting with them on FaceTime, getting text messages and photos from them. Of course, the best thing is getting to hang out with them for a few days a couple of times a year. They will always have their Aunt Becki's heart!"
I have SO much fun playing with the b-sides of patterned papers. I hope that you'll consider using the b-side of the patterned paper on your next project. Happy scrapping my friends!
| | | |
| --- | --- | --- |
| Becki Adams has been a designer within the crafting industry since 2007. She has taught numerous in-person workshops and online classes. Additionally, she has worked with many manufacturers and industry leaders, including American Crafts, Bella Blvd, Echo Park Paper, Hip Kit Club, Scrapbook and Cards Today magazine, and Stamp and Scrapbook Expo. Becki shares her work with her Instagram community daily and posts new content to YouTube channel regularly. Throughout her career, Becki has developed a style that is clean, colorful, and classic. Passionate about papercrafting, Becki considers memory keeping more than just a hobby. It is her creative release as well as a way of preserving memories for her loved ones. | | |

Read more about: tutorials
19 April 2022

Next post: Scrapbook Cocktail with Emilie Chamel
Previous post: Rainbow Lettering & Cut Files with Melinda Sweetman