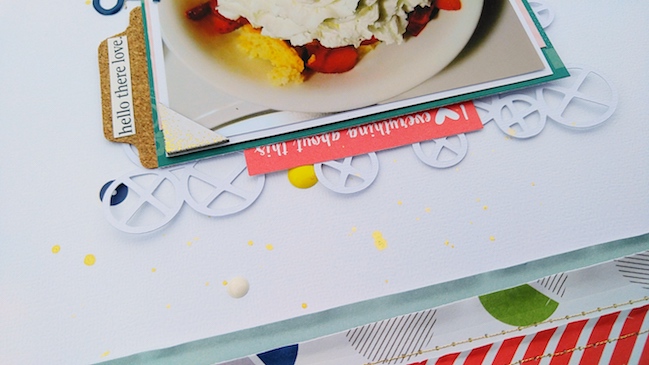 With that first collection meant – if only in my mind – to be called Pretty Paper, the next one had to be True Stories. There was the idea that we could just start with Pretty Paper in collection two, but I already had ideas for what True Stories would be and I was just too stubborn far down the path to go back and change my mind. True Stories it would be. This is always what I find scrapbooking to be: pretty paper and true stories.
I will never forget our original pitch meeting for designing this collection. It was on a computery-conference-call thingy with me in London and the American Crafts team in Utah, and a seven hour time difference that may have been enough to make for plenty of 'huh?' opportunities. But I started with one clear vision: 'I want coffee cups and rocket ships. And now I need to find a way to bring those things together.'
The thing that brought them together – along with a few other motifs, including the pastel plastic radio I carried onto the school bus every day in the fourth grade – was 'everyday daydreams'. A sort of place where the mundane of everyday life collided with the fantastical. Coffee cups and rocket ships. Actually, for a while this collection had the alternative name Six Impossible Things, based on the Alice in Wonderland quote that sometimes I've believed six impossible things before breakfast, but it was deemed a bit too confusing so we scrapped that name but did keep some text from Alice, including that line, if you look at some of the less bold patterns.
Today please welcome guest Sarah King to share a new page with the True Stories collection!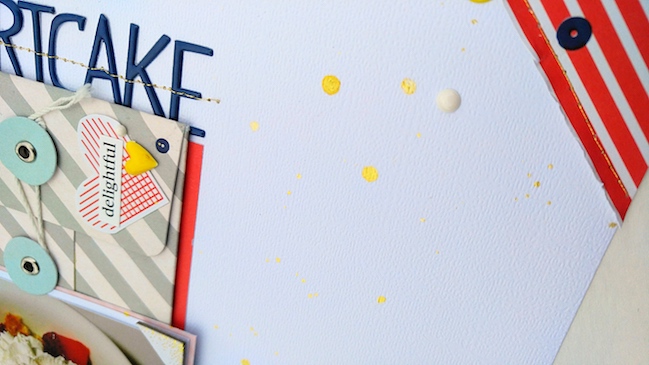 I used the Shimelle, True Stories collection to create this layout about one of the major things I craved while I was pregnant. Strawberry Shortcake!! Yum! I used a Fancy Pants, Park Bench envelope to keep my moms recipe I used to make my yummy snack, I thought this would be a good way to keep the recipe for my kids when there old enough to cook too.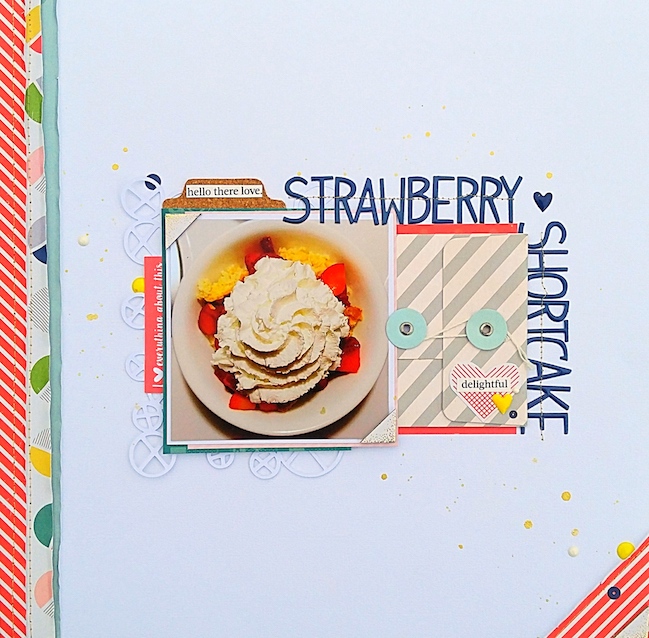 I love how the little envelope here hides something practical like the recipe, but given a different story, it could just as easily be used to hold journaling you really want in your album but don't particularly want read by every casual visitor to your home who takes a look at your pages.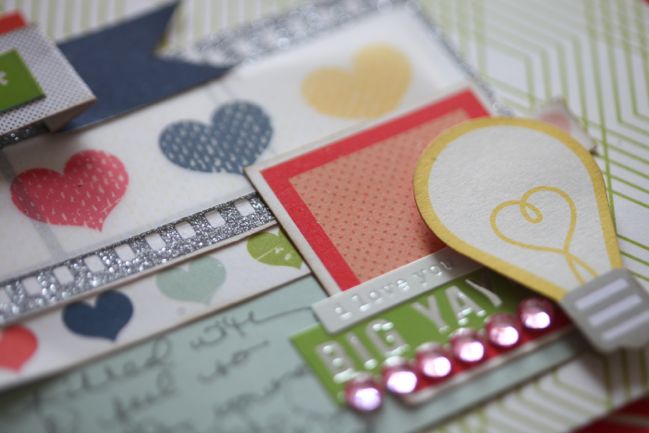 Each of these is clickable for additional layouts and videos from the archive here, with those projects I made and a mini class I taught with True Stories. The next collection? It was all inspired by a scrapbooking class. I'll share that one tomorrow!
Today's Guest Artist: Sarah King loves scrapbooking, her family, and coffee. You can find more from Sarah on Instagram, YouTube, and her blog.

Read more about: american-crafts
14 January 2017

Next post: Counting Down to CHA 2017: A bit of Christmas Magic
Previous post: Counting down to CHA 2017: Remember this collection?