With nine challenges over the NSD weekend and our usual Monday spot, you have ten challenges to keep you scrapbooking this week! All of these are open until the end of this coming weekend – you can always check the time remaining on the link up button. Though of course you can use the challenges for your own scrapping fun any time!
If you weren't around at the weekend, here's a quick guide to those nine:
Scrap with fabric or lace
Add stamped images to your photos
Repeat a shape on your page
Use 3×4 cards on a 12×12 page
Make a messy background
Scrap some scenery
Scrapbook with shaped paperclips
Scrapbook with woodgrain patterns
Scrapbook with red and blue
And now, on to the challenge for this week! This week, I challenge you this week to scrapbook with square photos. Everything else is completely up to you, so you can take your inspiration in any direction you like! Some sketch posts from the archives might be useful, like this and this, and the complete page for the photo above can be found here! To get you started on this week's challenge, take a look at these examples from contributing designer Meghann Andrew and guest artist Nancy Sinclair.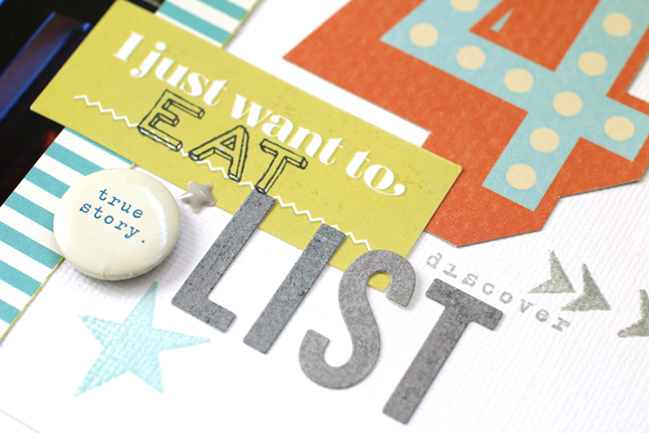 I am a major foodie, so taking photos of our eating adventures, whether home or away, is a must! A lot of the restaurants that we visit may not be conducive to snapping quality food photos, so I also try to remember our meal with photos of the outside of the restaurant or a focal wall that stands out inside the restaurant. On a trip to Boston recently, we had some awesome eating experiences, so I wanted to document our top four from the trip.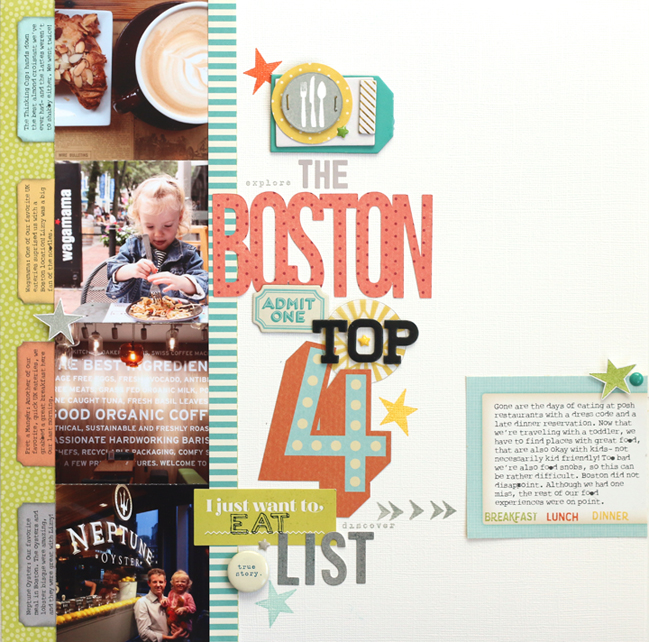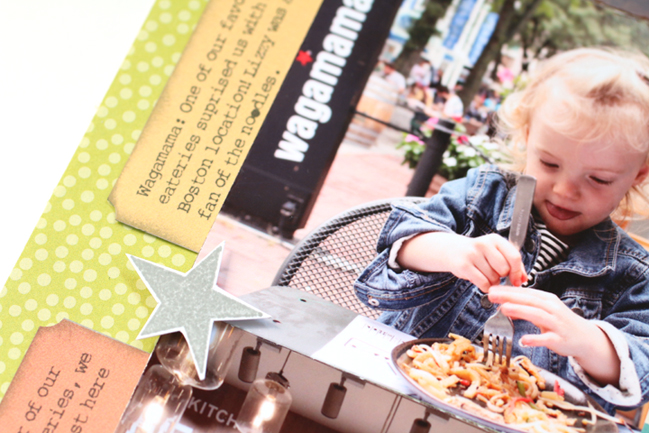 I love, love square photos, and using 3" x 3" photos allows me to easily fit four different photos neatly either vertically or horizontally across the page. To remember each of our favorite food experiences from our trip, I added small journaling labels to the left side of each photo and documented what we loved about each spot.
- Meghann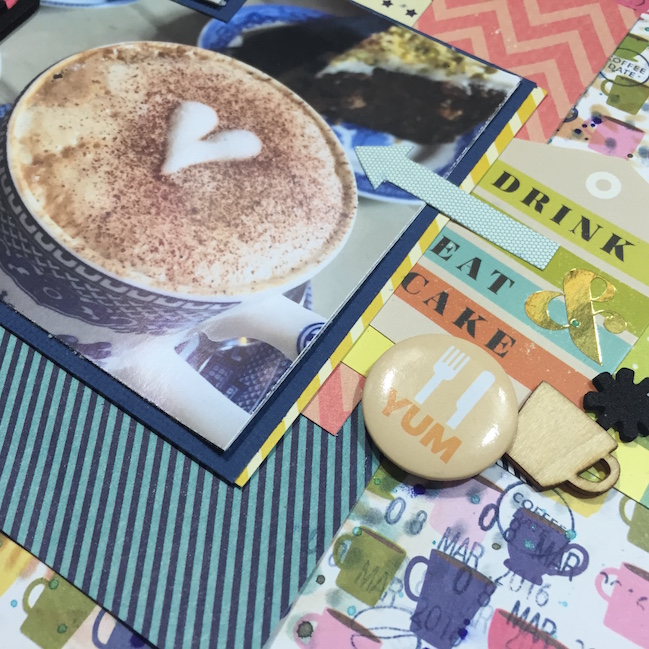 I loved the willow patterned cups that were at a small tea room that I took my mum to for Mother's day, and I knew that I had to get a shot of them with the amazing massive slices of carrot cake. I like capturing these small details of bigger memories, like spending the day with my mum and catching up on life. Food photos are things I scrap a lot as well as include in my Project Life.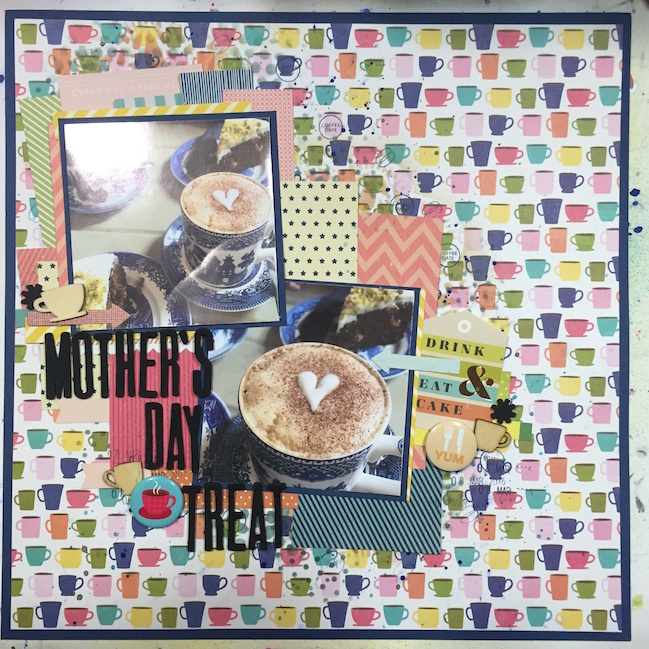 I love a busy background and the more patterns and colour the better. I grounded the bright Jillibean Soup Hello Healthy background with some inking through template and some Kelly Purkey coffee themed stamps. I then layered papers from the Galileo paper from the Starshine collection and it works great for creating multiple layers behind my photos.
I also used stickers from the original Shimelle collection which I've been hoarding in my stash for a long time, and it works perfectly on this page. I added some Jillibean Soup wood veener and some old flair from my stash to finish.
- Nancy
You have a week to complete the challenge and share a link – but of course you're welcome to set your own time schedule. Whatever keeps you happy and creative!
Today's Guest Artist: Nancy Sinclair loves paper, crochet, and sarcasm. You can find more from Nancy on Instagram and YouTube.

Read more about: scrapbooking-challenges
09 May 2016

Next post: Special treatment for scrapbooking a special photo
Previous post: A bright and bold colour story