Just one day for National Scrapbook Day is clearly not enough! We celebrate all weekend here, so there are more challenges today. And in case you didn't catch the closing dates, you have all of this weekend, this coming week, and next weekend to share your projects for this weekend's scrapbooking challenges!
To start us this Sunday morning, grab something scenic! Recently flipping through some albums, I realised I needed a chapter divider for a quick trip to Dublin a few years ago. I love having a dividing page that acts like a title page but just to introduce a few pages on one theme rather than a whole album. I printed this image as a giant A4 landscape image and knew I could just add that title and some embellishment to set the tone for the pages that followed.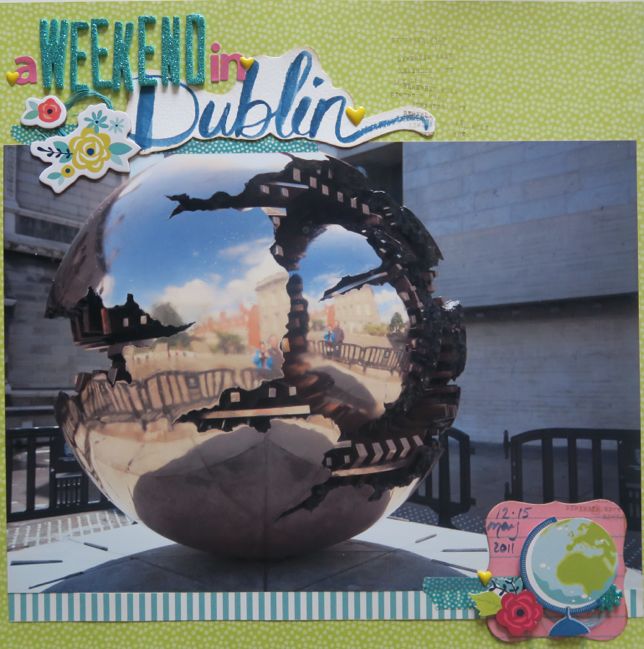 If you follow along on Instagram and like a bit of back story, it's this layout that made me start brushing exaggerated downstrokes in my sketchbook, like these. I wasn't completely happy with the weight of this title and wanted to see how I could change that up. I'll try writing 'Dublin' again today and see how the two compare.
And for more scenic style, take some inspiration from guest artist Anandi Raman Creath!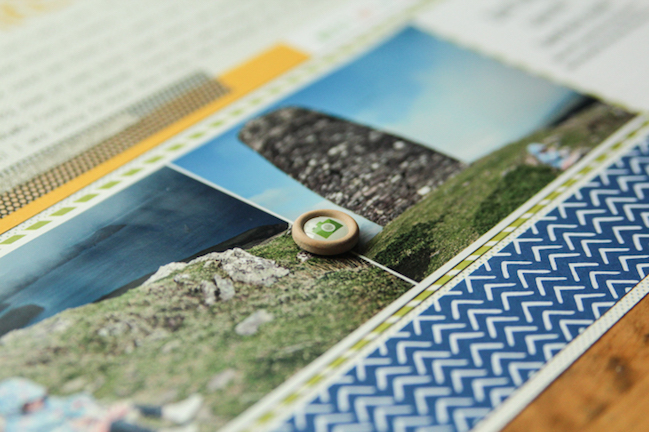 I'm a fairly new scrapper, having only started making layouts in 2013. (I did Project Life in 2012 and that was my gateway drug to scrapping). Over the past few years, I've realized a few things – I adore the 8.5×11 size and my favorite pages are the ones with a cleaner look but still use bright colors. I was super excited to find out that my theme for this project was Ireland – my family spent three weeks there in 2012 which was definitely a "bucket list" item for me. These two photos were taken by my husband at a place I didn't see, but I wanted to capture the story of why I couldn't go and the idiosyncrasies of traveling with a toddler.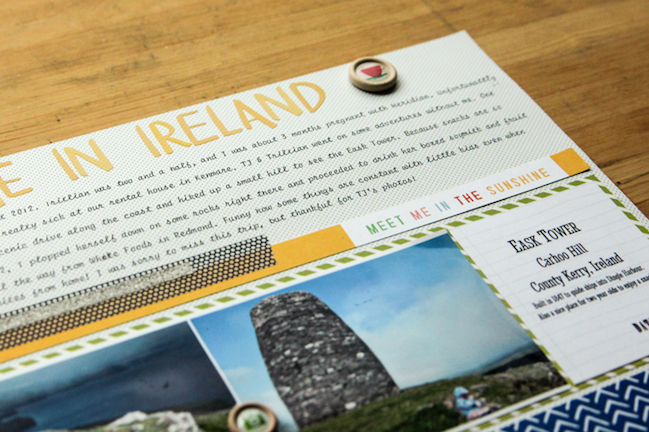 I started with the B-side of a paper from Shimelle's True Stories collection – a sweet tiny aqua dot on white. I absolutely love using a patterned paper background when possible, but it's challenging to choose one that isn't too busy or distracting. Since this is about Ireland, I needed some green, so I used the diagonal stripe paper from True Stories to mat the photos. The photos and journal card covered up the boldness a bit (I learned that trick from Shimelle's videos!) The bright blue Amy Tangerine pattern reminded me of waves in the ocean, and I thought a golden yellow would also be a good addition, so I used the "Hannah" transparent-ish letters from Amy Tangerine in yellow, and also added a cute branding strip from one of her other papers to add a little more color.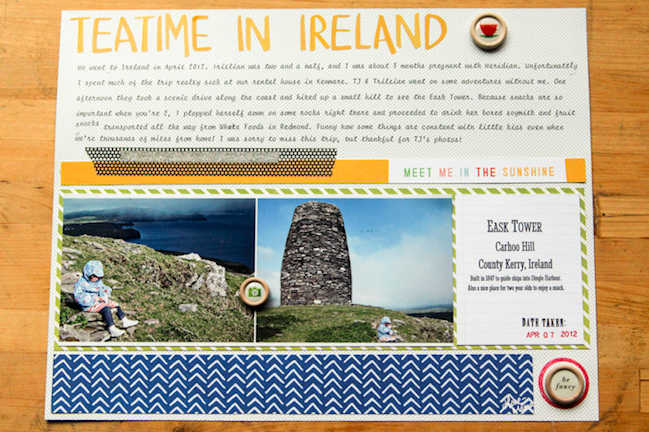 I typed up the journaling directly onto the paper with my trusty IBM Selectric typewriter, after trying to create a journaling block on vellum and disliking how it looked when I attached it to the layout with staples. I ended up having to feed the layout into my typewriter with the photos already adhered, so the journaling got a little wonkier than expected, but I think that's part of the charm of using a old typewriter. I write out my journaling first on paper, editing as I go, and then I do a second editing pass as I type.
To keep the layout from looking too flat, I used 3 of the awesome wood buttons from True Stories – I just love those little things! I always incorporate three things on my layouts: something sparkly or shiny, a roller date stamp, and a tiny handwritten "Love, Mama" somewhere on the page. See if you can spot those!
Your turn to scrap some scenery! Any style, any place – just landscape photos as the requirement here.

Today's Guest Artist: Anandi Raman Creath loves rocking out on her new drum set, finishing crafty projects, and bacon. You can find more from Anandi on Instagram, and her blog.

Read more about: scrapbooking-challenges
08 May 2016

Next post: Scrapbooking with shaped paperclips
Previous post: Go a bit messy with the background of a scrapbook page