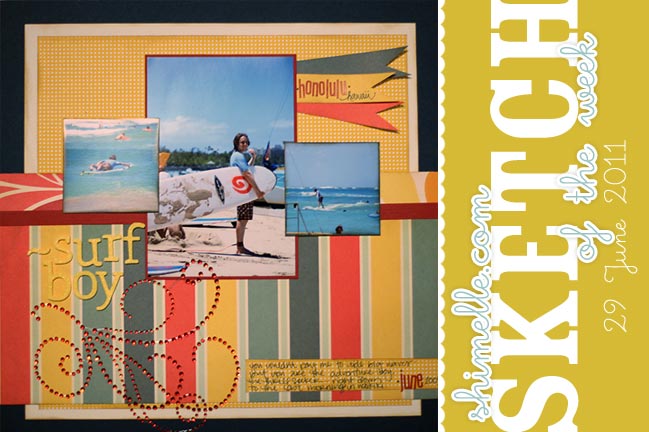 A little later than I had hoped, but please forgive me for getting a bit distracted by getting to see my family now that I'm in Kansas City for a little while – even my new nephew! Now I'm all hooked up with wifi and have lots to share! This week's sketch has one 4×6 photo and two smaller square images. I printed mine at 2.5 inches, but you could change that to suit your pictures. This week's page is pretty quick to come together and is great for using several patterns from one collection. Most of what I used here is from the Salt Air collection by Cosmo Cricket.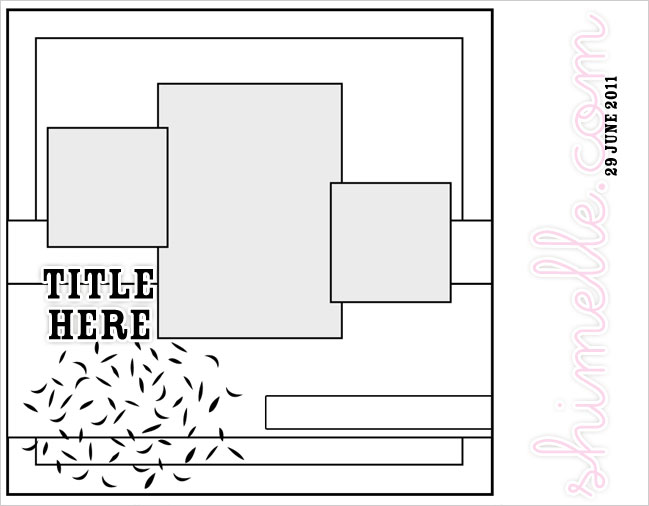 This week I actually made a big change to the sketch while making the page. In the video, you'll see that it started ninety degrees different, but I decided everything was a bit too vertical and it worked better like this. If your photos suit vertical a bit better, try turning the sketch back to the other side.
The horizontal sketch also reminded me of an older layout with a similar design but lots more detail — this one might be more your style if you like more stuff on your pages! But sometimes simple is just right.
As always, the weekly sketch is no-stress and just for fun! If you use it, I'd love to see, so please leave a link in the comments.

Last week there was lots of single-photo fun! Thank you to everyone who shared their work. Here are a dozen of my favourites, and I can't help but think the love of kraft cardstock is something many of us share! Click the corresponding link below to see any of these pages in more detail and meet the scrappers who created them.
Top row, L to R: one, two, three, four.
Middle row, L to R: five, six, seven, eight.
Bottom row, L to R: nine, ten, eleven and twelve.
xlovesx

Read more about: sketch-of-the-week
30 June 2011

Next post: 4x6 Photo Love :: June 2011
Previous post: Scrapbooking sketch on the way...