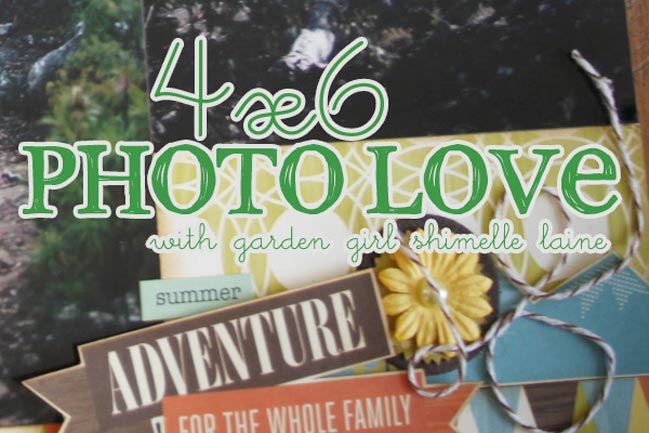 All class content ©twopeasinabucket.com. Click here for supplies and here to chat on the message board.
I can't believe we are already at the half-way point for 4×6 Photo Love, the online scrapbooking class I'm teaching throughout 2011 at Two Peas! (If you haven't heard about it until now, it's free and you can jump in at any time.) The lessons post on the 30th of each month, so that means I have the June edition to share with you, and it's all about scrapping six photos this month.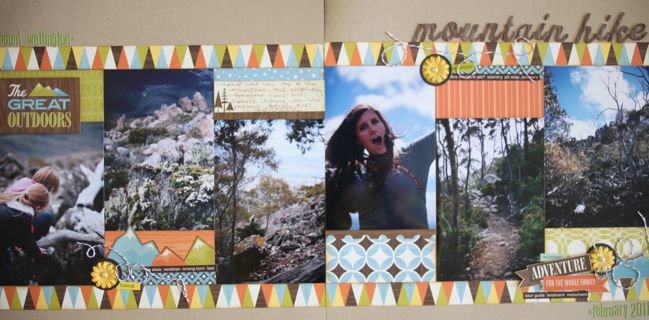 This month's design concept is a variation of what we created with three photos in March. Then we lined them up to go all the way across a 12×12 page. This time we're placing them all the way across two pages to make a double page layout, but also offsetting the photos with boxes of patterned paper to create a bit of a zig-zag effect. I've used portrait photos for the examples, but if you only have landscapes, you could try turning the pages so you have two columns of three photos from the top to the bottom of the page rather than one long line from left to right. Have a look at this month's video to get a better idea of how these pages were constructed.

Both my examples are travel related, purely because that tends to be when I take the most photos and there aren't many other events where I would have six portraits that all worked together – but that's just me! You are welcome to participate with any theme, colours and supplies you would like.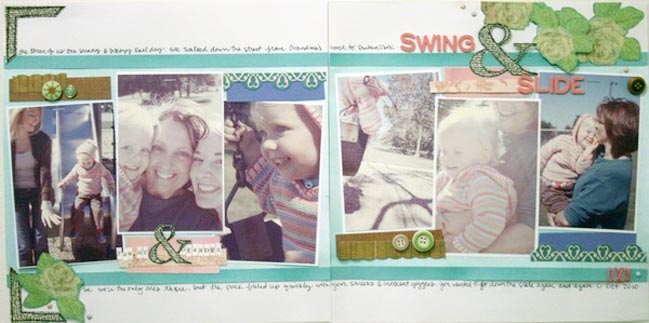 Page by Jamie Sorenson. Click here for supplies.
This month I'm delighted to feature Jamie Sorenson as my guest. She's our community manager (and the Garden Girl boss!) at Two Peas, so she's a face many peas know from the message boards and newsletters, but she's also a fab scrapbooker and I love her creative spirit. This layout is just what I mean – she took my boxed-out, linear sketch and infused it with youthful energy for these family photos. Try tilting the pictures and adding embellishments that don't have to sit right inside each of the patterned paper boxes. You can add this page to your bookmarks here. Thank you for joining me, Jamie!
Every month, there are two ways to win a prize for participating in 4×6 Photo Love! The first is at Two Peas: create your page and upload it to the gallery. Be sure to tick the box for this challenge in step four of the upload process. One participant will win a gift certificate to Two Peas to go shopping for whatever you like. But there's a second chance to win right here: on this post, leave a comment with a link to your page (in the gallery at Two Peas or on your blog, whatever you prefer) and one of those links will win Two Peas shopping money too! The deadline for both is the 29th of July.
Congratulations to Daphne for winning the draw for last month's five photo class! (Daphne, you will receive your gift certificate by email.) Will you be next? Just choose six 4×6 photos to scrap and follow along with this month's class prompt. I hope you enjoy a bit of double-page fun!
xlovesx
PS: Feel free to grab the button there on the left for your blog or to share this class with a friend – since it's free, the more the merrier! And you're welcome to use any supplies and any photos, so there's no boundaries to your scrapping with this year-long project.

Read more about: two-peas-in-a-bucket 4x6-photo-love
01 July 2011

Next post: Scrapbooking Giveaway Day
Previous post: Scrapbooking sketch of the week