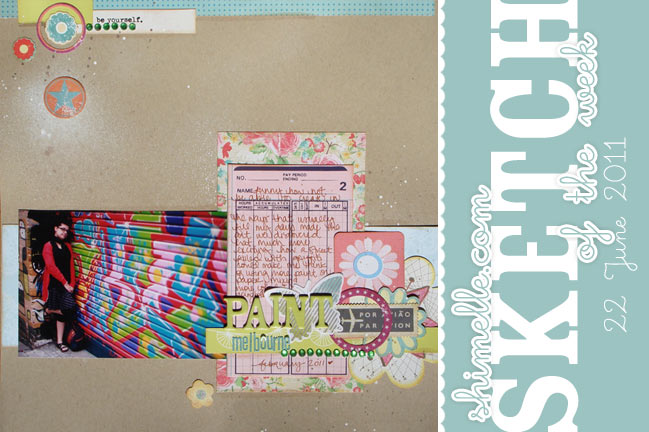 Late Thursday is the new Wednesday? Something like that. My apologies for the delay and I hope you're still up for a sketch this week! It's a page from almost nothing – a single photo (landscape 4×6), a few strips or scraps of patterned paper and a handful of mismatched die-cuts. Easy on the stash and pretty quick to put together too!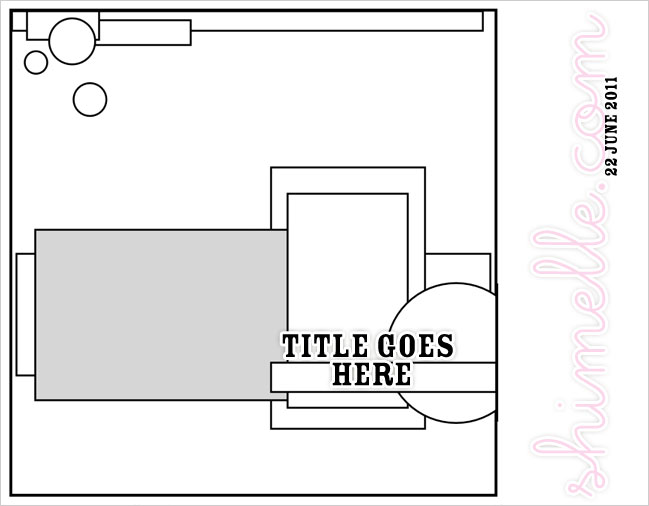 Here's the sketch brought back to basics, and you can keep it simple with just a few circles or you can layer as many embellishments as you'd like in that same space. This week's video is pretty quick (just under eight minutes) so you can see how I got from A to B.

By the way, those three mists that I used really quickly at the beginning of the video are Tattered Angels Glimmer Mist in sand, Tattered Angels Chalkboard Mist in chalk (slightly opaque white with shimmer) and Studio Calico Mister Huey in Calico White (opaque white with no shimmer). I don't always use both whites together but wanted to show them both so you can see the difference in the opaque quality. I love both but they are definitely not the same – one soft and shimmery, the other bold and matte.
As always, the weekly sketch is no-stress and just for fun! If you use it, I'd love to see, so please leave a link in the comments.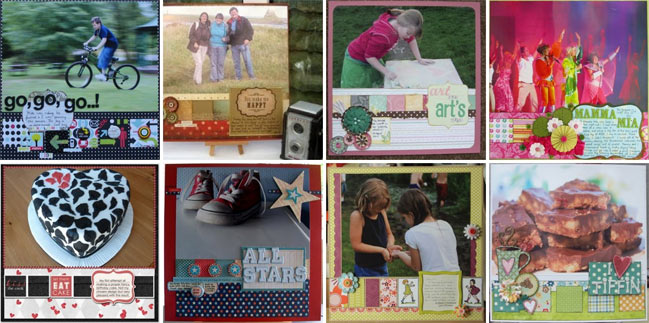 I am pretty much giddy about the response to the big photo sketch last week. I thought for sure that many of you would take a week off because the big photo would be a pain to print perhaps… and instead more of you joined in than ever, I think! See the links at the end of this post for three dozen pages to inspire you to scrap your giant-sized prints! Totally love it. So I picked just a small group of favourites because it was pretty much impossible and I wanted to include them all. Click the corresponding link to see the page in more detail and say hello to the scrapper behind the page.
Top row, L to R: one, two, three, four.
Bottom row, L to R: five, six, seven and eight.
xlovesx

Read more about: sketch-of-the-week
23 June 2011

Next post: Scrapbooking Giveaway Day
Previous post: scrapbook page to share :: travel well