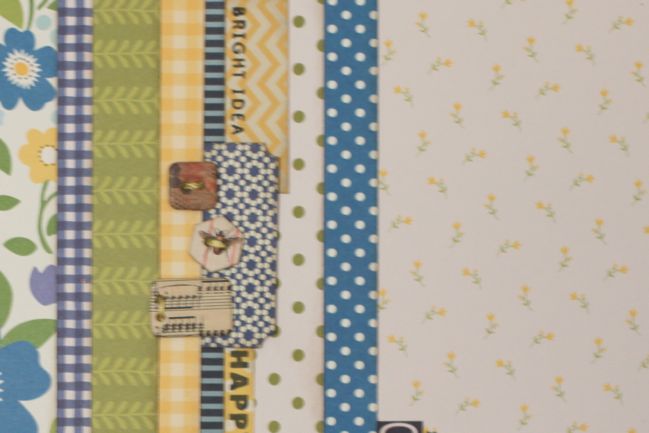 Just a few years ago, square photos were only for special occasions in scrapbooking terms – it was so rare to see them on a page or a sketch. Since the dimensions of phone screens changed our design norms and brought apps like Hipstamatic and Instagram to the world of the scrapbooker, square is definitely on the map. So this week, how about a scrapbooking sketch that can work with square or 4×6 photos?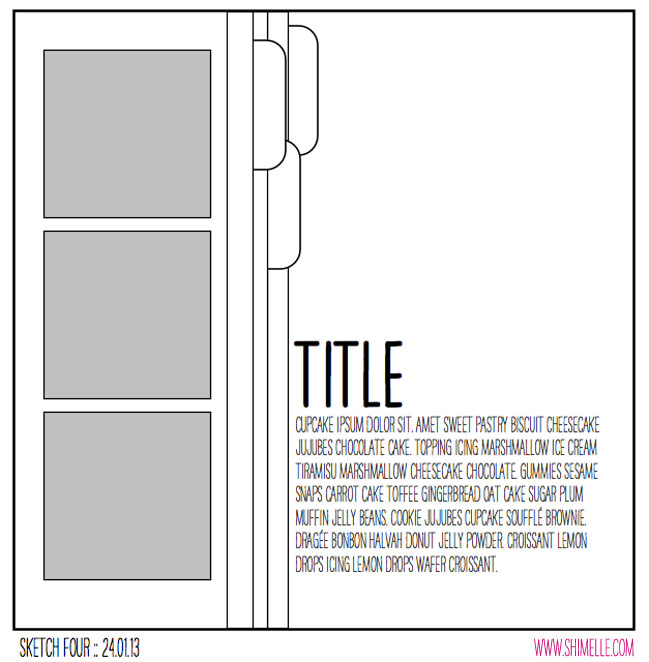 I printed my photos at home this time around, and my computer will default to printing a 3×3 inch image on its own sheet of 4×6 photo paper, but if I change the size to 2.8 inches square, it will print two up without any extra fuss. So I used three 2.8 inch square pictures, but I promise there was no real design reason behind such a specific measurement. If you want to print square images from your phone through an online printer, you can certainly do that too. I normally use this process, which I originally posted with my Hipstamatic notes, but Instagram and anything else with a photo cropped to a square works just the same. (If you don't tend to scrapbook square images, don't dismiss this sketch: today's guest artist didn't go for squares and it still worked!)

This is yet another project from the January kit, and it's starting to get a bit depleted now but I think there are two or three projects to come before it's totally done and dusted.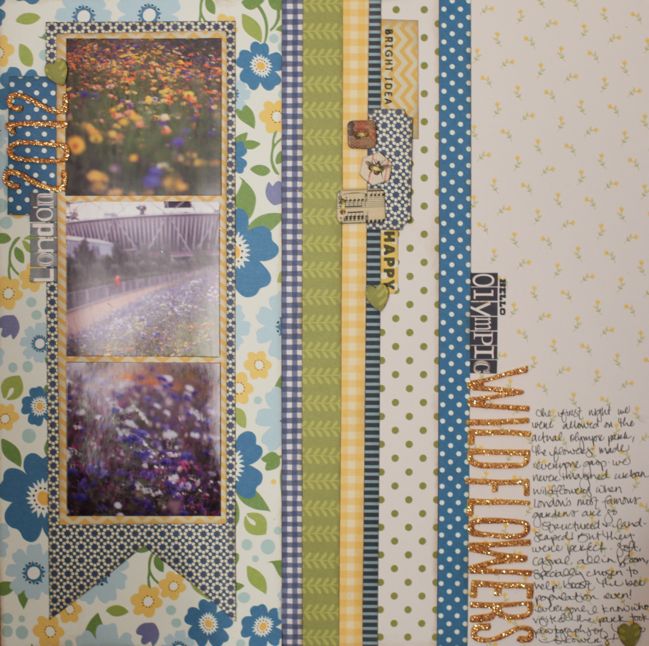 I took quite a few photos of the wildflowers at the Olympic park this past summer, as did pretty much everyone else there it seemed. There were always people posing in the flowers or brave souls zooming in on the visiting bees. In addition to these small photos, I think I will order my most favourite shot as a 12×12 print and place it on the facing page for my album. Not completely committed to that idea, but it's something I keep considering. I definitely want a large photo of the flowers in there somewhere, so either the full page option or something more like the sketch from earlier this month with the large photo across two-thirds of the page.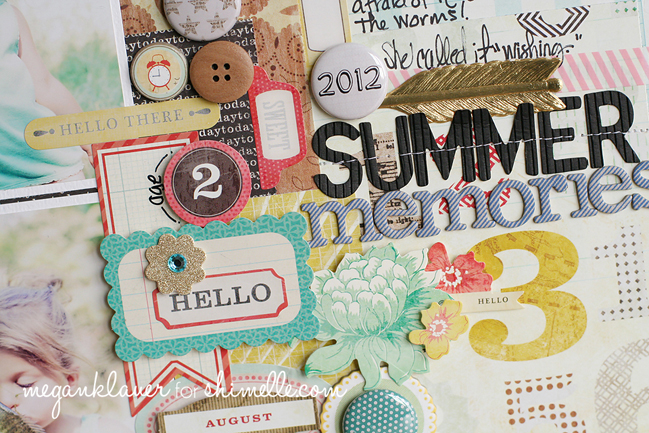 Today's sketch guest is Megan Klauer, who always amazes me with her eye for detail. I really wondered what she would do with a sketch that was quite minimal – and she did not disappoint!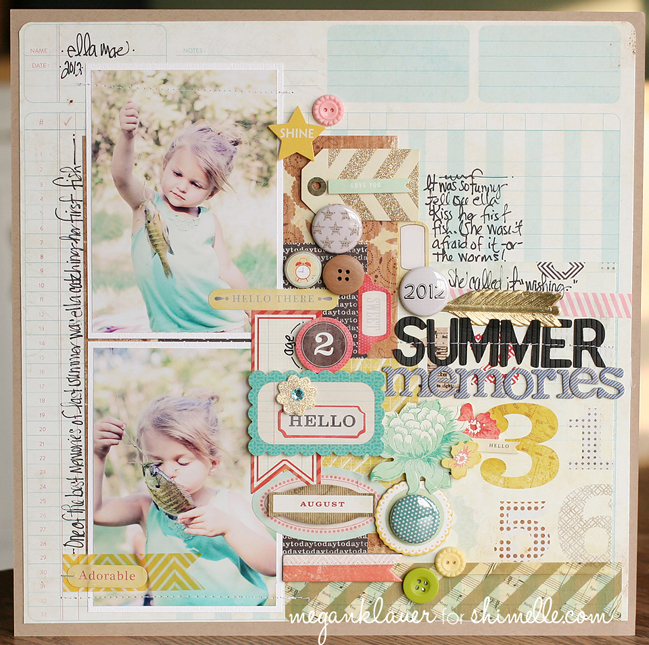 Sketches are often the perfect boost my creative juices need to start flowing. Although I typically use them pretty loosely, they are always the base of my design. When I see a sketch, oddly enough I usually make another sketch from it, putting the sketch into my own words, so to speak. From there, I gather the photos, papers, and embellishments. With this particular sketch I used two vertical photos as opposed to three square images. The vertical tabbed portion became the center stage of my design where I later layered & embellished to my hearts content. I stayed true to the sketch in terms of the title work, but added my journaling above instead of beneath it.
Megan Klauer is a momma of three and wife to her high school sweetheart. She currently designs for Crate Paper, Bella Blvd, Elle's Studio, Jenni Bowlin, & A Flair for Buttons Etsy shop. In her spare time she does on location photography & works full time as an office secretary.
And now it's your turn! Create a page in your style with this sketch, post it online, and share it with us. You can upload to your blog or to a scrapbooking gallery like Two Peas or UKScrappers, then just follow the steps to link to your project wherever it can be found online!




Read more about: sketch-of-the-week best-of-both-worlds-kit
29 January 2013

Next post: One Last Look :: Using the very last pieces of a scrapbooking kit
Previous post: Five Ways of Getting Stitchy on your Scrapbook Pages by Mandy Koeppen