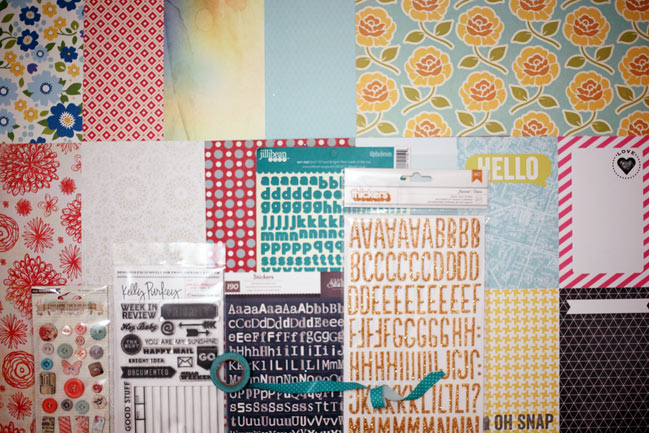 There are some things I absolutely love about scrapbooking kits: the ease of something selected to mix and match perfectly without it all being one collection, the right amount of stuff to make quite a few pages or projects without having to dip into too many other supplies, the portability factor that makes it easy to pick up and scrap anywhere by grabbing a kit with some photos and basic tools, getting to see how different crafters are so creative with the same set of supplies, and the chance to take up the challenge to use something I might not otherwise purchase for myself. But then there are downsides: accidentally duplicating items I've already purchased, ending up with supplies I won't use because they are beyond a challenge and just aren't my style, wishing I had something very close to that kit but with maybe a small change or two, and the conundrum of what to do with a subscription that arrives every month whether I've had time to use the last one or not.
So for 2013, I've put together a little something designed to be the Best of Both Worlds. These are my product picks that I'm assembling into a kit each month, with a few guidelines: the kit will stay at the same budget (just shy of $40 USD – but keep reading because there's a solution if that's too much for you) and always include at least two elements that will last long after the paper and stickers are gone (usually a stamp set for one, then things like tape, mist, or ink for the other). You place your order through Two Peas in a Bucket, so you can add more products while you're shopping if you like (they offer free US shipping over $50, so that may be beneficial to you) and they ship all over the world. You can skip straight to the January kit here if you fancy.
There's no subscription so you can jump in and out as you see fit.
You can edit the kit if you want more control by omitting items or replacing them. Say you don't stamp: removing the stamp set from the kit saves you a sizeable chunk of the kit's overall price, so that's a great way to keep things to a smaller budget. Or say you don't like Thickers (gasp!), you could leave them out or if you just don't like glittery Thickers, you could replace them with another colour in a non-glittery option in the same font, so the kit would work exactly the same as I'm using it but you wouldn't be angry at the world for getting glitter on your desk.
And yes, I'll be using it. Each month you'll see my projects from the kit come together through different videos and blog posts. I'll be using the kit for my Sketch to Scrapbook Page videos and Scrapbook Starting Points and a few other spontaneous blog posts along the way. (You are, of course, welcome to participate in those challenges without the kit too.)
I realise this is a different definition to the idea of a 'kit' in the scrapbooking world, but that's certainly what I'm making – a kit of supplies to use throughout the month. It just doesn't have the subscription element and gives you the freedom to make choices should you wish to change the kit a bit! The January selection includes patterned papers from Pebbles, Echo Park, Studio Calico, Jenni Bowlin, BasicGrey, My Mind's Eye, and October Afternoon, plus Thickers and smaller flat letter stickers, buttons and chipboard embellishments, colourful tape and a set of clear stamps designed by Kelly Purkey.

Here's a look at the January selections and some further thoughts on how this works – including why I added certain elements this month and what changes you might want to make if your scrapping style differs to mine!
Click here to purchase the January 2013 Best of Both Worlds kit.
It's as simple as adding one of everything if you want to use the same kit that I'll be using all month, but you can of course make any changes you would like. Right now, there is a good supply of all the items in the kit, but as this gives you the option to pick and choose, it may mean some items sell out quicker than others. So waiting is at your own risk, I guess!
If you're a loyal customer at Two Peas, your customer loyalty discount will be applied! And of course your kit purchase counts toward the customer loyalty discount too.
Coming right up: the first Sketch to Scrapbook Page video of the year, with a layout made from this kit, of course!

Read more about: two-peas-in-a-bucket best-of-both-worlds-kit
01 January 2013

Next post: 2013 will be an amazing year for scrapbooking.
Previous post: Gardeners' Digest scrapbooking blog hop (December 2012)