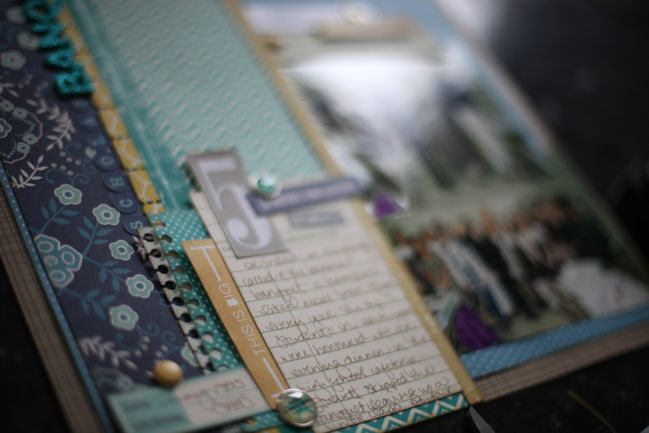 2013 will be an amazing year for scrapbooking. I know that sounds a little strange for a hobby that isn't at the popularity height it was six or eight years ago. I know it's hard to imagine when we hear of many old favourite stores closing their doors. I know it might be rough at an industry level in a year when many are making plans to cut their unnecessary spending even more. But hear me out: I so believe scrapbooking has just turned a corner.
We've turned a corner to knowing it doesn't have to be about gathering in huge groups to finish hundreds of pages over a weekend. The sad news of losing some lovely specialist stores we perhaps took for granted has made it more obvious of just how much our remaining favourites need our support when we do choose to shop for something new. And the changes in crafty spending have seen different types of business innovate to make something out of nothing.

Some examples:
Starting today, Two Peas in a Bucket will now have new scrapbooking tutorial videos six days a week. Almost every designer there now contributes videos, and there are six different scrapping series, so there are all sorts of crafting styles and creativity sparks on offer. (And I am delighted to say my sparkly friend is back: The Adventures of Glitter Girl will continue to be the Wednesday broadcast, and I have more to share about that in just a bit.) All of these videos are free to view and invite you to participate by trying a featured idea or technique. Videos can be viewed at home or on the go, through the Two Peas site, Youtube, or the designers' respective blogs.
The Paperclipping Roundtable podcast brings together a variety of voices from the scrapbooking world to discuss a new topic each week. Again, completely free to listen. You can listen at home through each episode's blog post or you can subscribe (for free) in iTunes and listen on your phone or iPod or whatever you prefer. I listen to PRT with my headphones while I'm on the train or walking home. I know quite a few listeners queue up the PRT to listen while in traffic. I know it seems a little odd at first to listen about scrapbooking – since scrapping is such a visual thing. But it really works. If you think about it, it's not really that odd: I could happily talk about scrapbooking over coffee for ages without a single visual aid. It's just that if I'm talking with them on the roundtable, I have to click the button to mute my microphone whenever I actually drink the coffee. (Confession: forgetting to mute the microphone is pretty much my biggest fear when I'm on the PRT. I will quite happily say something stupid or get flustered and stutter my way through a point I swear makes sense in my head, but a coffee accident is just waiting to happen.) The Paperclipping team also has a membership programme with regular videos, and in their 2012 round-up post, you can watch the most popular members' video for free to see what it's all about.
In a world dominated by quick bits of social media updates, there are bloggers sharing in-depth stuff. From someone who rocks the product like Jen Gallacher pulling together all different layouts to demonstrate how versatile some items in your stash might be (her Product Focus series) to Ali Edwards and her encouragement to choose a word to guide your year, which can help in terms of scrapbooking but also in much more (I love that this concept is something you can do on different levels – carry it in your own mind, work on your own projects, or sign up for a more specific workshop Ali teaches throughout the year). In a scrapbook-blogging world that includes daily updates like this, this, this, this, this, and this, there is inspiration aplenty (some of those I love for the words, others for the visuals, but all of them make me want to stop typing right this second and go glue paper to other paper in an aesthetically pleasing manner). I'm pretty sure it's impossible to follow every scrapbook blog known to the universe, but there is just so much good stuff being shared right now. Apparently I'm not the only one fixated the the 'amazing' thing, as Simple Stories just shared that one of the papers in their new line reads make today ridiculously amazing. Clearly I will need multiple sheets of that paper.
There is one type of message I received now and then throughout 2012 that made me so ridiculously happy. It would come from different types of people – all over the world, different ages and stages in life, different creative styles – and would say pretty much the same thing: I had given up on scrapbooking, but now I love it again. Oh thank you, thank you for not giving up. For giving it another try. For finding what works for you and staying creative. When I would read that, it made me so excited about this entire craft. You know me: I do tend to go over the top.
So here's the thing: all this awesomeness is out there and you can help support this drive of creativity. You can do things like…
…share something you like with others, like emailing a link to a friend or posting it to Twitter or pinning it to a Pinterest board.
…click the like button on videos or gallery posts or anything else that inspires you to create.
…take a moment to leave a comment in a gallery, on a video, on a blog post or in a reply on social media to let the people who inspire you know you are out there appreciating what they do.
…consider making your selected purchases in ways that support those people and companies providing you with the free stuff you love most.
…create a project in response and share it – post it in a gallery and credit your inspiration or enter a challenge or write a blog post.
All of those things go so far to making this little world of scrapbooking as fabulous as it is, and all but one are free. Okay, making a project probably means you spent something on supplies at some point in time, but trust me, all of us working on projects like this are really happy for you to use any supplies you want, and that includes making an effort to work through a collection you've already stashed away! And the one I mention that isn't free isn't a case of you-must-spend – rather, it's a case of if you are going to shop anyway, it would be awesome if can support the projects you love. That's reasonable, right? And this stuff works for all your favourites across this industry – so many people doing things in different styles and formats, there's much to share.
Also, I'm a bit biased that I know all of you are amazing because you are the people who have helped me raise thousands of pounds for charity, helping girls get education and fair treatment, and all of that was possible because of scrapbooking. I don't care that I go over the top: I really do think this is an amazing time in an amazing community of creative people.
I hope you agree. I hope you get excited by the good stuff being shared. I hope you find something that is just right for your style, whatever that may be.
In addition to the return of Glitter Girl, there is some other new stuff you'll find here starting right now. It includes a monthly kit concept for 2013 called The Best of Both Worlds. It includes three guest bloggers right here every week, working with me to share tutorials and their take on a scrapbooking sketch. Which means yes: there really and truly is a sketch for every week. As in the next six months of sketches already exist as I type this and I can't begin to tell you how happy that makes me: I have always wanted to have something like that planned so far ahead and this is the first time it's really happened. It includes lots of opportunities for you to get involved. It includes more video. It includes new workshops soon and a rerun of a requested class from the archives (Pretty Paper Party will run again starting on the 14th of January – more about that coming up soon, but feel free to sign up if you fancy). It includes buttons at the bottom of the screen to take you to the most popular sections of the site. It marks the very first time I've ever put my face in the sidebar (it's still a little odd to me – we'll see how it goes). It includes coverage from CHA-Winter, the big craft trade show that is now ridiculously close. It includes a lot of scrapbooking and a little bit that isn't. Changing things around means it's quite possible I've broken something along the way, so it may also mean a few little changes here and there until it all seems settled, but basically: it will be an amazing year for scrapbooking, and I really want to be part of that.
I hope you do too.

Read more about:
02 January 2013

Next post: Sketch to Scrapbook Page :: Scrapbooking with a large photo
Previous post: Introducing the Best of Both Worlds Scrapbooking Kit